Hold everything! I know you have a favorite chocolate chip cookie recipe already. So did I. But it's over now-you will have to break up with that recipe. Once you try these, there is no going back! Yup, these are the ultimate real deal cookies and they taste like you bought them at an upscale, high quality bakery for sure! The technique here will wow you! After ten minutes of baking, you literally bang the pan on your oven rack every 2 minutes to create the wrinkly amazing edges. This recipe comes from the book, Vanilla Bean Bakery. Check it out HERE on Amazon. It was written by  Sarah Kieffer! She sure knows her cookies. The original recipe calls to use the dull side of aluminum foil and I did that which was great. I also had the same great results using parchment paper so if that's what you have, use that. She also said to chill the cookie dough on the pan for 15 mins before baking. I baked my dough a day ahead, weighed out the cookie balls and froze them overnight. Then I only chilled the pan for 15 mins and baked the frozen cookie dough. This way, you always have dough in the freezer ready to go. I also added a small sprinkling of coarse salt to the hot cookies out of the oven. Mmmmmmmm!!! I hope you enjoy these Pan Banging Chocolate Chunk Sea Salt Cookies as much as we did. And definitely, do not use chips in these. You need to use bars of chocolate!
Pan Banging Chocolate Chunk Sea Salt Cookies
You may need:
A Good Banging Pan-this is the one I used-def use a rimmed pan!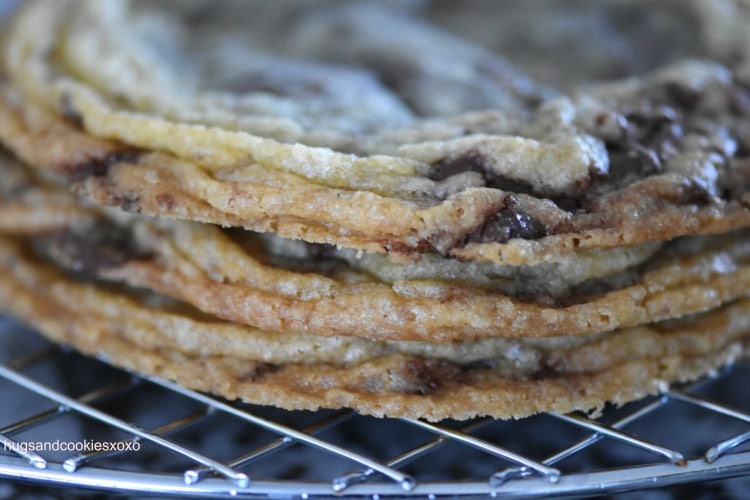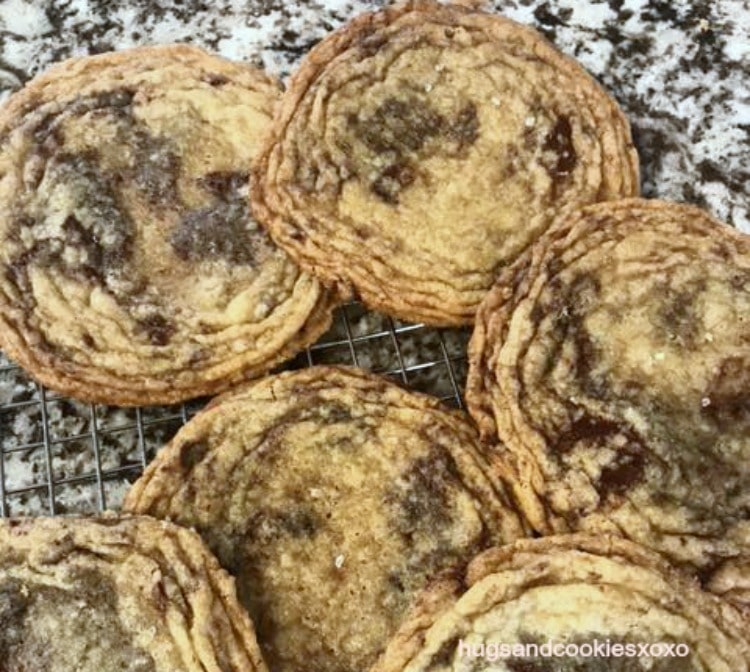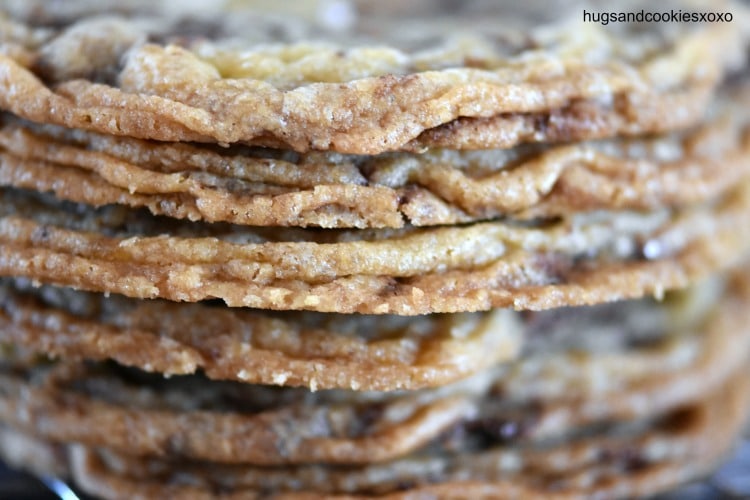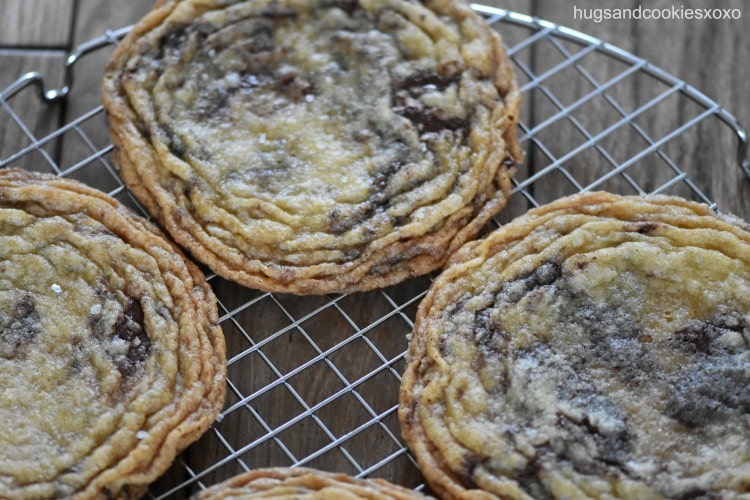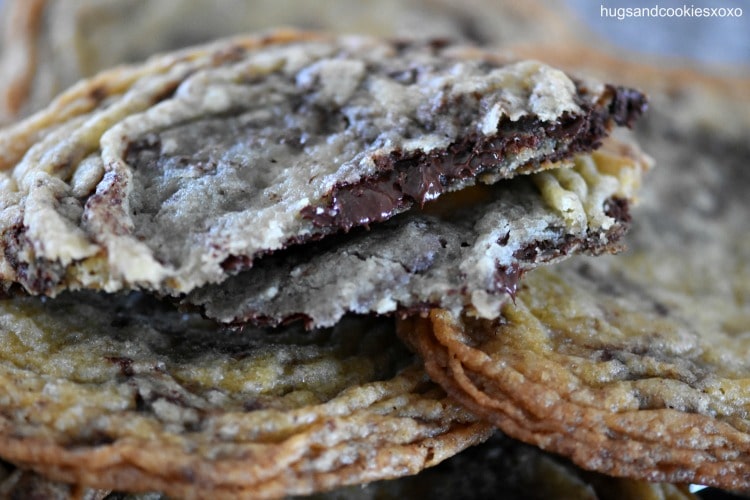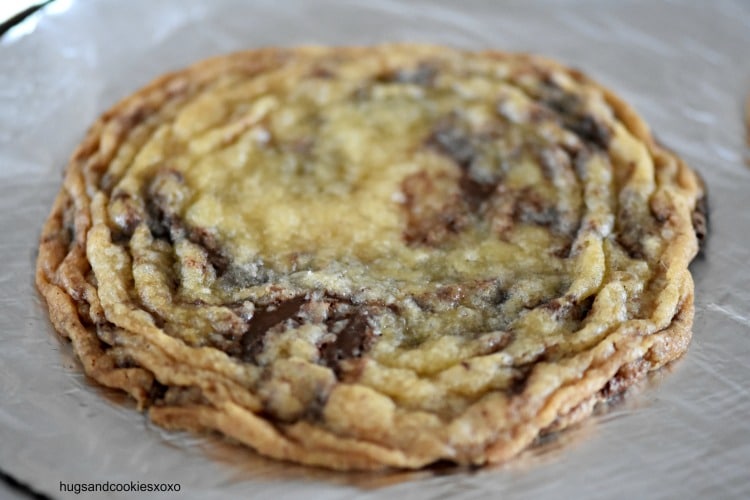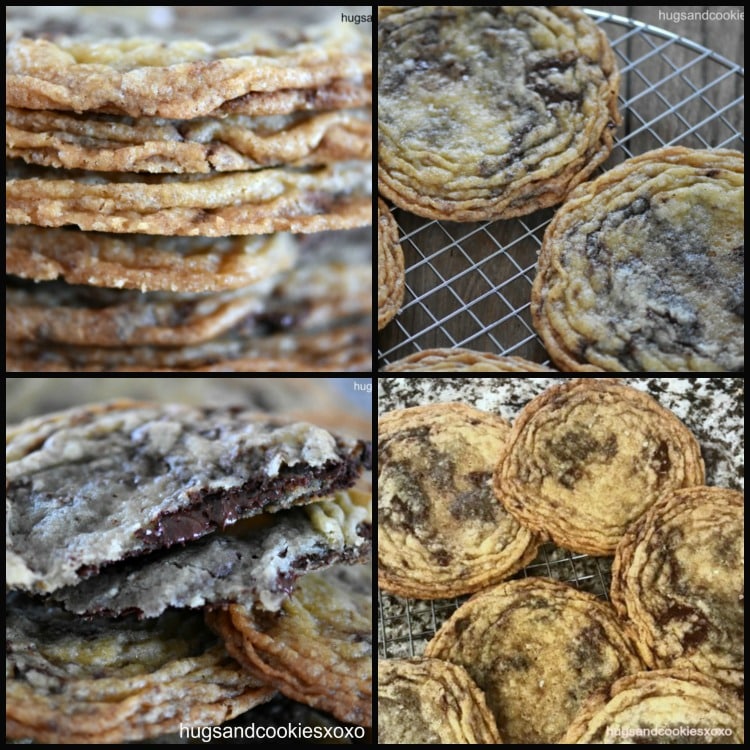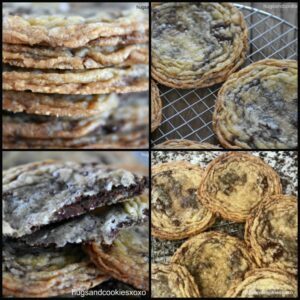 Pan Banging Chocolate Chunk Sea Salt Cookies
Ingredients
2

cups

all-purpose flour

½

teaspoon

baking soda

¾

teaspoon

salt

16

Tablespoons

salted butter

room temperature

1½

cups

granulated sugar

¼

cup

light brown sugar

packed

1

egg

1½

tsp.

vanilla extract

2

T.

water

4-5

ounces

semisweet chocolate

chopped into 1/2 inch pieces (original calls for 6 ounces so if you like a lot of chocolate add the full 6 ounces)

coarse sea salt

for sprinkling
Instructions
Preheat oven to 350°F.

Line cookie sheets with parchment (or foil dull side up)

Beat butter until creamy.

Add sugars and beat fluffy.

Add egg, vanilla, and water and mix.

Add flour on low and baking soda/salt.

Fold in the chocolate pieces.

Weigh out balls of cookie dough to 3 1/2 ounces each!

Freeze individually and then store in ziploc freezer bags until ready to bake.

Once ready to bake, preheat oven to 350 and freeze cookie sheet 15 mins.

Line sheet with parchment or foil (dull side up)

Place 3 cookies on sheet and bake 10 mins.

Open oven and bang pan a few times on rack!

Cook 2 more minutes and repeat the banging.

Do this every 2 minutes until baked.

Mine took 18-20 minutes total baking time.

The edges should be brown and center slightly underbaked looking but it will finish baking as it cools.

Sprinkle with sea salt if desired as soon as they come out of the oven!

Cool completely on pan and then remove!
Adapted from the Vanilla Bean Blog