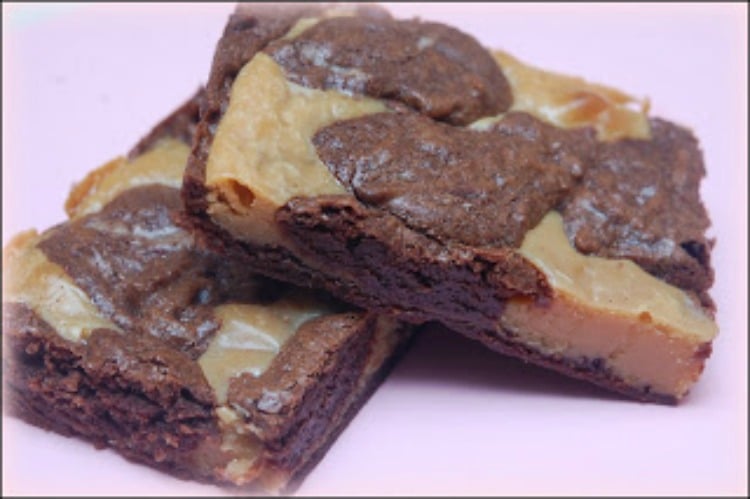 STEP ONE…..BAKE NESTLE CHEWY COCOA BROWNIES:
1 2/3 cups granulated sugar
3/4 cup (1 1/2 sticks) butter or margarine, melted
2 tablespoons water
2 large eggs
2 teaspoons vanilla extract
1 1/3 cups all-purpose flour
3/4 cup COCOA POWDER
1/2 teaspoon baking powder
1/4 teaspoon salt
Directions
PREHEAT oven to 350º F. LINE 13 x 9-inch pan with nonstick foil.
COMBINE granulated sugar, butter and water in large bowl. Stir in eggs and vanilla extract. Combine flour, cocoa, baking powder and salt in medium bowl; stir into sugar mixture. Spread half into prepared baking pan.
STEP 2…MAKE PB FILLING!!!
STIR TOGETHER 1/2C. SKIPPY PEANUT BUTTER AND 1 CAN SWEETENED CONDENSED MILK (14 OUNCES).
SPREAD THE PEANUT BUTTER FILLING OVER THE BROWNIE BASE. USE A TABLESPOON TO DROP SMALL AMOUNTS OF BROWNIE BATTER ACROSS THE WHOLE TOP.

BAKE for APPROX 25 minutes. COOL AND CUT INTO BARS!!! MMMMM!!! HERE THEY ARE HOT OUT OF THE OVEN!

DIG IN!!

LINKING AT ADDICTED TO RECIPES
LINKING AT CUPS BY KIM