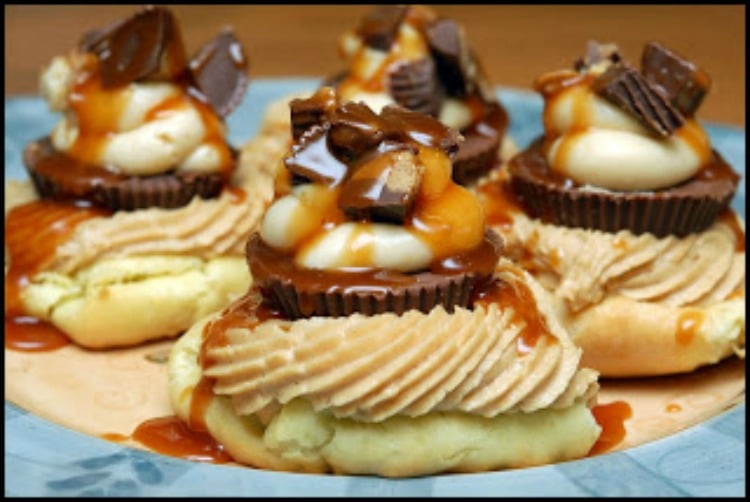 THIS DESSERT IS DANGEROUS AND HAS A LOT OF COMPONENTS. I RECOMMEND MAKING THE CARAMEL AND BUTTER CREAM THE DAY BEFORE. IT STARTS WITH A CREAM PUFF BOTTOM TOPPED WITH PEANUT BUTTER MOUSSE…A PEANUT BUTTER CUP, CARAMEL BUTTER CREAM, A SALTED CARAMEL DRIZZLE & CHOPPED PEANUT BUTTER CUPS. NEED I SAY MORE? GRAB A FORK, SPOON, OR SHOVEL AND LET'S DIG IN!
STEP ONE: MAKE CREAM PUFFS & SLICE IN HALF-I ONLY USED THE BOTTOMS. RESERVE TOPS FOR CREAM PUFFS! MMMMM!
In a pot bring the following to a boil:
1 stick butter
1 cup water
Add: 1 tsp vanilla
1c flour
Stir constantly until it leaves the side of the pot and forms a ball. Remove and cool. Beat in 4 eggs, one at a time until smooth. Drop by T. onto parchment lined cookie sheets and bake at 400 degrees for about 45 minutes.
STEP TWO: PEANUT BUTTER MOUSSE
1 CUP SKIPPY creamy peanut butter
1 8-ounce package cream cheese, room temperature
1 cups powdered sugar
1 tablespoons vanilla extract
1 cup chilled whipping cream
Instructions:
Bring cream cheese to room temp.
Using electric mixer, beat peanut butter and cream cheese in large bowl to blend. Add powdered sugar and 2 tablespoons vanilla extract and beat until well blended. Using clean dry beaters, beat whipping cream in medium bowl until stiff peaks form; fold into peanut butter mixture. CHILL AND PIPE ONTO CREAM PUFF.
STEP 3: Salted Caramel Butter Cream
2 sticks butter at room temperature
8 ounces of cream cheese
3-4 cups sifted powdered sugar
1 cup salted caramel (click here)
1. Beat butter and cream cheese at medium speed until creamy.
2. Add 2 cups of the powdered sugar into the butter/cream cheese mixture and beat to combine.
3. Add 1 cup of the salted caramel and beat to combine.
4. Add additional powdered sugar until the frosting is the sweetness and consistency you desire.
Step 4: Drizzle with left over caramel AND TOP WITH CHOPPED PEANUT BUTTER CUPS!
LINKING AT SALT TREE