All Peanut Butter & Chocolate lovers need to make these cookies immediately. They are just ridiculous!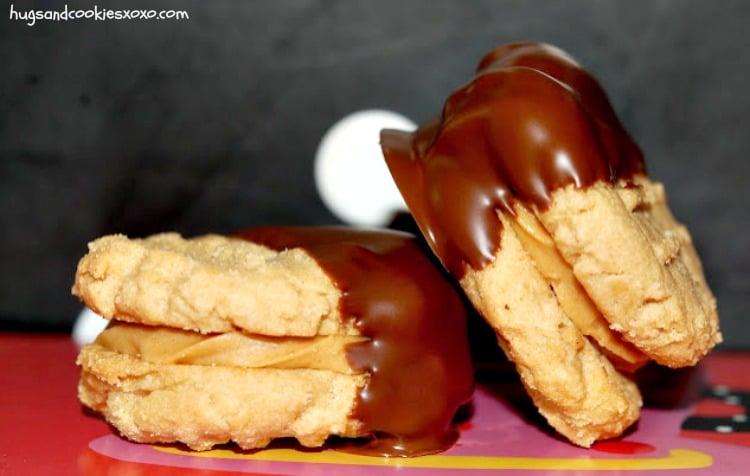 Peanut Butter Stuffed Cookies Dipped in Chocolate
Ingredients
1 stick softened butter
¾ cup smooth peanut butter
½ cup sugar
½ cup brown sugar
1 egg
1½ cups flour
½ teaspoon baking powder
¾ teaspoon baking soda
¼ teaspoon kosher salt
For the Filling:
2 cups peanut butter (I used smooth but if u prefer crunchy, go 4 it)
1 stick softened butter
¼ cup heavy cream
½ cup powdered sugar
¼ cup brown sugar
1 teaspoon vanilla extract
¼ teaspoon kosher salt
Chocolate Dip (or u can leave them plain and skip the dip…but why would u? hahaha)
Melted chocolate chips or bakers melting chocolate
Instructions
Cookies
Preheat oven to 375 degrees.
Line your cookie sheets with parchment paper.
Beat butter and peanut butter until combined and fluffy.
Add the sugars and beat until fluffy.
Add the egg.
On low add the flour, baking powder, baking soda and salt until just combined.
Drop the dough by Tablespoons on sheet pans.
Use the tines of a fork to press the cookies flat.
Bake for 7-10 minutes.
To make the filling: Use a mixer to beat the butter, peanut butter and heavy cream together on medium speed until light and fluffy, about 2 minutes.
Add the powdered sugar, brown sugar, vanilla, salt and beat on medium speed until combined.
To assemble the cookies: Spread the filling on one cookie and top with a second.
Dip just part of the cookie in chocolate.
Lay on wax paper and put in fridge to chill and set up.
Adapted from
Joy the Baker
You May Love These, Too! XOXO