I KNOW SOME OF YOU WERE WONDERING ABOUT A PEANUT BUTTER TWIX VERSION…HERE YOU GO!!!!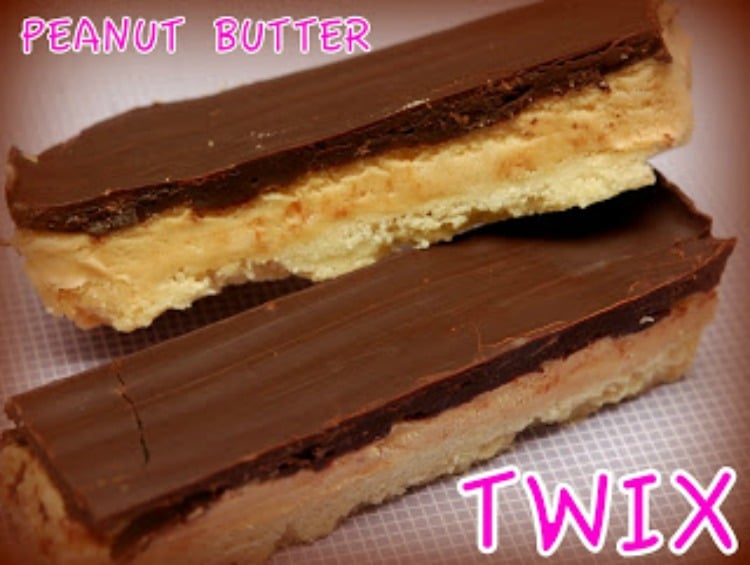 SHORTBREAD CRUST + PEANUT BUTTER TRUFFLE FILLING + CHOCOLATE ON TOP=HOMEMADE PEANUT BUTTER TWIX BARS!!! YUP!!!!! ♥
MAKE CRUST:
BEAT 3/4 C. FLOUR
1/4C. PLUS 1T. CONFECTIONER'S SUGAR
6T. BUTTER
PAT INTO 8 INCH PAN LINED WITH NONSTICK FOIL. BAKE AT 350 FOR 15 MINUTES UNTIL GOLDEN. COOL
FILLING:
BEAT
1/2 cup butter, room temperature
1/2 cup SKIPPY creamy peanut butter, room temperature
2 cups powdered sugar
1 tablespoons milk
SPREAD THIS FILLING ON COOLED CRUST.
MELT 1 BAG GHIRARDELLI CHIPS (BITTERSWEET OR MILK CHOC) AND SPREAD ON TOP. CHILL AND CUT!
WARNING-THESE WERE A BIT TRICKY TO CUT! IF THE FILLING IS NOT CHILLED IT SMUSHES BUT COLD CHOCOLATE WILL CRACK. SO…..THEY MAY NOT LOOK PERFECT BUT THEY SURE TASTE GREAT!!!! I THINK USING MELTED HERSHEY BARS MAY MAKE FOR LESS CRACKING. ENJOY!!!!!!!
You May Love These, Too! XOXO