Raspberry jam swirled with cheesecake and baked on top of a brownie is nothing short of scrumptious!!!!!!!!! These are simple to make a true crowd pleaser. They are also rich so a small square will fulfill your sweet tooth!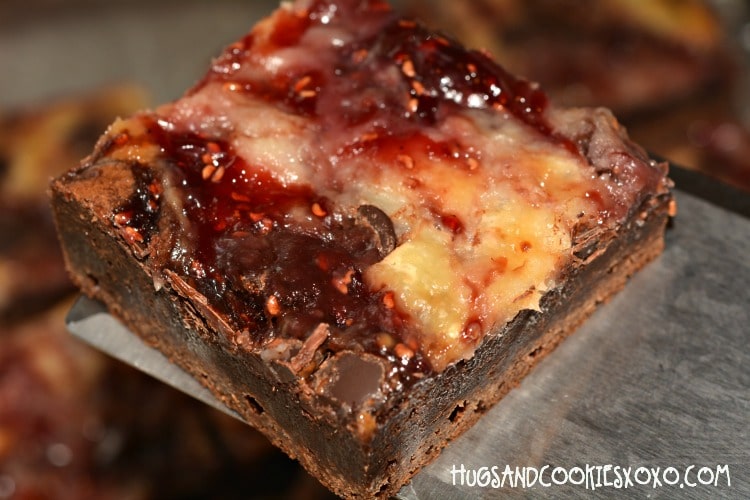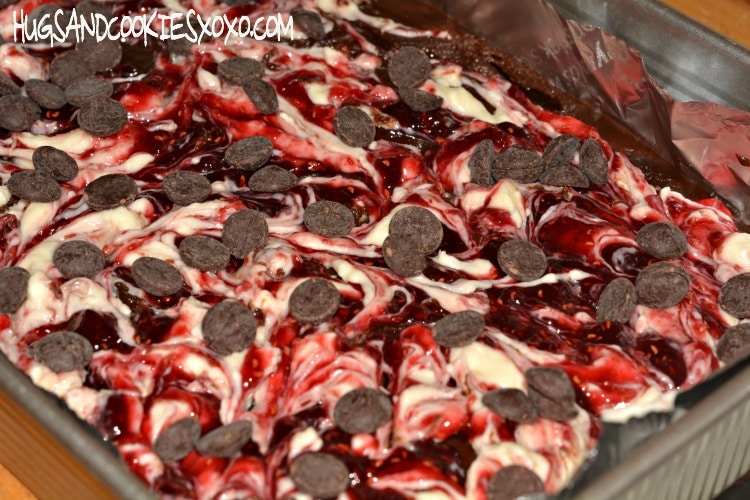 RASPBERRY CHEESECAKE BROWNIES
Ingredients:
 1 1/2 sticks (3/4 cup) butter
4 ounces unsweetened baking chocolate
2 1/2 cups sugar, divided
3 eggs
1 1/2 cups flour
1/4 teaspoon salt
8 ounce package cream cheese, softened to room temperature
1 teaspoon vanilla
1/2 cup dark chocolate chips
1/2 cup raspberry jam
Preheat the oven to 350F. Microwave the  butter and chocolate together until melted. Add 2 cups of sugar and the eggs and mix well. Add flour and salt. Spread into a 9×13 pan lined with nonstick foil.
In a mixer, beat cream cheese, 1/2 cup of sugar, and the vanilla.
Drop spoonfuls of the cream cheese mixture on top of the chocolate. Spoon on small scoops of the jam and swirl together with a skewer. Sprinkle on chocolate chips. Bake 35-40 minutes and let cool. Cut and keep chilled.
Recipe adapted from the book Sweet Eats by Rose Dunnington via Butter With  a Side of Bread
You May Love These, Too! XOXO