Reese's Brownies
These Reese's brownies do not disappoint and have become our favorite way to make brownies. I used a delicious homemade recipe for the brownies but you could also easily use a brownie mix instead. That would make for an even easier and faster way to enjoy these beauties!
You may also love:
REESE'S PUMPKINS IN JUNE? HOW FUN IS THAT! I HAD TO USE UP THE LAST OF MY HALLOWEEN PUMPKINS BUT OF COURSE, REGULAR REESE'S CUPS WILL WORK PERFECTLY HERE! JUST USE ENOUGH TO COVER THE ENTIRE PAN!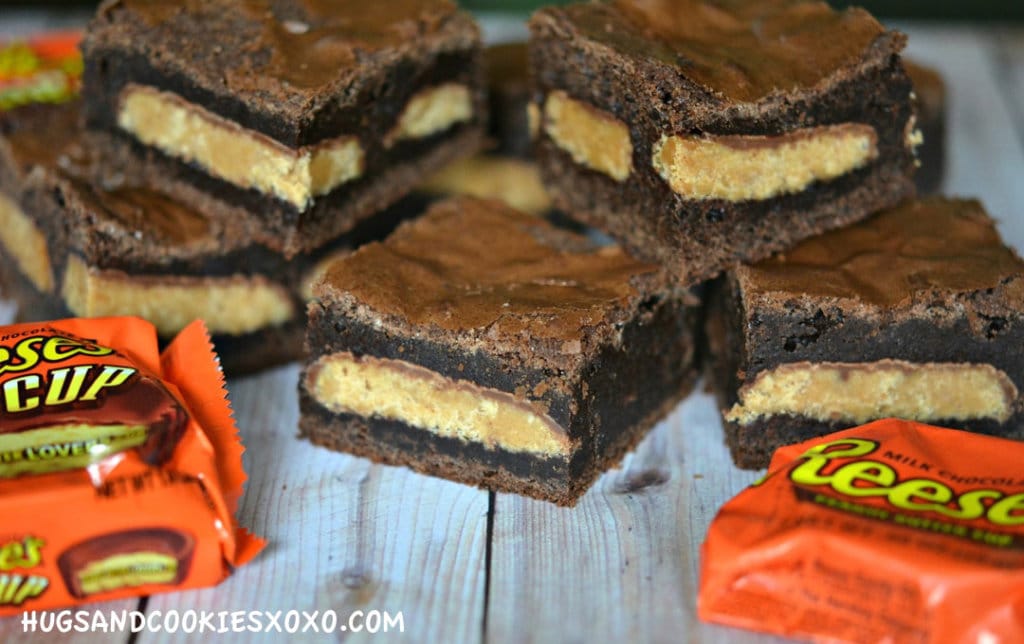 BROWNIES STUFFED WITH REESE'S PEANUT BUTTER CUPS!
Ingredients
1 cup butter
2 cups sugar
2 tsp. vanilla extract
4 large eggs
¾ cup unsweetened cocoa
1 cup all purpose flour
½ tsp. baking powder
¼ tsp. salt
16-24 Reese's peanut butter cups (snack size) (#needed will vary on what shape pb cups you use)
Instructions
Preheat oven to 350 degrees and line a 9x9 baking pan with nonstick foil. In microwave,  melt butter.
Stir in sugar and vanilla extract. Add eggs, one at a time, and incorporating each egg in before adding another one. Stir in the dry ingredients. Pour half the batter into the prepared baking pan and place Reese's cups next to each other. Pour the rest of the batter on top of the Reese's cups, covering them. Spread the batter gently with an offset spatula to make sure everything is covered.
Bake for 35-40 minutes then remove from oven and let brownies cool in pan until room temperature.
Chill and then trim into squares.

adapted from a table for two
You May Love These, Too! XOXO