REESE'S PEANUT BUTTER CUP S'MORES? DOES IT GET ANY BETTER THAN THIS? NO, IT DOES NOT! TRUST ME!!!!!! RUN AND BUY 16 PEANUT BUTTER CUPS AND THEN PROCEED!!!! BAKE THESE FOR SOMEONE SPECIAL!!!
START WITH 16 REGULAR SIZE PEANUT BUTTER CUPS!

LAY THEM ON TOP OF YOUR DOUGH-HOW CUTE!!!


AHH, COMPLETELY COVERED IN PEANUT BUTTER CUPS!
TIME TO SPREAD ON THE FLUFF!!!


SMOOOTH IT OUT!


BAKE AND CUT INTO BARS!!!! OOOOOH LA LA!!!!!

LOOK AT THAT!! WHOA!!!


I'LL SAVE THIS ONE FOR YOU!
RECIPE ADAPTED FROM THE SWEET LIFE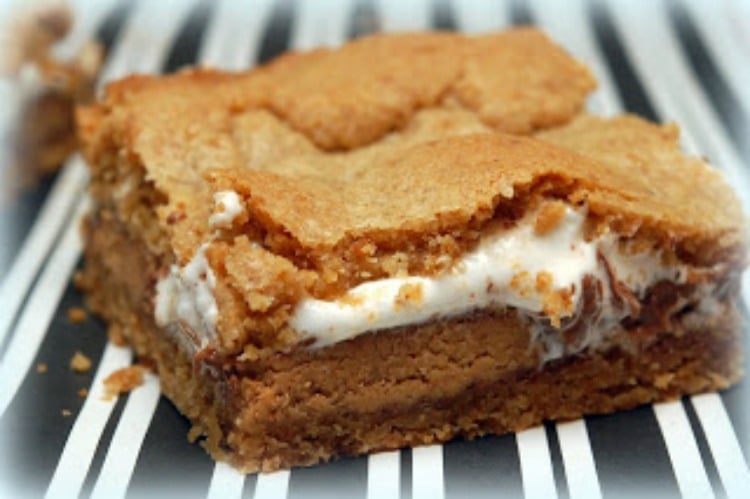 Peanut Butter Cup S'mores Bars
I MADE 9 LARGE BARS FROM THIS RECIPE
Ingredients
1 stick soft butter
1/2 cup packed brown sugar
1/4 cup sugar
1 egg
1 teaspoon vanilla
1 1/4 cups flour
1 teaspoon baking powder
1/4 teaspoon salt
1 cup graham cracker crumbs
16 regular sized peanut butter cups
1 1/2 cups marshmallow fluff
Directions
Preheat the oven to 350 degrees. Line an 8×8 pan with nonstick foil.
Beat butter and sugars until fluffy. Beat in egg and vanilla until combined. Add flour, baking powder, salt, and graham cracker crumbs until mixed.
Spread 2/3 of the dough on the bottom of the prepared baking dish. Lightly prss the peanut butter cups into the dough Spread marshmallow fluff on top using small spatula-helps to lightly wet it.). Press the remaining dough on a non-stick surface into the shape of an 8×8 square. Place the square on top of the fluff and press down lightly.
Bake for 27-30 minutes. Cool for at least two hours. Cut with a sharp knife!