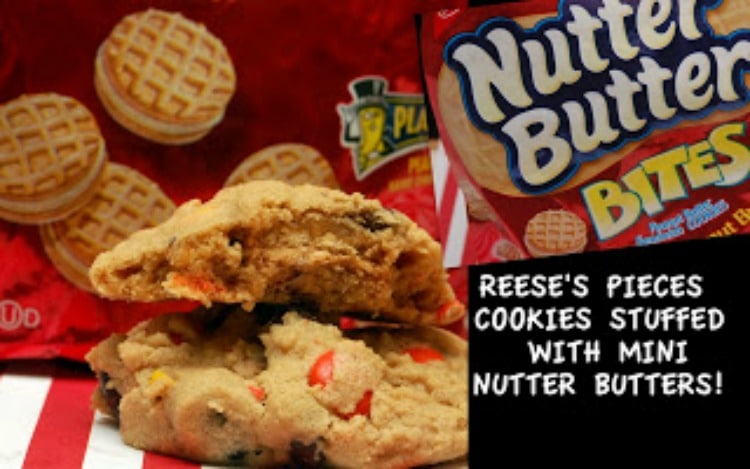 Makes about 2 dozen cookies

1/2 cup butter, softened
1/2 cup creamy peanut butter (I USED SKIPPY!!)
1/2 cup brown sugar
1/2 cup white sugar
1 egg
1 1/4 c. flour
3/4 tsp. baking soda
1/2 tsp. baking powder
1/4 tsp. salt
1 cup Reese's Pieces
1 bag Nutter Butter Bites-use 1 mini for each cookie

Preheat oven to 350 degrees F. Line cookie sheets with parchment paper.

In large bowl, beat butter, peanut butter, and sugars. Add egg and beat until smooth. Add the dry ingredients. Stir in Reese's Pieces. Chill dough at least 30 minutes!

Scoop a heaping Tablespoon of dough and wrap it around a Nutter Butter Mini. Flatten slightly. Bake 12 to 15 minutes, until cookies are golden brown. Cool 5 minutes on cookie sheets. Cool completely on a rack. Break a cookie in half to see the surprise center and enjoy!!!!!!!!!!!