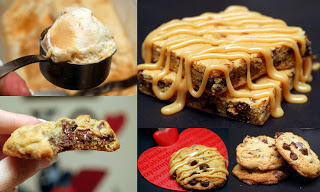 YUP! YOU READ THAT RIGHT! THE SECRET INGREDIENT WAS MY HOMEMADE VANILLA BEAN SALTED CARAMEL ICE CREAM. YOU CAN USE ANY ICE CREAM YOU WANT FOR THESE-HOMEADE OR STORE BOUGHT!
ELECTRIC MIX:
2 sticks softened butter
1 Cup granulated sugar
3/4 Cup packed brown sugar
ADD:
2 large eggs
1 Tablespoon pure vanilla
Heaping 1/2 Cup salted caramel ice cream or flavor of choice
Add:
4 Cups flour
1 1/2 teaspoons baking soda
1 teaspoon salt
1 bag semi sweet chocolate chips
Scoop mounds onto parchment lined cookie sheets. Bake 10-12 minutes at 350 and let cool on pan! Drizzle with homemade dulce de leche.
For gluten free bars, (I used Better Batter). Press into 9×13 pan lined with nonstick foil and bake 15-20 mins.
cookies recipe adapted from Picky Palate
You May Love These, Too! XOXO