This wonderful delight was adapted from Chef in Training! Check out her blog, you'll love it!!
Make sure you have a nice large sheet pan to make this crazy good cake! One like this is perfect!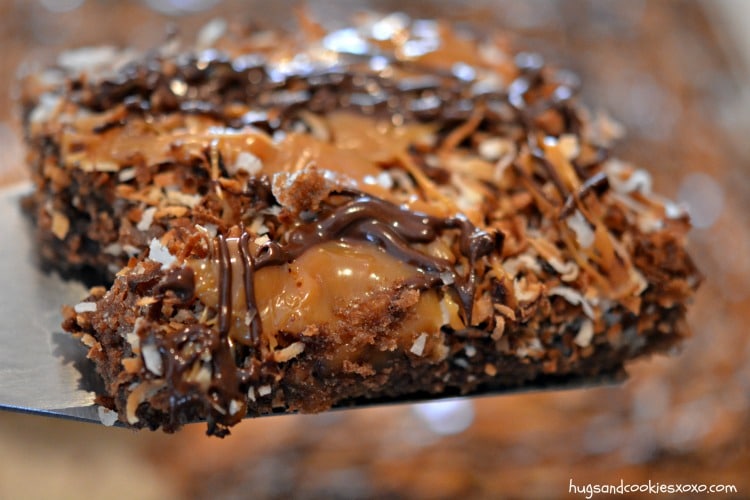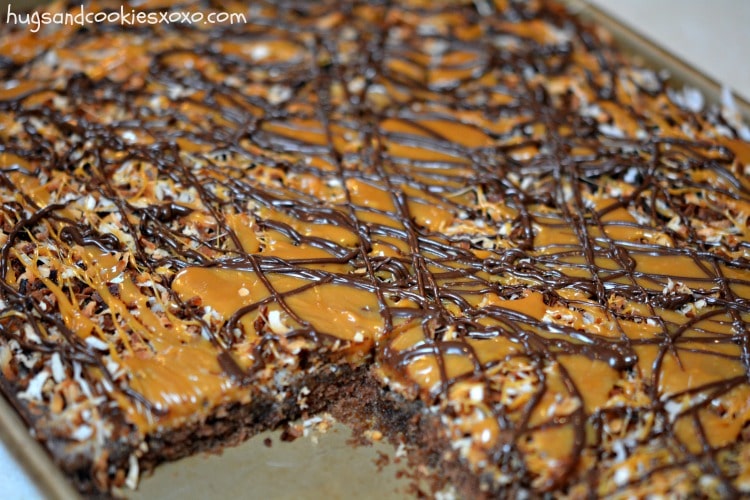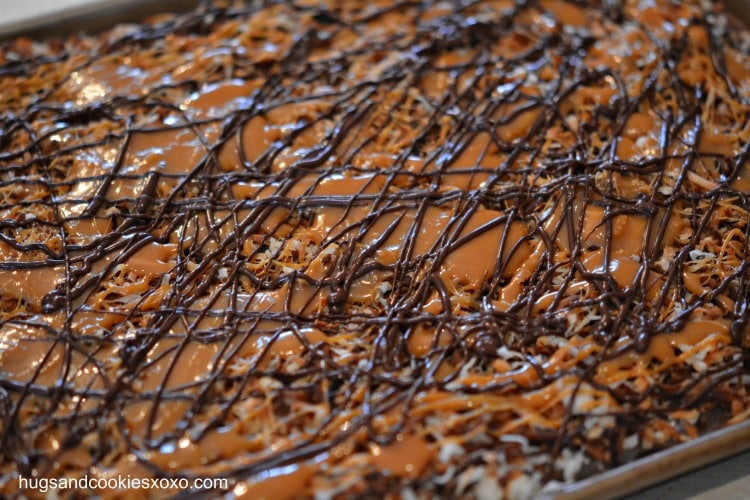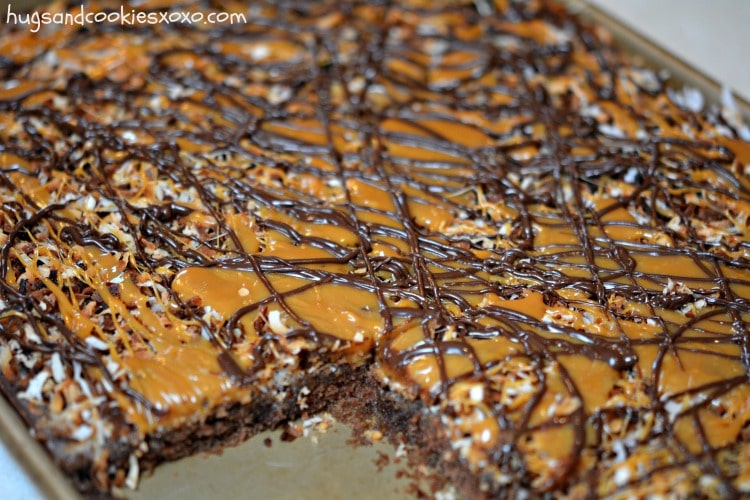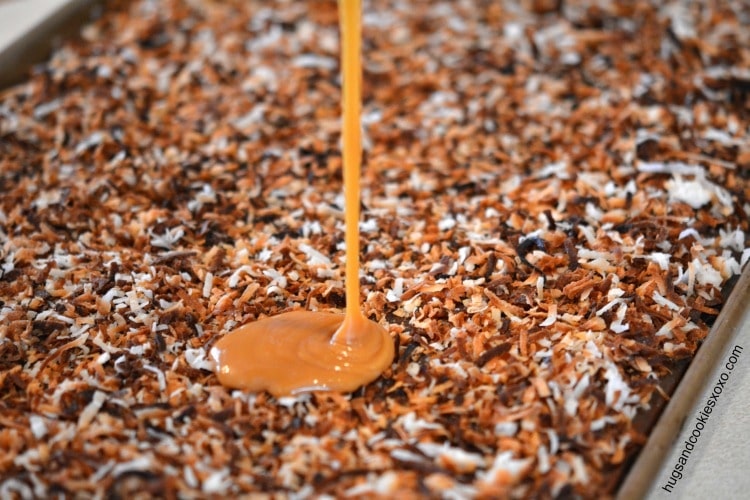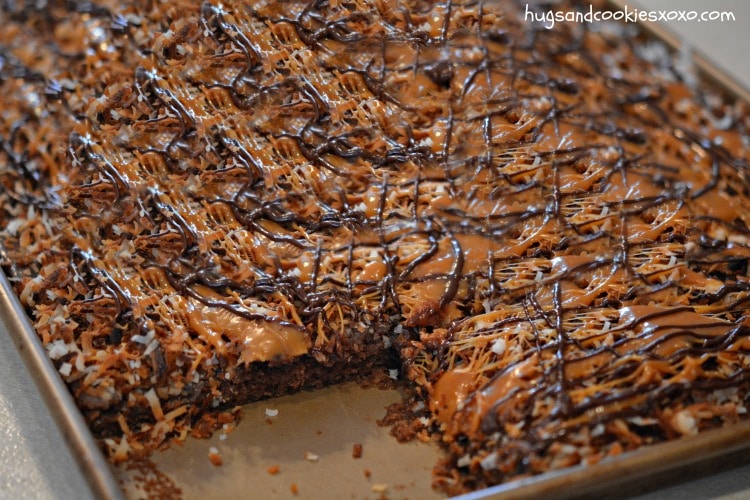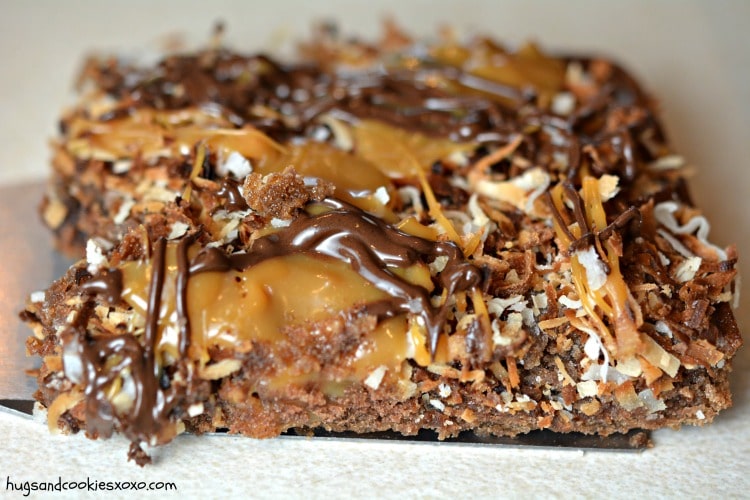 Samoa Cookie Sheet Cake
Ingredients
Cake
2 cups flour
2 cups sugar
½ cup butter
1 cup water
4 Tablespoons unsweetened cocoa powder
½ cup shortening
½ cup buttermilk
½ teaspoon baking soda
2 eggs
1 teaspoon vanilla
Frosting
½ cup butter
¼ cup plus 2 Tablespoons milk
2½ cups powdered sugar, must be sifted!
1 teaspoon vanilla
⅛ cup Smuckers caramel sauce
Topping
3 cups coconut (Toast on a sheet pan in the oven at 350 for about 15 minutes tossing frequently)
11 ounces Kraft caramels
3 Tablespoons heavy cream
¾ cup milk chocolate chips
Instructions
Cake
Grease 18x13x1 sheet pan with sides.
In a pot, combine butter, water, cocoa and shortening. Bring to a boil and then add flour and sugar. Stir well.
Add buttermilk, baking soda, eggs, and then vanilla. Stir.
Pour into the pan and bake at 400 degrees for 15- 20 minutes.
Frosting
In the microwave, bring butter and milk to a boil.
Add in caramel sauce and then add powdered sugar and vanilla. Stir smooth.
When cake comes out of oven, immediately poke holes in it with a fork and pour this on the hot cake.
Sprinkle on the toasted coconut right away.
In the microwave, melt the caramels and cream until smooth. Pour over the coconut.
Melt the chocolate chips and drizzle all over the caramel. Let set before cutting.
This was a bit challenging to cut but I had better luck with a serrated knife to "saw" through the ooey gooey goodness of the caramel!