FOR THE
SECRET RECIPE CLUB
THIS MONTH, I WAS ASSIGNED A BLOG CALLED, "
WE HEART VEGAN
." AS SOON AS I SAW HER POST FOR
SWEET POTATO HOME FRIES
I KNEW I'D FOUND MY MATCH! YEARS AGO, MY HUBBY & I HAD THE MOST AMAZING SWEET POTATO FRIES IN A RESTAURANT. THEY WERE ACTUALLY SERVED WITH….ARE YOU SITTING?…….POWDERED SUGAR!!!! AND THEY WERE PHENOMENAL. I FOLLOWED WE HEART VEGAN'S RECIPE CHANGING ONLY THE SHAPE OF MY POTATOES AND FINISHING THEM OFF WITH A SPRINKLING OF POWDERED SUGAR. MINE ROASTED FOR ABOUT 45 MINUTES. THANKS FOR THE INSPIRATION!!!
HERE IS MY SOUS CHEF AT WORK LINING UP OUR FRIES!
I THINK HE'S HAVING FUN!!! HE'S LINING THEM UP PRETTY WELL, TOO!
HERE THEY ARE…ALL DRESSED UP IN THEIR POWDERED SUGAR YUMMINESS!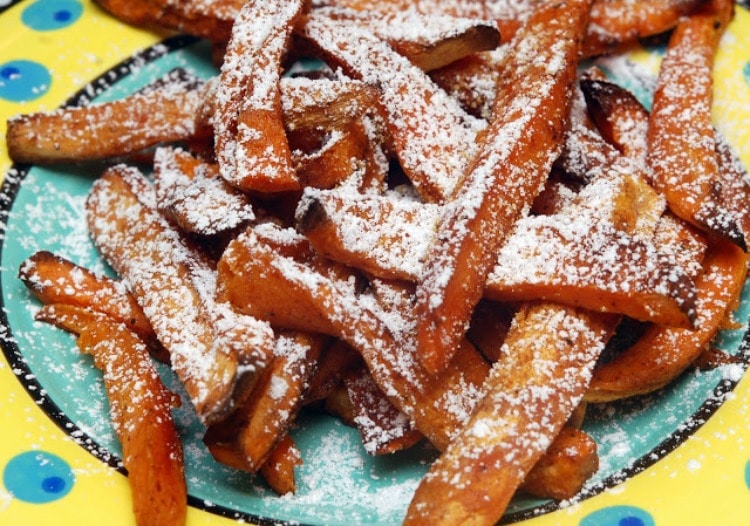 WANT A FRY?
Sweet Potato Baked Home Fries -RECIPE FROM WE HEART VEGAN
Serves 4
2 large sweet potatoes
2 Tbsp. olive oil or canola oil
Dash of paprika
Ample sprinkle of sea salt and fresh ground black pepper
Directions:
Scrub the potatoes well; slice first into rings by cutting end to end then cut each circle into triangles by slicing it in half twice.
Place all the chunks into a mixing bowl and add the remaining ingredients; toss to coat.
Spread onto a baking sheet, being sure that they are in a single layer, and bake in a preheated 400 F oven for 8 minutes; flip after the 8 minutes and bake 8 more. Since the cubes are small they won't take long at all.
Carefully remove each one and put in to a dish for serving; serve hot!