HOT OUT OF THE OVEN!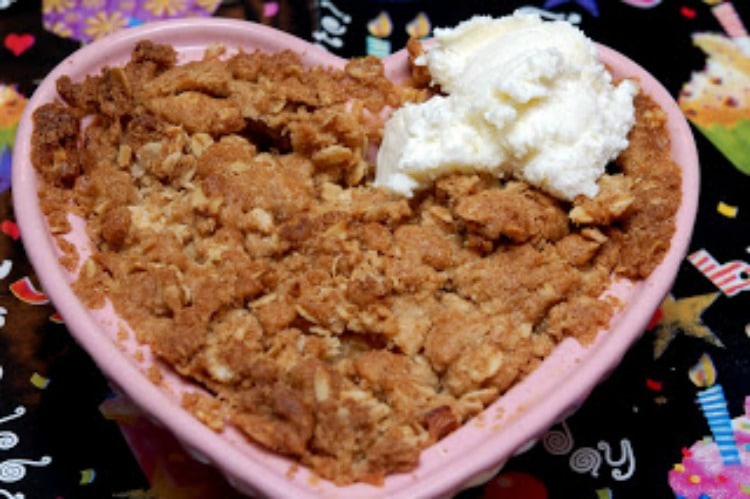 HAD TO ADD SOME HOMEMADE VANILLA ICE CREAM!

HUBBY GOING IN FOR THE TASTE!
UM…YAH…I THINK WE LIKED IT!!!!!!!!!!! I MEAN ABSOLUTELY LOVED!
FOR THE SECRET RECIPE CLUB THIS MONTH I WAS ASSIGNED THE BLOG, VEGGIE GRETTIE! GRETCHEN IS A CERTIFIED NUTRITION SPECIALIST AND SO THOSE OF YOU WHO READ MY BLOG CAN IMAGINE HOW DIFFERENT OUR 2 BLOGS ARE. I WAS THANKFUL I WAS ASSIGNED GRETCHEN'S BLOG AND THAT SHE DID NOT RECEIVE MINE. SHE MAY HAVE FAINTED PAST ALL OF THE CHOCOLATE, BUTTER AND SUGAR HERE. AS I READ GRETCHEN'S BEAUTIFUL BLOG I FOUND A COMMON INTEREST….YUP! WE BOTH HAVE MANY GLUTEN FREE FEATURES! I DECIDED TO TRY OUT HER APPLE CRISP RECIPE. OF COURSE, I HAD TO VEER A TINY BIT AND USE REGULAR BUTTER. THIS CRISP TURNED OUT AMAZING AND YOU WOULD NEVER KNOW IT WAS GF! THANKS SO MUCH GRETCHEN!!!
RECIPE FROM GRETCHEN (MY PERSONAL CHANGES ARE IN RED)
TOPPING
½ cup gluten free flour mix (I USED KING ARTHUR ALL PURPOSE GF FLOUR)
½ cup organic brown sugar
½ cup
Bob's Red Mill GFree Whole Grain Rolled Oats
(not instant)
¼ teaspoon
Rumford aluminum free baking powder
½ teaspoon ground cinnamon
¾ of a stick of vegan
Earth Balance (I USED BUTTER)
FILLING
4-6 cups sliced apples
Sugar to taste (more for tart apples, less for sweet apples)
2 Tbs. cornstarch
1/3 cup fresh apple cider (I OMITED THIS AS RECIPE DIRECTIONS DID NOT MENTION IT)
½-1Tbs. lemon juice (I OMITED)
Cinnamon to taste
Preheat the oven to 425 degrees. (I HALVED THE RECIPE AND USED AN INDIVIDUAL RAMEKIN SO I BAKED MINE AT 375 FOR 1 HOUR)
Mix together the flour, sugar, oats, baking powder, and cinnamon. Cut the cold Earth Balance into cubes and mix it in to the dry mixture with a pastry cutter or your hands. The goal is to keep the topping crumbly and not mash it into a ball. You want the butter to be distributed evenly throughout the mix so you end-up with a crumble that filled with pea-sized chunks.
Slice the apples and mix them with the sugar, cornstarch, lemon juice, cinnamon. Place the apple mixture into a glass dish. Evenly distribute the topping over the apples.
Bake for 40 minutes. Check to make sure the topping does not get too brown. If the topping is browning too quickly, loosely cover with a piece of foil.
You May Love These, Too! XOXO