Sheet Pan Korean Chicken and Sweet Potatoes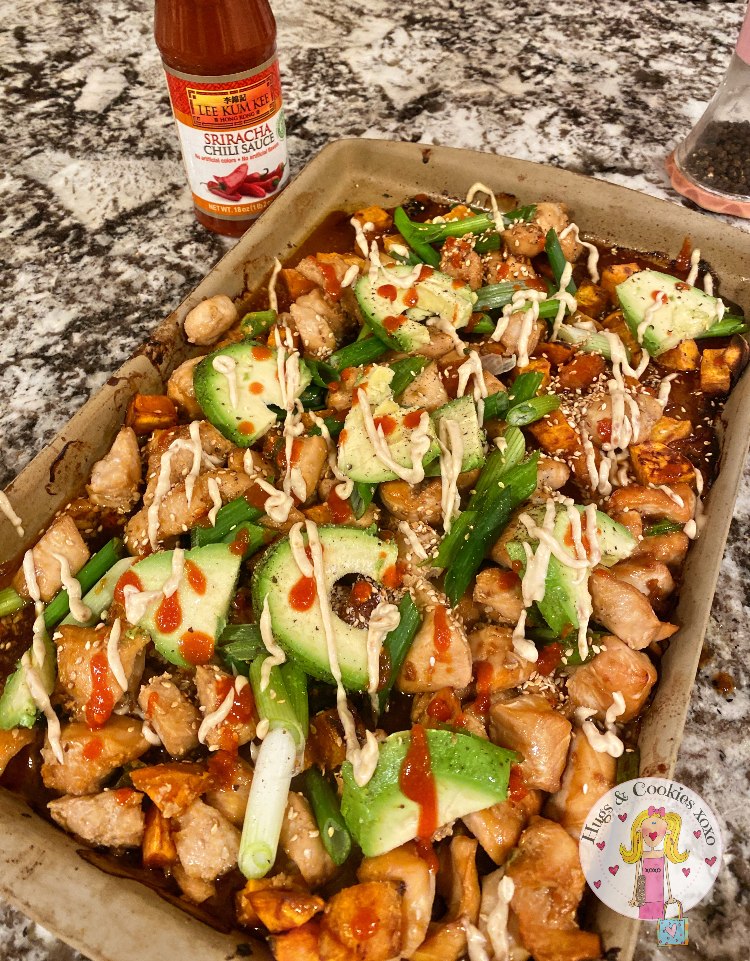 Sheet Pan Korean Chicken and Sweet Potatoes
Ingredients
Sweet Potatoes
2 medium sweet potatoes, cut into 1 inch cubes
1 T. olive oil
salt/pepper
Chicken
2 lbs chicken breasts, cubed
¾ c. soy sauce
3 T. dark brown sugar
2 scallions, sliced
1½ T. honey
1 T. soybean paste
1½ T. toasted sesame oil
1 T. toasted sesame seeds
3 crushed garlic cloves
pinch kosher salt
Yum Yum Sauce
½ c. mayo
1 T. soybean paste
Garnish
sliced scallions and sliced avocado
Instructions
Potatoes
Preheat the oven to 425 degrees F. On a rimmed baking sheet, toss the sweet potatoes with 1 tablespoon oil, salt, and pepper. Transfer to the oven and roast for 20 minutes.
Chicken
Combine all ingredients and toss in cubed chicken.
Remove the potatoes from the oven and slide them to 1 side of the pan. Add the chicken and any sauce left in the bowl to the other side. Return to the oven and continue roasting another 15 minutes, until the chicken is cooked through. During the last 2-3 minutes of cooking, switch the oven to broil and broil until the chicken chars on the edges and the sauce sticks to the chicken. Watch closely, the broiler can burn food fast. Serve with Yum Yum sauce drizzled on, avocado and scallions. Also, a touch of sriracha, if desired.
YumYum Sauce
Mix mayo and soybean paste.
You May Love These, Too! XOXO