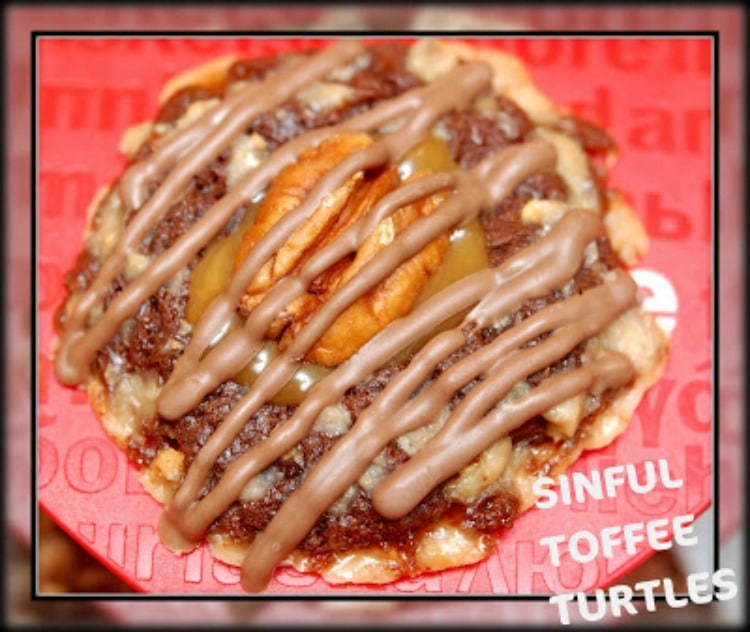 SINFUL TOFFEE TURTLES
1 stick butter, softened
2/3 cup sugar
1 egg
2 T. milk
1 tsp. vanilla
1 cup flour
1/3 cup unsweetened cocoa powder
1/4 teaspoon salt
Caramel Bits, 4 ounces (or regular caramels)
1 1/2 T. heavy cream
1 bag Heath toffee bits or chocolate toffee bits (both work great)
Pecan Halves-one per cookie
Small amount of melted chocolate disks or chips for drizzling!
Preheat oven to 350 and line cookie sheets with parchment paper. Beat butter and sugar till creamy. Add egg, milk and vanilla. Once combined well, gradually add flour, salt and cocoa. Wrap dough in plastic wrap and chill in fridge at least 2 hours. You need this dough to be very cold!
Once chilled, break off large Tablespoons of dough and roll into balls. Roll each ball into the toffee bits. Place on cookie sheet and use back of a small measuring spoon to press an indent in the center. This step is like making a thumbprint cookie. Bake in the oven for approx 10-12 minutes. (Don't worry if they spread at this point because you will fix centers!) Remove and press the centers down with the measuring spoon again to fix the indent.
While cookies cool, melt caramels and cream in microwave and stir smooth. Let cool a few minutes and carefully spoon some into the center of each cookie. Top each caramel center with a pecan halve. Once set, melt chocolate in microwave and drizzle over the tops!
You May Love These, Too! XOXO