THIS CHOCOLATE MACARON IS STUFFED WITH HOMEMADE CARAMEL, CHOCOLATE GANACHE & A SNICKERS SLIVER! THERE IS ALSO A SNICKER BITE BAKED INTO THE TOP MACARON!
USE YOUR GOOD COCOA FOR THESE!
PRETTY!!
CHOP UP THOSE SNICKERS!
TIME FOR THE CHOCOLATE
BUILDING MY MACARON! CHECK OUT THAT CARAMEL!
HERE IS HUBBY'S BITE!
OR FANCY IT UP A BIT!
Snickers Macarons
Chocolate Macaron Batter
1 cup (100 gr) powdered sugar
½ cup powdered almonds (about 2 ounces, 50 gr, sliced almonds, pulverized)
3 tablespoons (25 gr) unsweetened Dutch-process cocoa powder
2 large egg whites, at room temperature
5 tablespoons (65 gr) granulated sugar
Chocolate Filling
½ cup (125 ml) heavy cream
2 teaspoons light corn syrup
4 ounces (120 gr) bittersweet or semisweet chocolate, finely chopped
1 tablespoon (15 gr) butter, cut into small pieces
Preheat oven to 350º F (180º C).
Line two baking sheets with parchment paper and have a pastry bag with a plain tip (about 1/2-inch, 2 cm) ready.
Grind together the powdered sugar with the almond powder and cocoa so there are no lumps; use a blender or food processor since almond meal that you buy isn't quite fine enough.
In the bowl of a standing electric mixer, beat the egg whites until they begin to rise and hold their shape. While whipping, beat in the granulated sugar until very stiff and firm, about 2 minutes.
Carefully fold the dry ingredients, in two batches, into the beaten egg whites with a flexible rubber spatula. When the mixture is just smooth and there are no streaks of egg white, stop folding and scrape the batter into the pastry bag (standing the bag in a tall glass helps if you're alone).
Pipe the batter on the parchment-lined baking sheets in 1-inch (3 cm) circles (about 1 tablespoon each of batter), evenly spaced one-inch (3 cm) apart. Top some with a sliver of a snickers bar, if desired!
Rap the baking sheet a few times firmly on the counter top to flatten the macarons, then bake them for 15-18 minutes. Let cool completely then remove from baking sheet.
To make the chocolate filling:
Heat the cream in a small saucepan with the corn syrup. When the cream just begins to boil at the edges, remove from heat and add the chopped chocolate. Let sit one minute, then stir until smooth. Stir in the pieces of butter. Let chill in fridge and then whip in mixer until fluffy! adapted from David Lebovitz
Click here for the caramel Recipe
Assembly: spread half a macaron with chocolate, half with caramel and place a snickers sliver on one half. Sandwich together! TASTE BEST ON DAY 2!!
LINKING AT ADDICTED TO RECIPES
LINKING AT SALT TREE
LINKED AT SWEET TREATS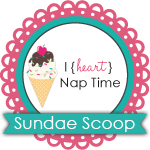 🙂
You May Love These, Too! XOXO