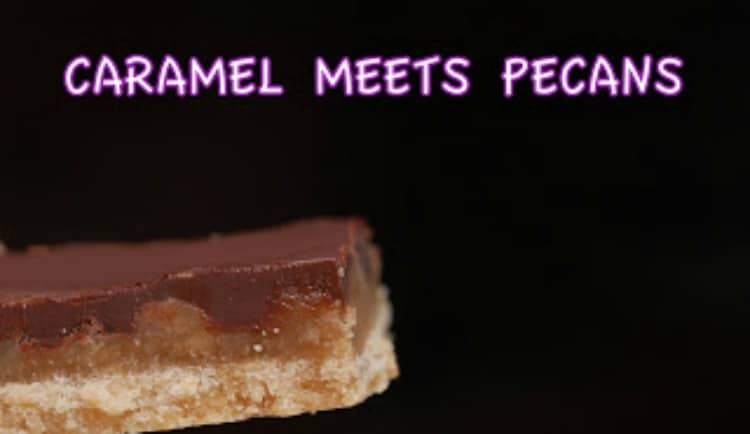 HERE ARE THE PECANS AND CARAMEL HEADING INTO THE OVEN!!!

CAN I INTEREST YOU IN A BAR?

RECIPE FOR TURTLE BARS AS MADE BY http://www.melecotte.com
Bar Base
2 cup flour
1 cup brown sugar
½ cup softened butter
6 oz. pecan halves
Topping
2/3 cup butter
½ cup brown sugar
10 oz. bittersweet chocolate chips
Preheat oven to 350°F.
Place the flour, sugar, and butter in the bowl of an electric mixer. Blend until the mixture looks coarse and crumbly. Press mixture into a 9×13-inch pan. Arrange the pecans over the flour mixture; set aside.
In a small sauce pan, melt butter and brown sugar. Stirring frequently, bring to a boil. Boil for 30 seconds, stirring constantly to make sure the mixture is fully blended. Remove from heat and pour the over the pecans-covered base. Bake for 20 minutes. Remove from oven and immediately sprinkle with chocolate chips. Return to oven for about 30 second-1 minute. Remove, and with an offset spatula, spread the chocolate into an even layer. Let cool in pan completely and then cut into small squares. Yields about 20-30 squares

LINKING AT SIX SISTERS STUFF