Spinach Artichoke Pizza
This pizza was inspired by one we had at a yummy restaurant and I am happy to say we got it right! This is an absolutely delicious pizza. You can use any crust you like but I highly recommend trying this 24 hour pizza crust. (A little secret? I have even baked it off the same day without waiting 24 hours and it was still fabulous!) This spinach artichoke mix can even be made days ahead of time and stored in the fridge!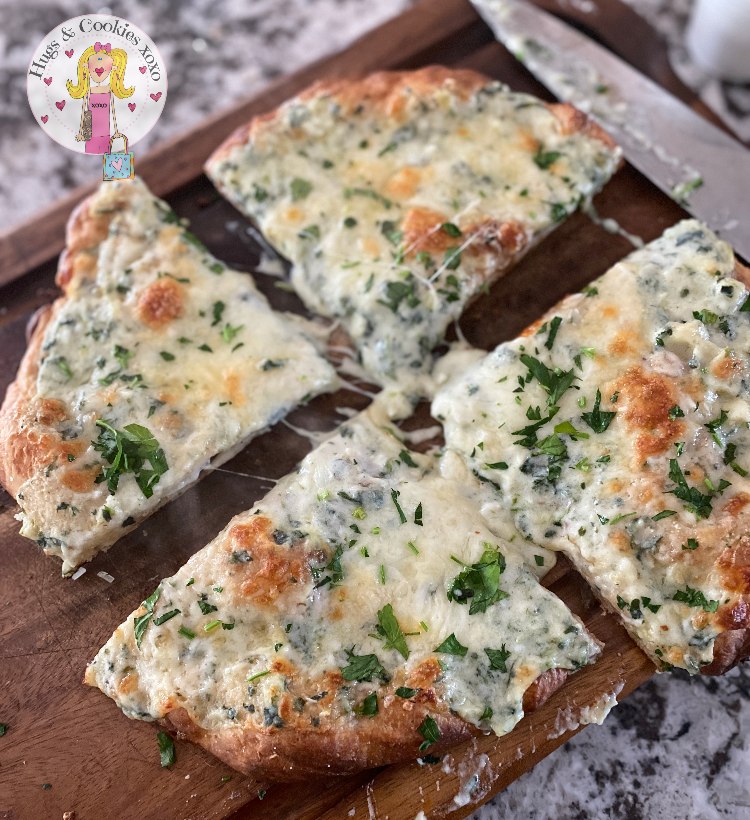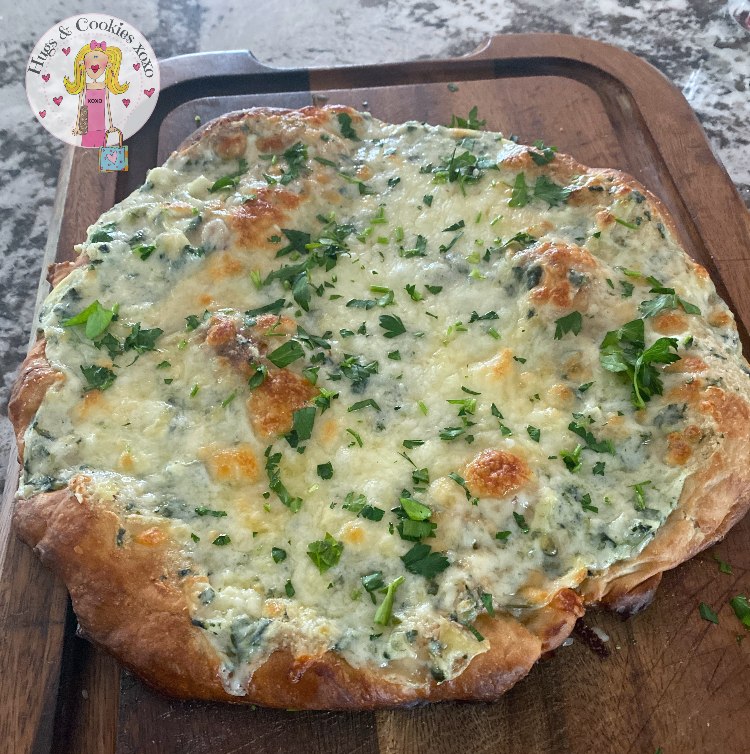 You may need:
Spinach Artichoke Pizza
Ingredients
Spinach Artichoke
2 T. olive oil
¼ c, flour
4 cloves garlic, minced in press (plus 2-3 more minced to add after cooking)
3 cups whole milk
2 ounces Gruyere Cheese, shredded (about 1 cup)
1 cup Parmesan Cheese, grated
1 teaspoon salt (I use more but taste it for your preference.)
¼ teaspoon black pepper
1 cup frozen spinach, thawed and all water squeezed out
half of a 14-ounce can artichoke hearts, drained and chopped
Instructions
Preheat oven with a pizza stone to 500 degrees.
Spinach Artichoke
Filling
Heat oil in a deep skillet over medium.
Add flour cooking about 4 mins-don't brown it, just whisk it.
Add garlic and cook a few second.
Slowly add the milk, ½c. at a time whisking constantly to make smooth.
Reduce heat to medium-low and add cheese. Stir in salt/pepper. soon as it is almost melted, remove pan from heat and let cool a bit.
Stir in the spinach and artichokes.
Add the reserved fresh garlic cloves.
At this point you need to let it cool before putting on the pizza. I like to make this ahead of time then store in fridge. I spread it on the pizza while it is cold.
Pizza
Press dough onto a parchment circle and dock the bottom to avoid it puffing up in the oven. You can use a fork for this. (If using my 24 hour pizza dough, it makes 2 pizzas.)
Spread a light coating of olive oil on crust and bake 4 minutes. Remove parchment and place crust directly on stone. Continue baking crust 5 more mins or until starting to get golden brown. (This will provide a crispy crust. Bake less for a softer crust.)
Remove crust and spread on your spinach artichoke mixture.
Top with cheese.
Pop back in the oven until melty and golden, 8-10 mins.
Sprinkle with parsley.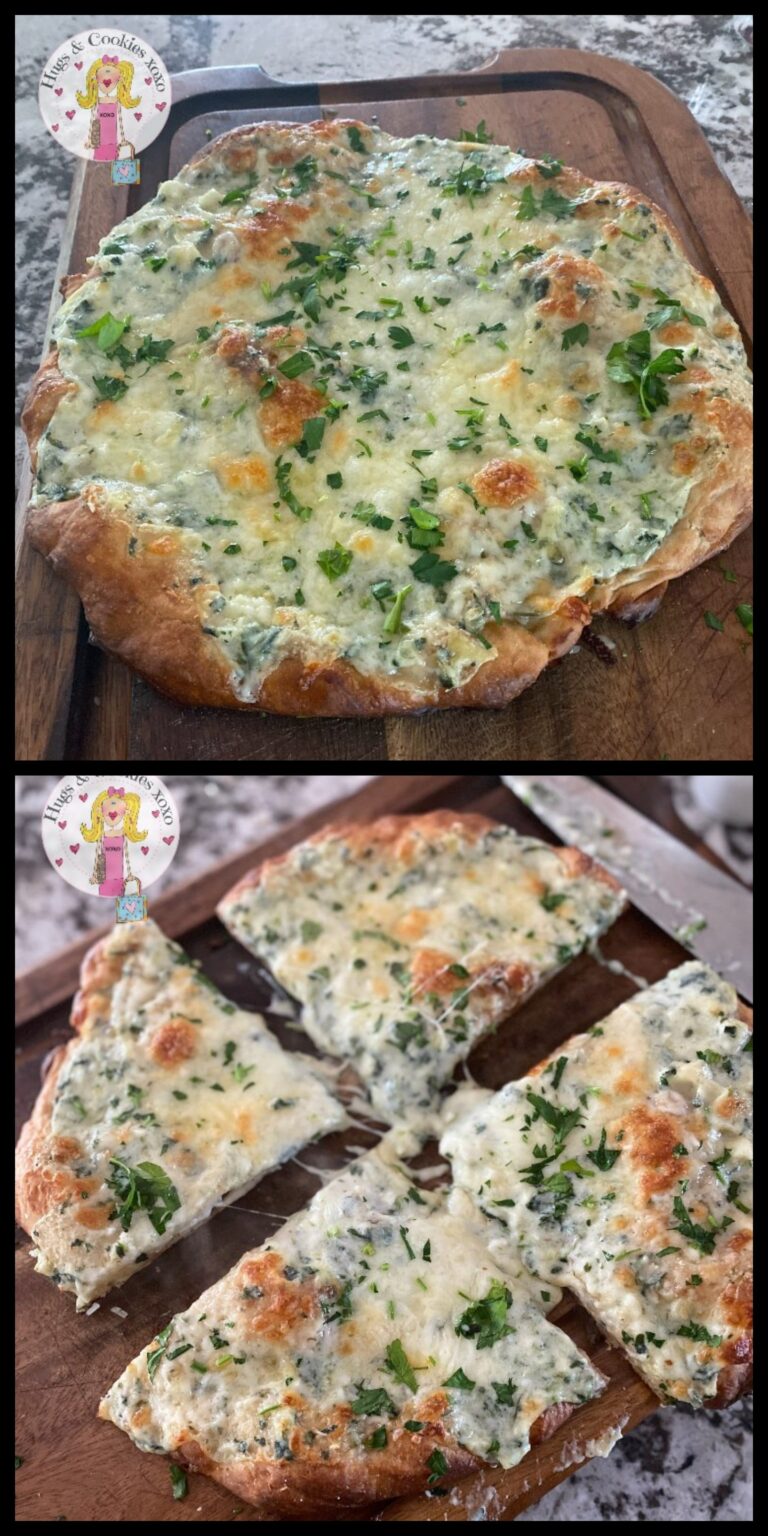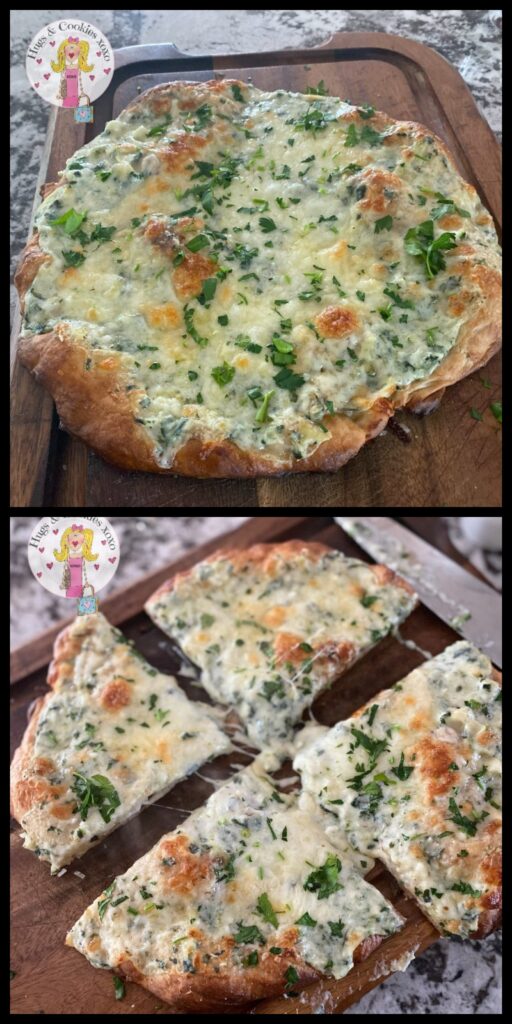 You May Love These, Too! XOXO