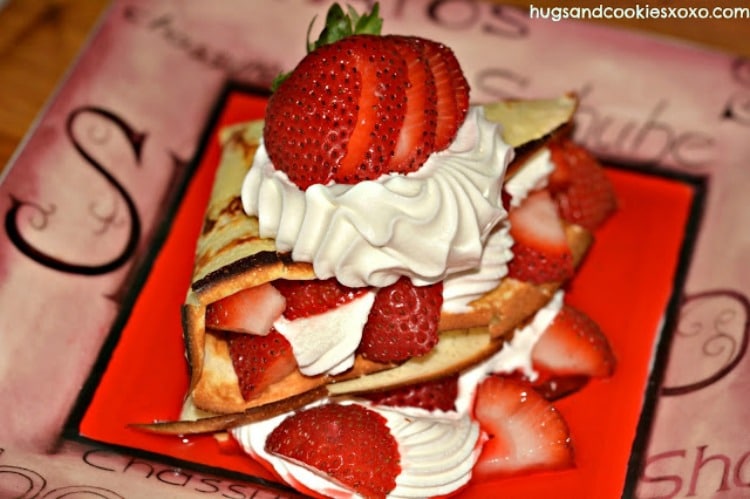 SECRET RECIPE CLUB, EVERYONE IS GIVEN THE NAME OF A BLOG (SECRETLY) AND YOU CHOOSE ONE RECIPE TO MAKE FROM THAT BLOG. THEN, EVERYONE POSTS AT THE SAME TIME ON THE SAME GIVEN DAY….TODAY!!!! IT IS FUN TO DISCOVER WHO HAD YOUR BLOG AND TO REVEAL THE ONE YOU WERE SECRETLY BAKING/COOKING FROM ALL ALONG!
THIS MONTH, I RECEIVED DEBBIE DOES DINNER HEALTHY
I CHOSE TO MAKE HER FABULOUS CREPE RECIPE! THANKS FOR THIS AMAZING RECIPE, DEBBIE!
Crepes
1 1/4 cup milk (I needed 1 1/2 cups milk for proper consistency)
1 cup flour
pinch of salt
2 tbsp. sugar
1 tbsp. vanilla
3 eggs
Add all ingredients to a blender. Blend until smooth and no lumps remain.
Preheat a crepe pan or non-stick pan on medium heat. Spray with coocnut oil (available at Trader Joe's) or cooking spray. Pour a small amount (scant 1/2 cup) of batter into pan while swirling around to make it thin in an even coat. Place pan back on heat and cook for 30 – 45 seconds on the first side, then flip and cook for about 10 – 20 seconds more until done.