TUILE COOKIES STUFFED WITH MONEY!!!!!! PEOPLE ARE STUFFING ALL SORTS OF WONDERFUL THINGS INTO COOKIES THESE DAYS! OREOS, ROLOS AND ALL SORTS OF CANDIES. I THOUGHT IT WOULD BE EVEN MORE WONDERFUL TO GIVE THE GIFT OF COOKIES STUFFED WITH MONEY! TALK ABOUT HITTING THE LOTTERY!!!!!!!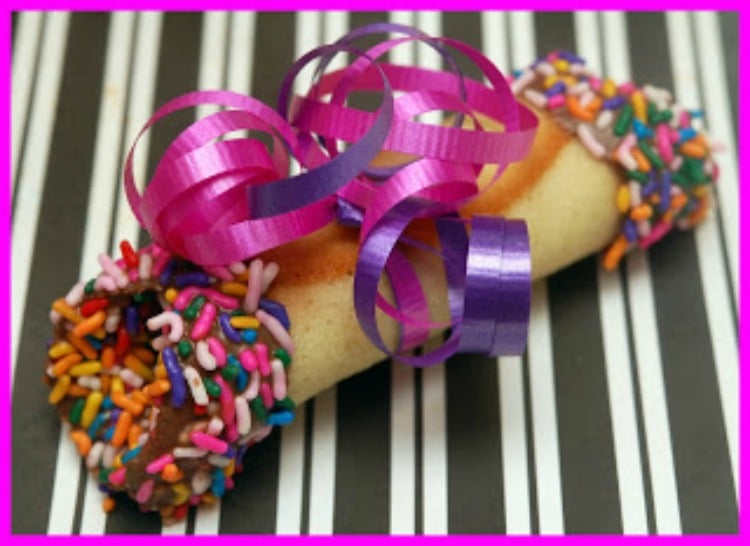 HAPPY BIRTHDAY MOM!!!!!
TUILE COOKIES
Ingredients
1 large egg white
1⁄4 cup superfine sugar
1⁄4 cup all- purpose flour, sifted
Pinch of coarse salt
4 teaspoons unsalted butter, melted
2 teaspoons heavy cream
1⁄4 teaspoon pure almond extract
Preheat oven to 350°F. Line a baking sheet with a Silpat or parchment.
Put egg white and sugar in the bowl of an electric mixer fitted with the whisk attachment. Mix on medium speed 30 seconds. On low, add flour and salt. Add butter, cream, and almond extract; mix 30 seconds.
Pour a small circular amount onto the sheet and bake until golden, 6 to 8 minutes. Lift cookies with a small offset spatula, and quickly roll into a cylinder shape-carfeul the are hot-wrap around a small roller if u have one or something thin. Repeat with remaining batter. Cookies can be stored between layers of parchment in an airtight container at room temperature up to 2 days.Wrap $$$$$ in plastic and slide into center of cookie-dip ends in chocolate and sprinkles!
Cookies adapted from Martha Stewart
Money Idea Inspired by Kathie's Kreations