Have you ever tried take 5 candy bars? These brownies take the best components of the candy bars and turn them into a delectable little treat! Definitely lunch box worthy!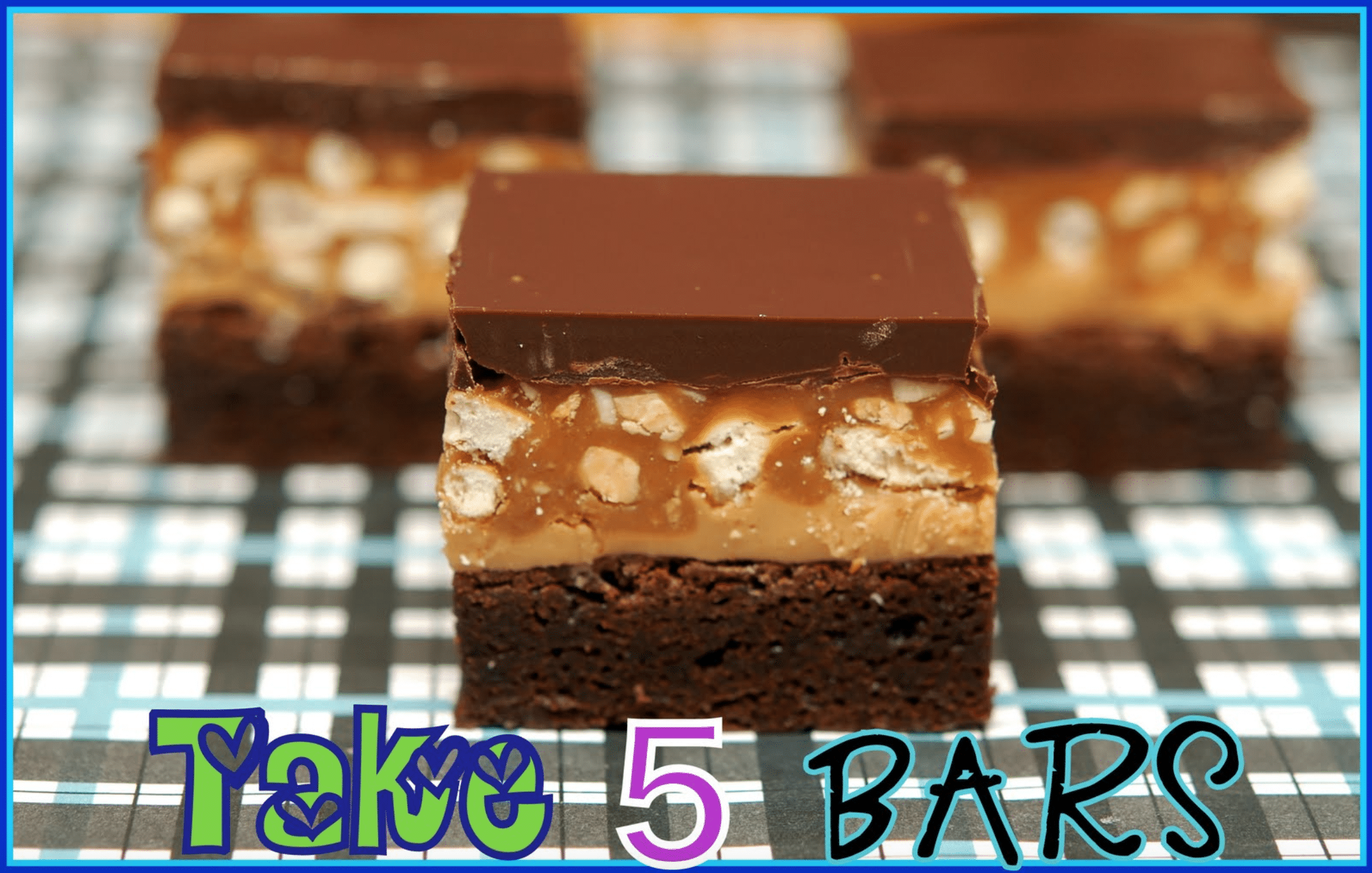 You'll Need
Nonstick Foil-My best friend!

TAKE 5 BARS!
Ingredients
Brownies
8 T. butter
½C. cocoa powder
1C. sugar
2 eggs
1 tsp. vanilla
¼ tsp. salt
¼ c. flour
Topping
1 c. peanut butter
2 c. salted pretzels, coarsley chopped.
11 ounces caramel bits
2 T. heavy cream
1 c. salted peanuts, chopped
1 bag Ghirardelli bittersweet chips
Instructions
Preheat oven to 350.
Melt butter in a bowl.
Stir in cocoa powder.
Add sugar and stir.
Add eggs and vanilla.
Stir in salt and flour.
Pour into an 8x8 pan lined with nonstick foil.
Bake 30-35 minutes and cool.
Topping
Spread peanut butter over the cooled brownies.
Sprinkle on the pretzels and lightly press down.
Melt caramel in microwave with cream. Stir in the peanuts and pour over the bars.
Melt the chocolate and pour over the bars.
Chill until firm and cut into bars.
WORTH EVERY LITTLE CALORIE YOU SEE!!! A SALTY & SWEET PARADISE! CARAMEL, PRETZELS, PEANUT BUTTER, PEANUTS & CHOCOLATE ALL ON TOP OF A BROWNIE!



(RECIPE ADAPTED FROM CONFESSIONS OF A COOKBOOK QUEEN)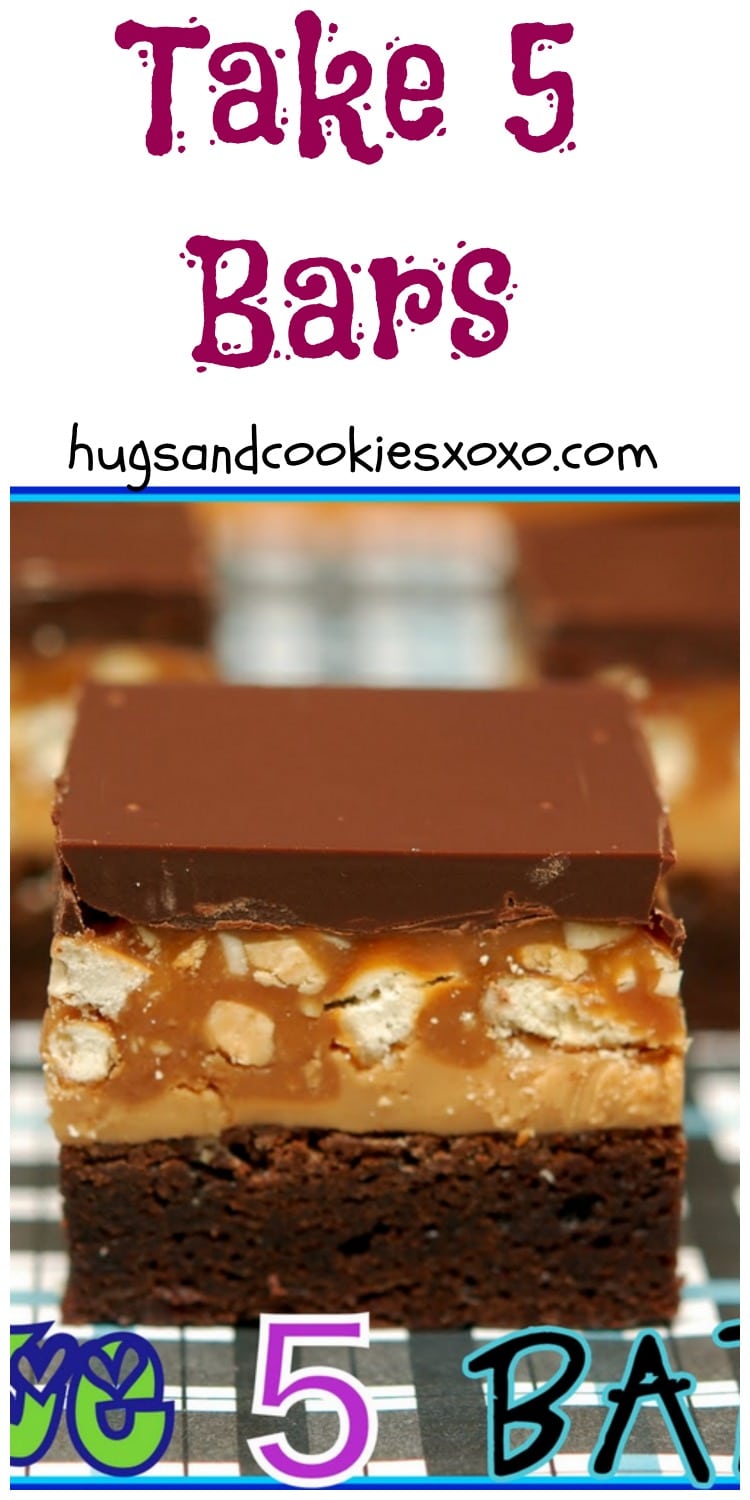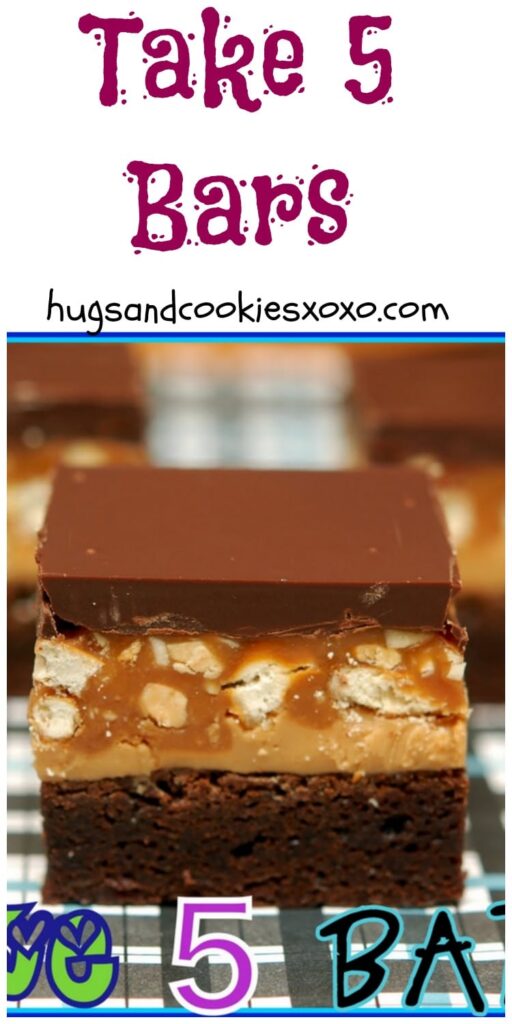 You May Love These, Too! XOXO