These bars are insane. Rich, decadent, just plain crazy! Go ahead and make some. Be wild!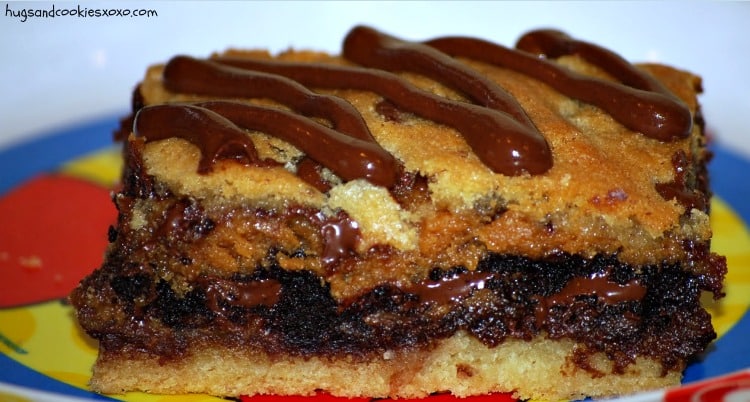 The Ultimate Layered Cookie Bar
Ingredients
Sugar Cookie
1 Roll of Pillsbury Sugar Cookie Dough
Double Chocolate Chip Cookie
½ cup butter
½ cup white sugar
⅜ cup brown sugar (This is half of ¾ cup)
1 egg
½ tsp. vanilla
½ cup plus ⅜ cups flour
½ cup plus 2T. cocoa powder
1 tsp. baking soda
⅛ tsp. salt
¾ cups chocolate chips
Peanut Butter Cookie
1 Cup creamy peanut butter
½ Cup granulated sugar
1 egg
Chocolate Chip Cookie
1 stick softened butter
⅜ Cup granulated sugar
⅜ Cup brown sugar
1 egg
1 tsp. vanilla
1¼ c. flour
½ teaspoon baking soda
¼ teaspoon salt
½ bag chocolate chips
Instructions
Sugar Cookie
Preheat oven to 350 degrees F. Press sugar cookie dough into bottom of a 9×13 inch baking dish that's been lined foil and sprayed with cooking spray.
Chocolate Cookie Layer
Cream butter and sugars until fluffy.
Add egg and vanilla.
Add flour, cocoa, baking soda and salt.
Add chips.
Press this dough on top of the sugar cookie dough.
Peanut Butter Cookie
Mix all ingredients together and press on the chocolate cookie dough.
Chocolate Chip Cookie
Beat butter and sugars until well combined.
Add egg and vanilla.
Add flour, baking soda and salt.
Scatter this all over the top of the peanut butter dough.
Bake at 350 40-45 mins. (If getting too brown, cover lightly with foil last few mins.)
Drizzle top with melted chocolate chips!
Adapted from
Picky Palate
You May Love These, Too! XOXO