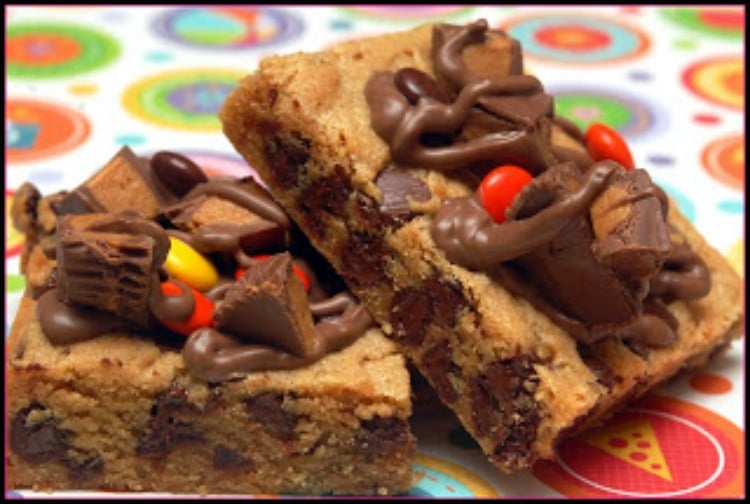 THIS WAS MY SECOND MONTH PARTICIPATING IN THE SECRET RECIPE CLUB. http://www.amandascookin.com/p/secret-recipe-club.html
EVERYONE IS GIVEN THE NAME OF A BLOG (SECRETLY) AND YOU CHOOSE ONE RECIPE TO MAKE FROM THAT BLOG. THEN, EVERYONE POSTS AT THE SAME TIME ON THE SAME GIVEN DAY….TODAY!!!!
I RECEIVED THE BLOG TITLED,
A SPOONFUL OF THYME
. A BEAUTIFUL BLOG THAT YOU MUST VISIT. OF COURSE, WHEN I SAW A COOKIE BAR INCLUDING PEANUT BUTTER AND CHOCOLATE, I KNEW IT HAD MY NAME WRITTEN ALL OVER IT!!
I BASICALLY FOLLOWED THE RECIPE AS WRITTEN. I DID ADD ALL OF THE CHIPS AT ONCE INSTEAD OF RESERVING SOME FOR THE TOP AND ONCE COOLED I DECORATED WITH MELTED CHOCOLATE, REESE'S PIECES AND CHOPPED PEANUT BUTTER CUPS. YOU KNOW I NEED MY "WONKA" TOUCH AT ALL TIMES.
THANKS FOR THIS SINFUL RECIPE KATE!
Chocolate Peanut Buddy Bars
1 cup creamy or chunky peanut butter
6 tablespoons butter or margarine, softened
1 1/4 cups granulated sugar
3 large eggs
1 teaspoon vanilla extract
1 cup all-purpose flour
1/4 teaspoon salt
1 3/4 cups (11.5-ounce package) chocolate chips, divided

Preheat oven to 350º F.
Beat peanut butter and butter in large mixer bowl until smooth. Beat in sugar, eggs and vanilla extract. Beat in flour and salt. Stir in 3/4 cup morsels. Spread into ungreased 13 x 9-inch baking pan.
Bake 25 to 30 minutes or until edges are lightly browned. Sprinkle with remaining morsels. Let stand for 5 minutes or until morsels are shiny; spread evenly. Cool completely in pan on wire rack. Cut into bars.