Triple Chocolate Oreo Cheesecake
This triple chocolate cheesecake is everything a chocolate lover could hope for! An oreo crust, a rich chocolate cheesecake filling, a delicious ganache, chocolate whipped cream and chopped oreos. You will definitely want to get the milk ready to drink! For the ganache I used Chocoley's semisweet dark V125 indulgence chocolate. It melted beautifully, drizzled perfectly and tasted phenomenal! Very rich and smooth! The whipped cream for this dessert was also special because it was chocolate! Use the best cocoa powder you can find since it is the star ingredient in the cream. I like to use Valrhona from whole foods. You can usually find it in the specialty department near the cheeses. It is definitely worth the splurge! I hope you love this triple chocolate oreo cheesecake as much as we did! Be creative in your decorating! Chopped oreos or even chocolate chips and sprinkles would be great choices!
You may also love: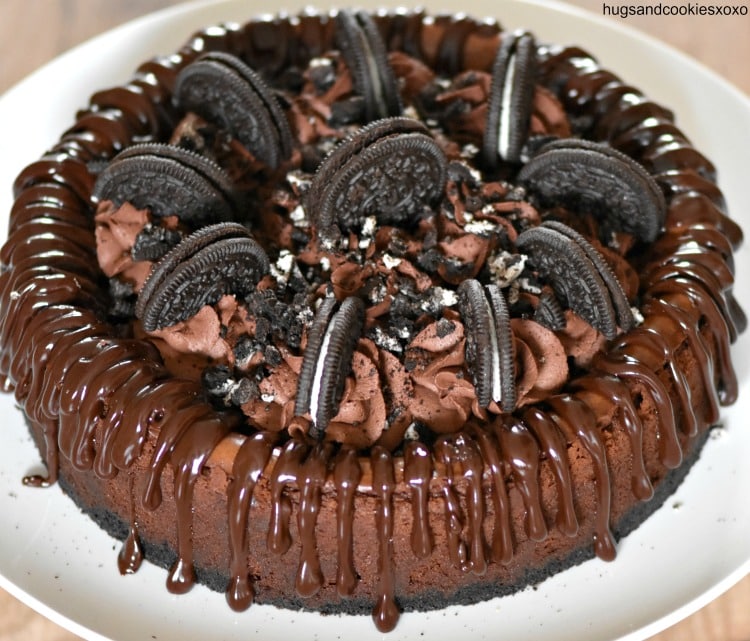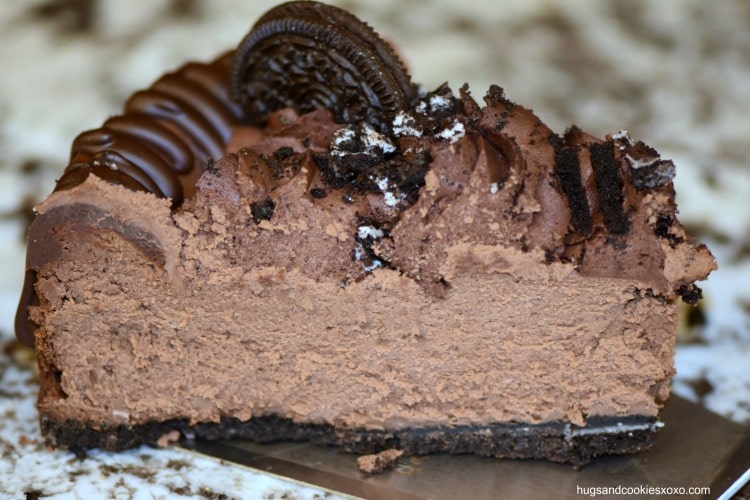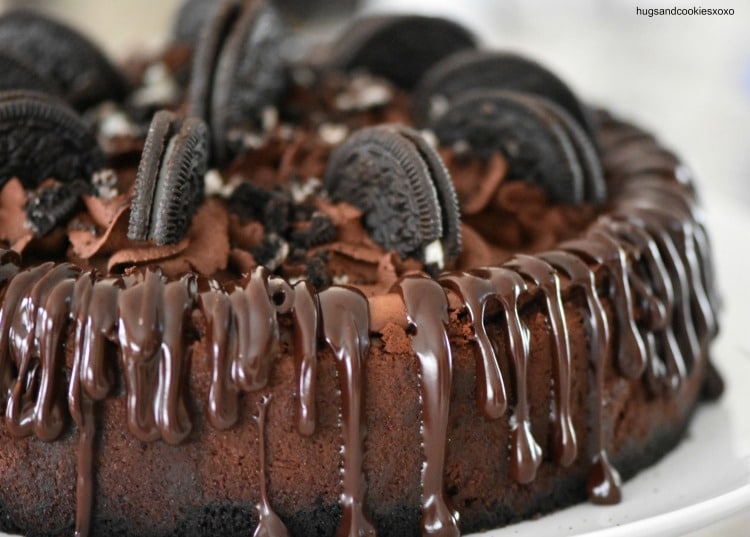 You May Need:
Triple Chocolate Oreo Cheesecake
Ingredients
Crust:
24 Oreo cookies-place in food processor and crush to crumbs
4Tablespoons salted butter-melted in microwave
Cheesecake
32 ounces Philadelphia cream cheese, softened
1⅓ cups confectioner's sugar
3 Tablespoons unsweetened cocoa powder
4 eggs
10 ounces Ghirardelli bittersweet chocolate, chopped
Chocolate Ganache
¾ cup heavy cream
6 oz. chocolate, chopped
1 Tablespoon granulated sugar
Whipped Cream
¾ cup heavy cream
3 T. powdered sugar
3 T. unsweetened cocoa powder
½ tsp vanilla extract
Garnish
crushed oreos for the top
oreo halves to decorate
Instructions
Crust:
Preheat oven to 350 degrees F,
Mix oreo crumbs and melted butter and press into bottom of 9 inch springform pan.
Bake for 8 minutes. (I did have some butter seep out of my pan-just wiped it with a towel)
Let cool.
Cheesecake
Melt the chocolate in the microwave and let cool.
Beat cream cheese.
Add sugar and cocoa until smooth.
Add eggs one at a time on low.
Scrape down the sides of the bowl as needed.
Pour in the cooled, melted chocolate on low to blend.
Pour this over the crust and spread evenly.
Bake about 70 minutes.
Cool 5 minutes.
Drag a thin knife around the sides and chill in fridge over night.
Ganache
Combine all the ingredients in a microwave safe bowl and heat until melted, stirring smooth.
Remove the sides of the springform and drizzle the ganache down the sides.
Cream
Beat cream, powdered sugar, cocoa powder and vanilla to stiff peaks.
Pipe into the center and top with chopped oreos and halves.
Keep chilled.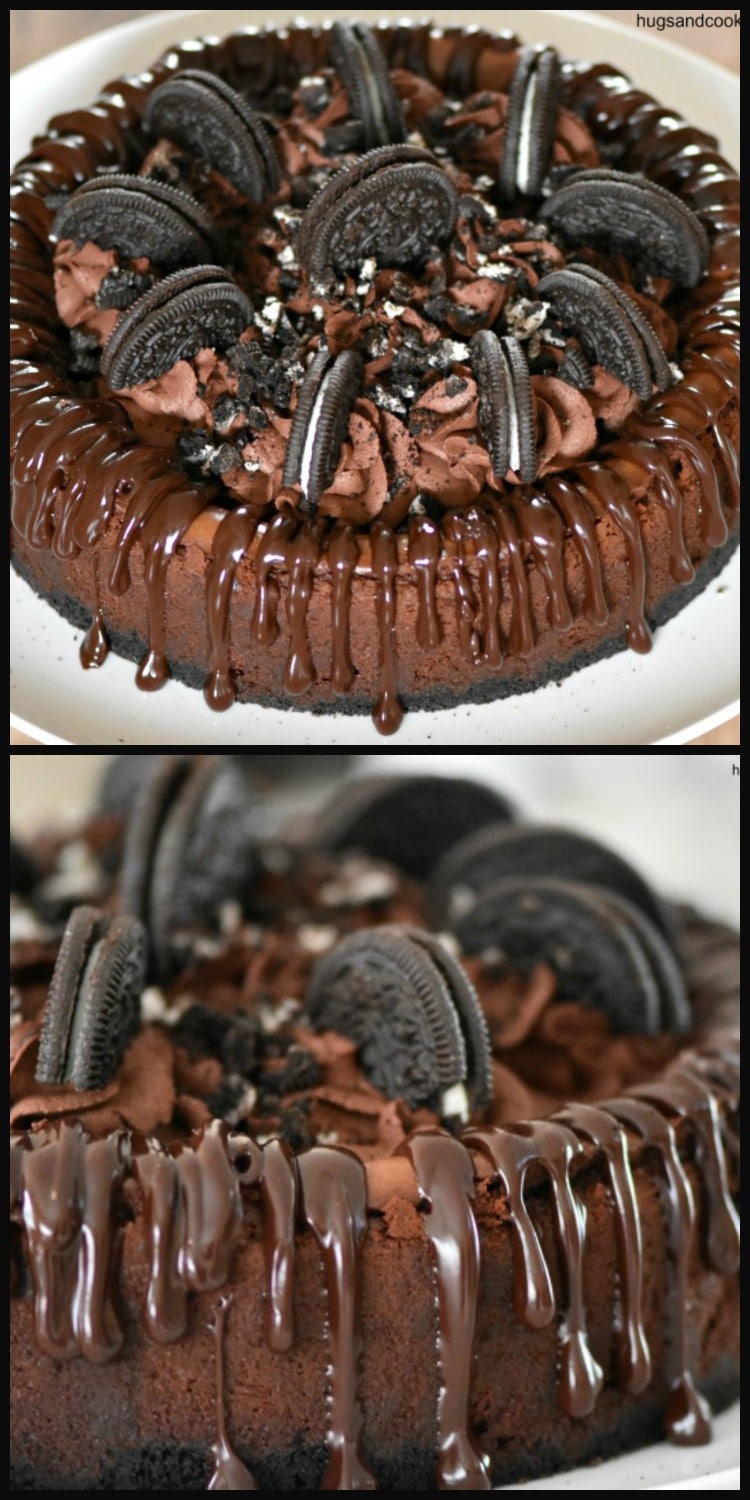 Chocoley provided the V125 chocolate for me to use but the opinions are my own.