Tuscan Butter Shrimp with Tomato Spinach Cream Sauce
All of this yumminess started when I made Tuscan Butter Salmon. Both are fabulous recipes with whichever protein you choose. OMG so delish and the sauce, oh, that sauce! Next, I tried this dish with jumbo shrimp! A repeat of seafood deliciousness! I am thinking chicken will be the next option. This is a creamy garlic sauce with cherry tomatoes that amp up the flavor. Be sure to stir the parmesan cheese well, allowing it time to melt over medium heat. To lighten this dish you can absolutely halve the cream and only use 1/4 cup! Just use a little more broth in its place and it will still taste phenomenal. I love to serve this over pasta right in the pan. If you prefer rice as your side dish, go for it. Watching your carbohydrates? Serve this with a huge salad bowl and a few tablespoons of dressing. That will help lower your calories, too. You can garnish this dish with basil or chopped parsley. This recipe does not call for lemon but a little squeeze would also be a nice touch over the shrimp. This makes for wonderful leftovers if you're lucky enough to have any that you can stash away in the fridge. Try this creamy tuscan shrimp recipe soon.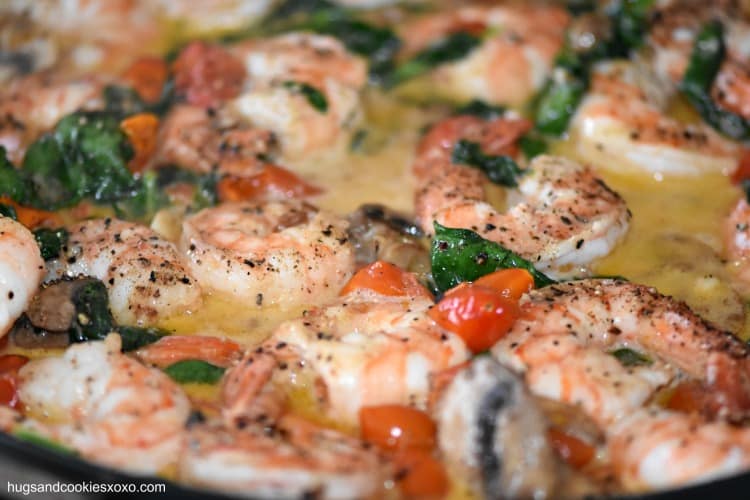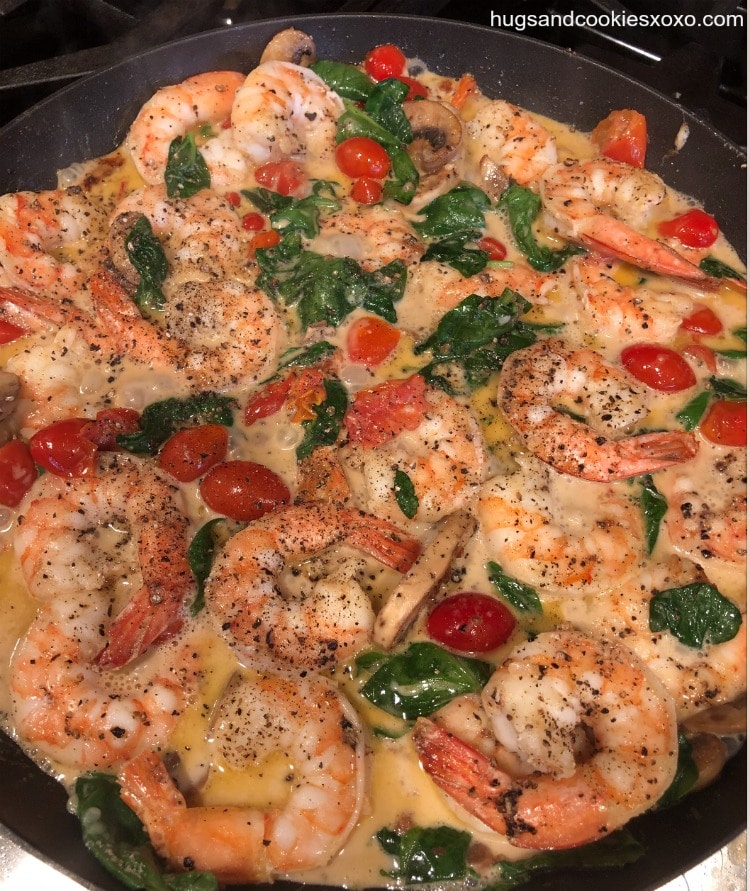 Tuscan Butter Shrimp with Tomato Spinach Cream Sauce
Ingredients
2 T. olive oil
1½ lbs jumbo shrimp, peeled and deveined
Kosher salt
Freshly ground black pepper, paprka
3 T. butter
3 minced garlic cloves
small container mushrooms
1½ c. halved Cherub salad tomatoes
2 c. baby spinach
¼ c. heavy cream
½ c. freshly grated Parmesan
½ c. chicken stock
Instructions
Heat oil in large skillet on med-high
Season shrimp generously with salt, pepper, paprika and cook on both sides.
Remove to a plate.
Lower heat and add butter. Add garlic and mushrooms and sauté.
Add tomatoes and season with salt/pepper.
Cook a few mins and add spinach-let start to wilt.
Add cream and cheese and let simmer.
Add broth and simmer on low.
Return shrimp.
If sauce is thickening, add more broth to thin it out a bit.