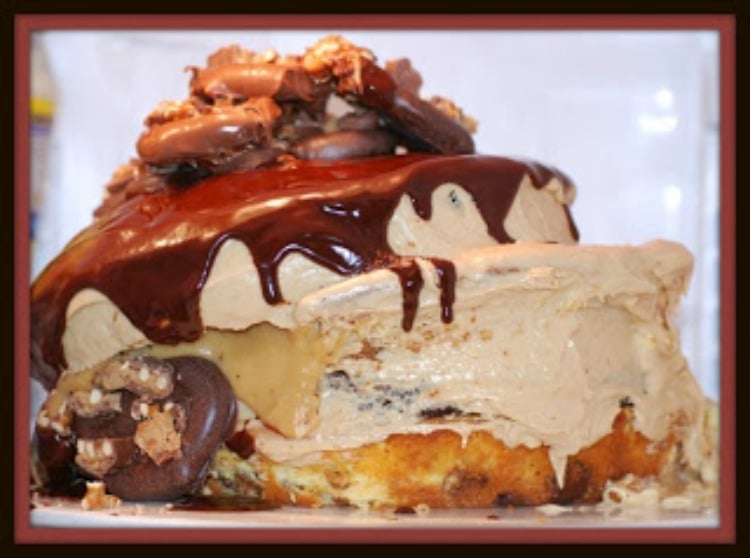 WHEN BAKING GOES BAD!!! WOULD YOU BELIEVE ME IF I SAID IT REALLLLLY WAS DELICIOUS? TIP: NEVER SKIP THE 24 HOUR REQUIRED CHILLING TIME! TRUST ME! ANYWAY, IT WAS A 4 LAYER CAKE-2 LAYERS OF CHEESECAKE, 2 LAYERS OF CHOCOLATE CAKE-FILLED WITH CARAMEL, COVERED IN PEANUT BUTTER FROSTING, TOPPED WITH GANACHE AND CHOCOLATE COVERED PRETZELS WITH CHOPPED TAKE 5 CANDY BARS! WILL MAKE IT AGAIN ONE DAY BUT WILL NOT SKIP THE CHILLING TIME!!!! NO SIREEEEEE!!! ♥
MADE WITH MY FRIEND DEBBIE-THANKS FOR THE KITCHEN LAUGHS DEB-WILL NEVER FORGET THIS ONE!
SO, I HAVE ACTUALLY HAD REQUESTS FOR THIS AND SINCE I WILL BE MAKING IT AGAIN, HERE GOES!
MAKE CHEESECAKES FIRST:
Crustless Cheesecake portion:
2 sticks (16 tbsp) softened butter
1 cup granulated sugar
4- 8 oz packages cream cheese, softened
1- 3 oz. package cook and serve vanilla pudding
4 eggs
2 tsp baking powder
Preheat oven to 325 degrees. Grease two 9″ pans with shortening, line the pans with
parchment and then grease the parchment. Lightly flour the pans and tap out excess
over the sink. Set aside.
Cream butter and sugar in a stand mixer fitted with paddle attachment. Add cream cheese
a little at a time until smooth. Scrape bowl down and beat again on medium speed, adding
eggs one at a time. Add remaining ingredients. Mix again until smooth.
Divide batter evenly between pans. You should have 8 cups of batter, so 4 cups in each pan.
Smooth batter with offset spatula and bake for 55 minutes to 1 hour. Cheesecake will puff up during baking,
then deflate when taken out.
Do not turn out cheesecakes when they are finished baking. Put them directly in the freezer,
and leave until frozen solid.
Turn out frozen cheesecake layers and peel parchment from the bottoms. Line the pan they
were in with enough parchment or wax paper to hang over the sides of the pan.
Place the cheesecakes back in the pans. This makes removal FAR more easy after caramel
layer has been added. Place cheesecakes back into the freezer while you make the caramel
layer.
Caramel for cake layers:
2-14 oz cans of sweetened condensed milk
10 tbsp. butter
80 caramels
Scant cup of salted peanut halves
Important note: This recipe is made in two batches, so all of the ingredients are divided.
In a large microwaveable bowl, place 1- 14 oz. can sweetened condensed milk, 5 tbsp. butter,
and 40 caramels. Heat at 1 minute intervals until smooth. My household microwave at full
power took about 4 minutes.
Pour caramel evenly over frozen layers of cheesecakes. Be careful to not let much of the
caramel drip over the sides. Return cheesecake layers to freezer.
MAKE CHOCOLATE CAKES- RECIPE BY INA
Ingredients
Butter, for greasing the pans
1 3/4 cups all-purpose flour, plus more for pans
2 cups sugar
3/4 cups good cocoa powder
2 teaspoons baking soda
1 teaspoon baking powder
1 teaspoon kosher salt
1 cup buttermilk, shaken
1/2 cup vegetable oil
2 extra-large eggs, at room temperature
1 teaspoon pure vanilla extract
1 cup freshly brewed hot coffee
Chocolate Buttercream, recipe follows
Directions
Preheat the oven to 350 degrees F. Butter two 8-inch x 2-inch round cake pans. Line with parchment paper, then butter and flour the pans.
Sift the flour, sugar, cocoa, baking soda, baking powder, and salt into the bowl of an electric mixer fitted with a paddle attachment and mix on low speed until combined. In another bowl, combine the buttermilk, oil, eggs, and vanilla. With the mixer on low speed, slowly add the wet ingredients to the dry. With mixer still on low, add the coffee and stir just to combine, scraping the bottom of the bowl with a rubber spatula. Pour the batter into the prepared pans and bake for 35 to 40 minutes, until a cake tester comes out clean. Cool in the pans for 30 minutes, then turn them out onto a cooling rack and cool completely.
PEANUT BUTTER FROSTING:
Beat: 1/2c. SKIPPY peanut butter, 1T. soft butter, 1/2 tsp. vanilla and 2c. powdered sugar. SLOWLY add milk until the desired consistency to spread on. Usually around 2T of milk but add slowly.
Dark Chocolate Glaze
4 oz ghirardelli bittersweet chocolate chip
1/3 cup butter, at room temperature and cut into cubes
Method
Place the chocolate and butter in a medium heatproof bowl over a pot of simmering water. Stir the mixture using a rubber spatula until melted and smooth.
MELT MILK AND DARK CHOCOLATE CHIPS AND DIP PRETZELS. TOP PRETZELS WITH CHOPPED CANDIES. WE USED TAKE 5 BARS BUT NEXT TIME I WILL PROBABLY USE PEANUT BUTTER CUPS!
ASSEMBLE CAKES IN THIS ORDER: BOTTOM LAYER IS CHOCOLATE CAKE, CHEESECAKE, CHOCOLATE CAKE, CHEESECAKE. FROST CAKE AND TOP WITH THE GLAZE. ADD PRETZELS ON TOP! IMMEDIATELY STORE IN FRIDGE OR FREEZER!! LOL
LINKING AT ADDICTED TO RECIPES
You May Love These, Too! XOXO