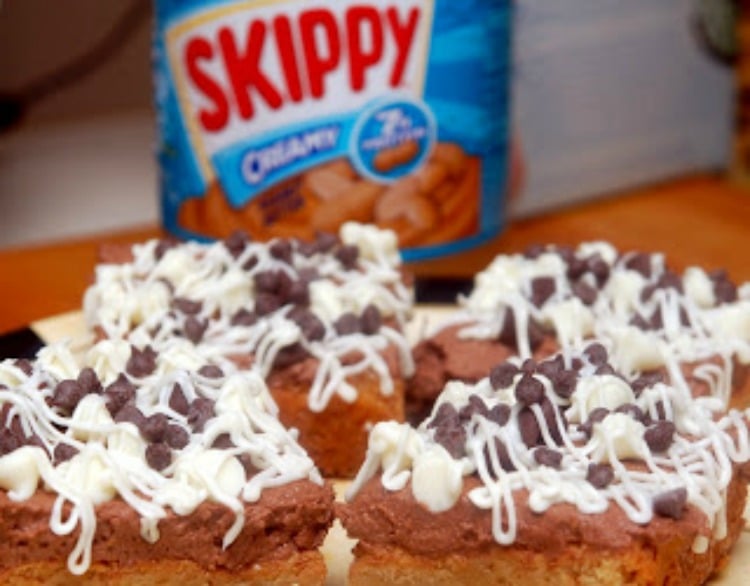 LET ME BREAK THESE BARS DOWN FOR YOU! WE START WITH A MOST AND CHEWY WHITE CHOCOLATE BLONDIE. IT GETS TOPPED WITH PEANUT BUTTER CHOCOLATE COOKIE DOUGH FROSTING. THEN, EMBELLISHED WITH WHITE CHOCOLATE CHIPS, A WHITE CHOCOLATE DRIZZLE AND SOME MINI CHOCOLATE CHIPS FOR A WOW FACTOR! DID I "WOW" YOU?
CLICK HERE FOR ANOTHER DELICIOUS COOKIE DOUGH TREAT!!
OOH, OOH ONE MORE HERE!


WHITE CHOCOLATE BLONDIE:
MICROWAVE ON 70% POWER UNTIL MELTED:
5 OUNCES WHITE CHOCOLATE CHIPS AND 1/3C. BUTTER
STIR IN:
1/4C. SUGAR
1/2C. LIGHT BROWN SUGAR
ADD:
2 EGGS
1 TSP. VANILLA
STIR IN:
1C. FLOUR
1/4 TSP. BAKING POWDER
1/4 TSP. SALT
POUR INTO 8X8 PAN LINED WITH NONSTICK FOIL AND BAKE AT 350 FOR 25-30 MINS. COOL 5 MINUTES ON COUNTER AND PLACE IN FREEZER TO SPEED THE CHILLING!
MAKE FROSTING:
BEAT:
1/2C. SOFT BUTTER
2T. SKIPPY PEANUT BUTTER
1/4C. SUGAR
1/2C. LIGHT BROWN SUGAR
ADD:
1/2C. FLOUR
1/4C. COCOA POWDER
1/2 TSP. SALT
1 T. HEAVY CREAM
1 TSP. VANILLA
WHIP ON HIGH UNTIL REALLLLLY SMOOTH. SPREAD ON COOLED BLONDIES. MELT SOME EXTRA WHITE CHOCOLATE TO DRIZZLE ON TOP AND DECORATE WITH WHITE CHIPS AND MINI CHOCOLATE CHIPS.
recipe adapted from The Cookie Dough Lover's CookBook-buy it asap!