Ever try to melt white chocolate chips? Can be so frustrating!!! I used Valrhona-beyond simple-melted perfectly!
 
ONE SUPER NEAT THING ABOUT BEING A PART OF THE BLOGGING WORLD IS THAT YOU MEET SOME REALLY AWESOME PEOPLE. THAT'S THE STORY BEHIND TODAY'S POST. I "MET" LIZZIE (FROM THAT SKINNY CHICK CAN BAKE) YEARS AGO ONLINE AND IT'S AS IF WE HAVE BEEN FRIENDS FOR A LIFETIME. WE SHARE MANY OF THE SAME TASTES IN THE DESSERT WORLD AND HAVE OFTEN TRIED OUT EACH OTHER'S RECIPES. I KNOW THAT IF I AM TRYING A LIZZIE RECIPE…IT IS GOING TO BE SUPERB. I NEVER HAVE TO WONDER!!! HER RECIPES ARE RELIABLE, DELICIOUS AND ALWAYS WRITTEN CLEARLY WITH BEAUTIFUL PICTURES. YOU WILL EVEN GET TO MEET HER SUPER CUTE DOG LAMBEAU!!! LIZZIE AND I DECIDED TO SURPRISE EACH OTHER TODAY BY MAKING A RECIPE FROM EACH OTHER'S BLOG. I HAVE BEEN SCOPING OUT HER OREO COOKIE BROWNIES FOR A LONG TIME SO I KNEW I'D BE MAKING THEM. I ACTUALLY COMBINED TWO OF HER RECIPES TODAY AND FOR THE TOPPING I USED HER WHITE CHOCOLATE FROSTING. NEEDLESS TO SAY, THESE BARS DO NOT DISAPPOINT. IN FACT, THEY ARE SUPERB! HEAD OVER AND VISIT MY BAKING BUDDY LIZZIE AND TELL HER HUGS & COOKIES SENT YOU!!!
You can also visit Lizzie on:
Facebook
Pinterest 
Google + 
Twitter 

Oreo Cookie Brownies by That Skinny Chick Can Bake
Brownies:
1 stick butter
8 oz semi-sweet chocolate
1 1/2 c sugar
4 large eggs
1 t vanilla
3/4 c flour
1/4 t salt
1 8-ounce bag Mini Oreos, to garnish
Preheat oven to 350º. Line 8″ square baking pan with nonstick foil. Set aside. Place butter and chocolate in microwave safe bowl and microwave gently until butter and chocolate are melted. Let cool to room temperature.
Stir sugar into chocolate till combined. Whisk in eggs one at a time, then vanilla. Fold in flour and salt. Pour into prepared pan and smooth top with offset spatula. Bake until cake tester comes out of center with just a few moist crumbs, 40-45 min. Cool completely on rack. 
White Chocolate Frosting:
1 stick (1/2 cup) butter, at room temperature
2 1/2 cups powdered sugar (I sifted it)
1 teaspoon vanilla
4 ounces white chocolate, melted (VALRHONA!!!!)
1/2 tablespoon milk (remember to add this!)
Cream butter with mixer till fluffy. Add vanilla. Slowly mix in powdered sugar, then white chocolate. Add enough milk to reach desired consistency. Ice cooled brownies. DECORATE WITH MINI OREO COOKIES!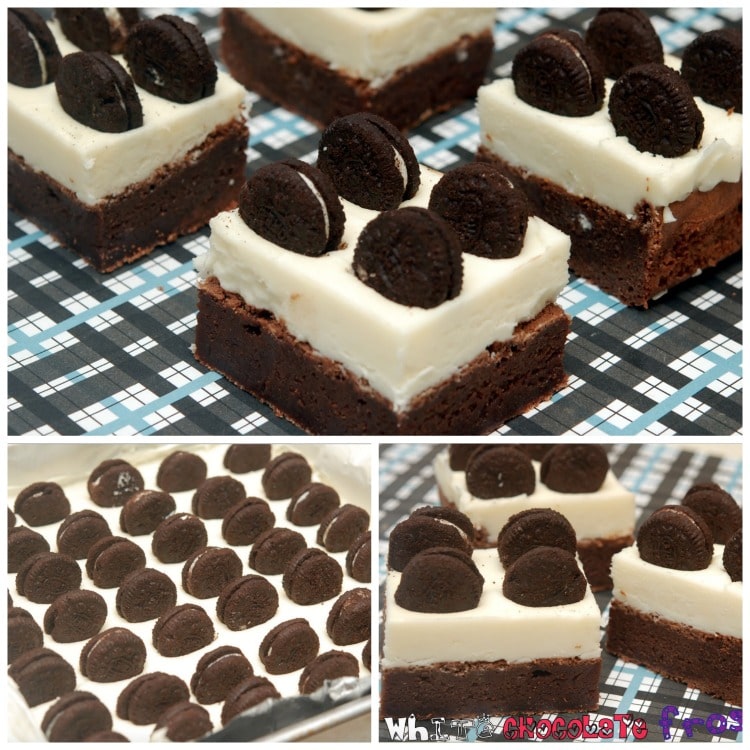 You May Love These, Too! XOXO