White Chocolate Macadamia Nut
White chocolate macadamia nut cookies are the unsung heroes. These cookies are perfectly chunky and chock full of goodies! Use a really good white chocolate for these like Ghirardelli bars and chop them up yourself. I definitely recommend a bar you can chop over white chocolate chips! The results will be far superior, trust me! As for the nuts, I like to buy mine at Trader Joe's… great values there!
Freezing Nuts
Another tip is to freeze your extra nuts for a longer shelf life. If you are not a nut fan, you can leave them out. The final cookie may be a bit flatter, though equally delish. Or you can double up on chocolate and maybe add some chopped milk chocolate bars or even dark chocolate!
Two Sweetie Pies
Luckily it is time for another month of Two Sweetie Pies! Another month of 2 Sweetie Pies with That Skinny Chick Can Bake means another wonderful dessert! Always a success when you bake from Liz's blog! Each month we bake up a recipe from each other and keep it a secret until reveal day! Super fun! Make sure you pop over to visit Liz and see which Hugs & Cookies recipe she chose this month.
You can visit Liz on her social media channels here:
Make ahead tip:
You can prepare this dough ahead of time and freeze it. Then, when you are ready to bake just thaw it out and get baking. You can also make the dough, bake the cookies and then freeze the cookies. This way your freezer will be well stocked whenever the cookie urge should hit!
I hope you try these White Chocolate Macadamia Nut Cookies soon! Let me know what you think!
I love how thick these cookies come out!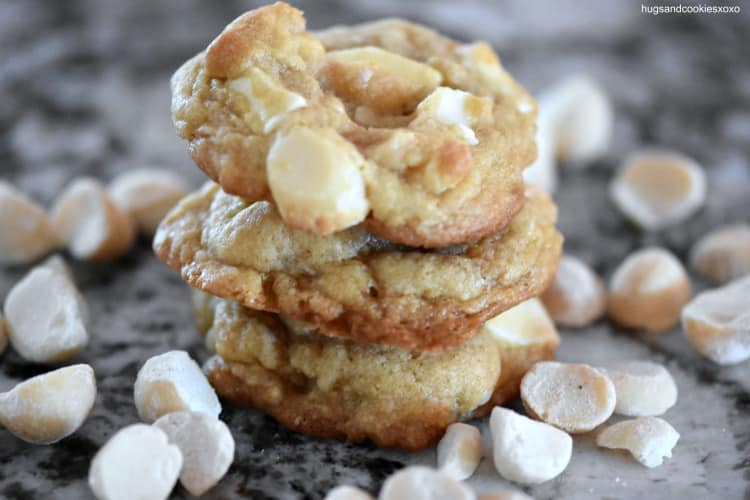 Look at all of these goodies ready to jump inside the cookie dough! Chop them up as fine or thick as you like! The more the merrier!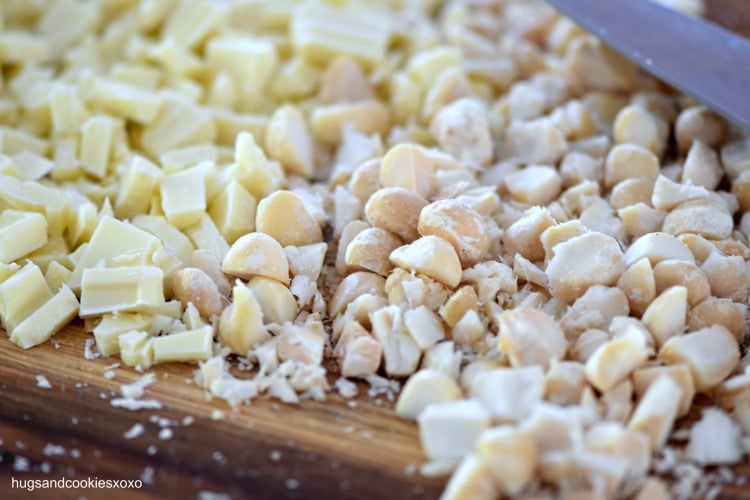 You may need:
White Chocolate Macadamia Nut Cookies
Ingredients
2½ cups flour
½ teaspoon salt
1 teaspoon baking powder
1 teaspoon baking soda
2 sticks (16 tablespoons) butter, at room temperature
½ cup sugar
1 cup dark brown sugar
2 large eggs
2 teaspoons vanilla
8 ounces white chocolate, coarsely chopped
1 cup macadamia nuts, chopped
Instructions
Preheat oven to 350º.
Line a baking sheets with parchment paper.
Whisk together flour, salt, baking powder, and baking soda in a bowl and set aside.
In your mixer, cream butter, sugar and brown sugar.
Add eggs and vanilla.
Gently stir in the flour mix.
Fold in the chopped white chocolate and macadamia nuts.
Scoop large tablespoons of dough onto the prepared cookie sheets.
Bake for 8 to 10 minutes, or until the edges are light brown.
Remove and cool.
You may also like my…