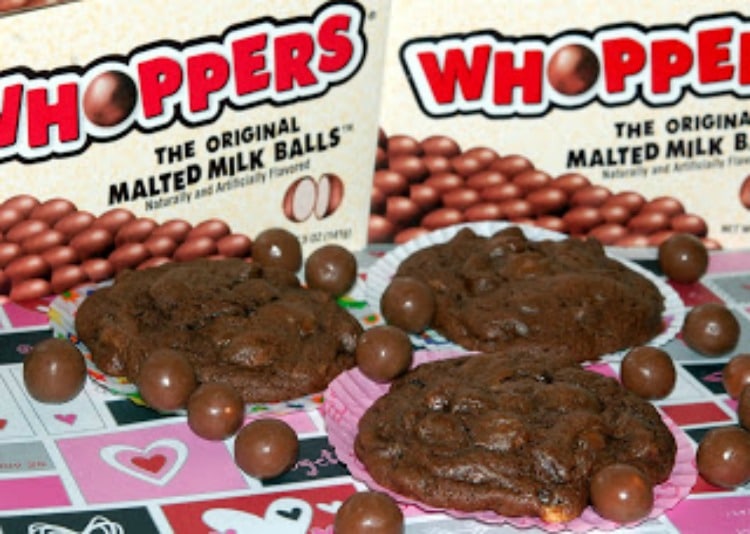 A "WHOPPER" of a Cookie!

WHOPPER Cookies
1 3/4 cups all-purpose flour
1 cup malted milk powder
1/4 cup unsweetened cocoa powder
1 1/2 teaspoons baking powder
1/4 teaspoon salt
1 stick plus 3 tablespoons (11 tablespoons) unsalted butter, at room temperature
2/3 cup sugar
2 large eggs
1 teaspoon vanilla extract
1/4 cup whole milk
2 cups whoppers candies, coarsely chopped (Plus extras that are not chopped)
1 cup chocolate chips
Preheat oven to 350 F. Line two baking sheets with parchment paper.
In a medium bowl, sift together the flour, malted milk powder, cocoa, baking powder and salt. Set aside.
In the bowl of a stand mixer, beat the butter and sugar together on medium speed until very smooth. Add the eggs, one at a time. Beat in the vanilla. Don't be concerned if the mixture looks curdled; it will even out once the dry ingredients are added.
Reduce the mixer speed to low, add half the dry ingredients, mixing until they just disappear into the batter. Mix in the milk, then the remaining dry ingredients, mixing only until they are incorporated. The batter will resemble frosting more than cookie dough.
With the mixer on low, or by hand with a rubber spatula, mix in the malted milk balls and chocolate pieces.
Drop the cookie dough onto the prepared baking sheets, one rounded tablespoon per cookie, leaving about 2 inches between each. Bake for 11 to 13 minutes, rotating sheets from top to bottom and front to back halfway through.
When done, the cookies will be puffed and set, but slightly soft to the touch. Let the cookies rest for 2 minutes before using a wide metal spatula to transfer them to racks to cool to room temperature. Bake remaining dough in similar fashion.
Makes about 30 cookies.
You May Love These, Too! XOXO