Cookie dough + Brownies….need I say more? What a combo!! Cookie dough brownies….Go ahead and make a batch!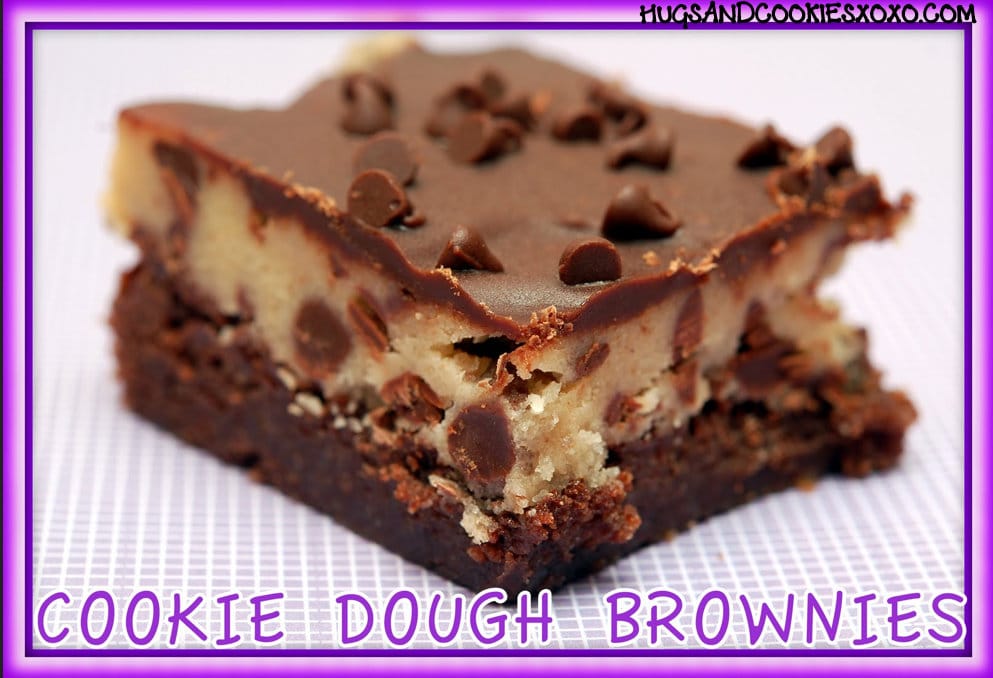 LOVE COOKIE DOUGH? THEN THESE BROWNIES ARE FOR YOU!!!! A FUDGY BROWNIE…A THICK LAYER OF COOKIE DOUGH AND THEN IT'S TOPPED OFF WITH A CHOCOLATE GANCHE AND MINI CHOCOLATE CHIPS!!!
Chocolate Chip Cookie Dough Brownies
…adapted from
Recipe Girl
Brownie layer:
4 ounces unsweetened chocolate, chopped
1 cup butter, at room temperature
2 cups light brown sugar, packed
4 large eggs
2 teaspoons vanilla
1 cup flour
Cookie dough layer:
3/4 cup butter
3/4 cup light brown sugar, packed
3/4 cup granulated white sugar
3 Tablespoons milk
1 1/2 teaspoons vanilla extract
1 1/2 cups all-purpose flour
1 1/2 cups semi sweet chocolate chips
Ganache topping:
6 ounces of semi-sweet chocolate chips or semi sweet chocolate, chopped
1/3 cup cream
Mini chocolate chips for decoration (optional)
Preheat oven to 325º. Line a 9 x 13 pan with nonstick foil.
Make brownie layer. Melt chocolate in the microwave using 30 second increments, stirring until melted and smooth. Set aside. In a large mixing bowl, beat butter and brown sugar till well mixed. Beat in eggs and vanilla. Mix in melted chocolate. Stir in flour; don't over mix. Spread into pan. Bake 30-35 minutes or till toothpick inserted in center comes out clean. Cool.
Make cookie dough. With an electric mixer combine butter and both sugars. Mix in milk and vanilla; stir in flour. Add chocolate chips and mix to combine. Spread over cooled brownie layer. Cool till firm (can freeze to hurry along process).
Make ganache. Melt remaining chocolate and cream together in microwave, stopping at 30 second intervals to stir till smooth and chocolate is melted. I added mini chocolate chips on top. Spread over dough layer. Chill for easier cutting.