I am so excited to share my newest cookie recipe with you. If you love chocolate, raspberry and peanut butter then I think we can Bff's!

Have you bought these yummy chocolates yet? No??? Quick! Run to the store and stock up!

Here they are…. getting unwrapped, You'll need 18 for my recipe but please unwrap a few extras for tasting. Remember, tasting is part of the baking job and therefore has no calories! Smirk!


Chop them up into nice chunks!

Of course, you'll need peanut butter cups. If you visit my blog, you'll see I am a peanut butter crazy baking girl! These are going to get chopped too!


Here they are hot out of the oven before I ate them all gave them to my kids.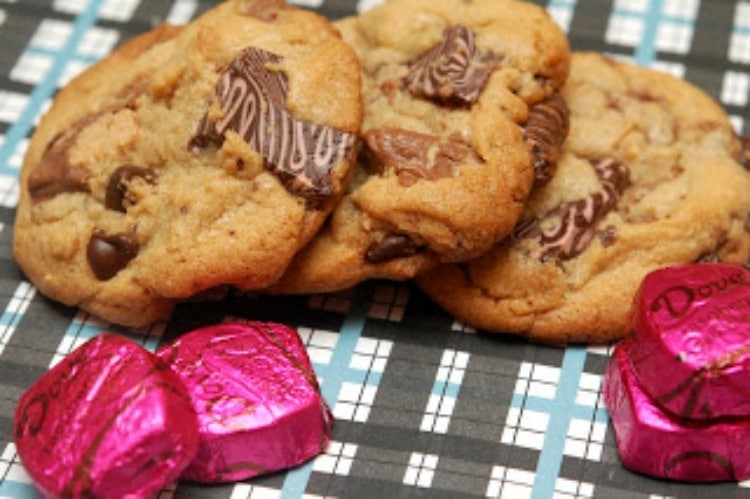 Would you like a bite? Trust me…..you would!

Reese's Peanut Butter Cup & Dove Raspberry Cookies
1 stick salted butter
1/3 cup creamy Skippy peanut butter
1 cup brown sugar
1/2 cup granulated sugar
1 egg PLUS 1 egg yolk
1 tsp. vanilla
2 cups flour
1/2 tsp. baking soda
1/2 tsp. salt
1 cup semisweet chocolate chips
18 Dove raspberry & chocolate candies, chopped in thirds
10 peanut butter cups (.55 oz), chopped
Preheat oven to 350 degrees F. and line a cookie sheet with parchment paper.
Freeze the chopped peanut butter cups and raspberry candies for 10 minutes after you chop them!
Beat butter, sugars and peanut butter in a mixer. Add the egg, yolk and vanilla until combined. Add flour, baking soda and salt. Carefully fold in the chocolate chips, pb cups and raspberry candies.
Drop by Tablespoons onto parchment lined cookie sheets and bake 11-13 minutes. Cool on sheets. Gobble up! I apologize ahead of time for these ruining your diet. They are diet breakers, but well worth it!
This Recipe is a Hugs & Cookies Original xo
You May Love These, Too! XOXO