Hi-Hat Cupcakes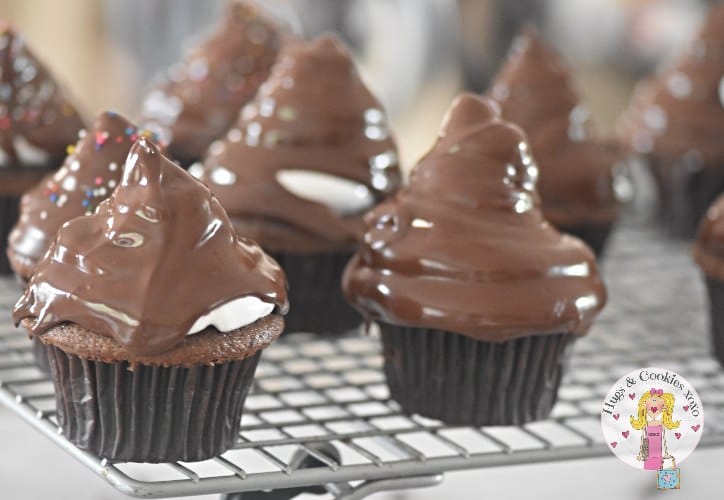 Add some eyes to make these extra fun for the kids if you want!
This one was made YEARS ago!
You may need:
Hi-Hat Cupcakes
Ingredients
3 ounces unsweetened chocolate, chopped
1 cup all-purpose flour
½ teaspoon baking powder
½ teaspoon baking soda
¼ teaspoon salt
½ cup (1 stick) unsalted butter, softened
1¼ cups sugar
2 large eggs
1 teaspoon vanilla extract
½ cup sour cream
½ c. water
For the Frosting
1¾ cups sugar
¼c. water
3 large egg whites
¼ teaspoon cream of tartar
1 teaspoon vanilla extract
Chocolate Coating
2 cups chopped (about 12 ounces) semisweet chocolate
3 tablespoons canola oil
Instructions
Preheat oven to 350 degrees with rack in center.
Cupcakes
Melt chocolate gently in the microwave.
In a bowl, whisk together flour, baking powder, baking soda, and salt in a medium bowl; set aside.
In a mixer, beat butter and sugar.
On low, add the melted chocolate.
Raise to medium and add eggs.
Add vanilla.
Add sour cream.
On low speed, add half the flour mix, then the water and rest of the flour.
Divide into 12 muffins liners and bake about 20 mins until done.
Let cool on a rack.
Frosting:
In the top of a double boiler, combine sugar, water, egg whites, and cream of tartar.
Use a handheld beater and mix on high one minute.
Set bowl over the bottom pan of barely simmering water.
Beat on high speed until frosting forms stiff peaks, about 12 minutes (160 degrees.on a candy thermometer)
Remove from heat and add vailla.
Beat 2 more minutes.
Transfer to a pastry bag fitted with a ½-inch plain pastry tip.
Pipe spirals about 2 inches high and place in fridge to firm up. (Sometimes I place in freezer!)
Chocolate coating:
Microwave chocolate and oil until smooth.
Hold the bottom of the cupcake and dip tops into the chocolate.
Let set on a rack 15 mins and pop into the fridge!
Adapted from
Martha Stewart
You May Love These, Too! XOXO