HOMEMADE TWIX BARS-HAVE YOU MADE THESE YET? TRUST ME, YOU NEEEEEEED THESE IN YOUR WORLD! LIKE, TODAY!!!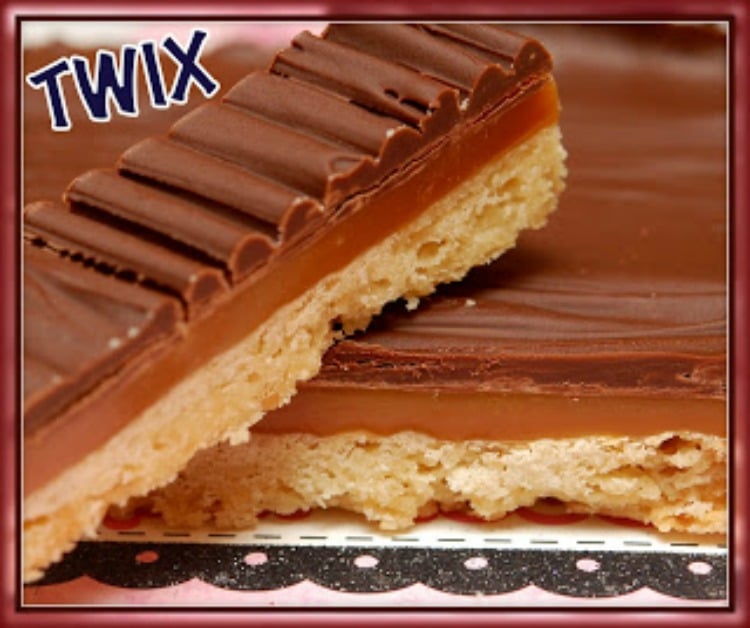 Shortbread layer
2 sticks salted butter, at room temperature
1 cup confectioners' sugar
2 teaspoons vanilla
2 cups flour
Caramel layer
20 ounces Kraft Caramels, unwrapped of course! (about 1 1/2 bags)
3 tablespoons heavy cream
Chocolate layer
18 ounces milk chocolate, melted (I used Hershey Bars rather than chips)
1 tablespoon vegetable shortening (optional) – I did not need this-Hershey's melted perfectly in a double boiler.
Directions
1) FOR THE CRUST: Preheat your oven to 300°F. Line 9″ x 13″ pan with nonstick foil
2) In a bowl, beat together the butter, sugar and vanilla. Add the flour. Mix till it comes together.
3) Press it evenly into the pan. Lightly flouring your fingertips will help with any sticking.
4) Prick the crust all over with a fork.
5) Bake 35-45 mins until the crust is lightly golden brown on top and the edges are deeper golden brown. Remove from the oven and immediately run a knife around the edges to loosen the crust. Set it aside to cool completely.
6) FOR THE CARAMEL LAYER: Melt the caramel and cream over low heat in a small saucepan. Pour the caramel over the cooled crust and set in the refrigerator for 30 minutes to chill and firm up.
OPTION 1 FOR THE CHOCOLATE LAYER (EASIEST OPTION): Melt the chocolate slowly in the microwave and pour evenly over the chilled caramel layer and spread to coverall of the caramel. Return to the fridge until the chocolate is well set. Cut into bars or squares. It's best to store these bars in the refrigerator but take out a few mins before serving to soften.
OPTION 2 FOR THE CHOCOLATE LAYER (BIT MORE TIME CONSUMING BUT YUMMY): Cut into bars once the caramel has chilled and dip each bar individually into the melted chocolate. Lay on wax paper in fridge until set.
CLICK HERE FOR THE PEANUT BUTTER TWIX VERSION


You May Love These, Too! XOXO