Are you a fan of rainbow cookies? What about a fan of crumb cake? If so, do I have the recipe for you! These rainbow crumb cake cookies are out of this world. It is a perfect rainbow cookie, filled with jam and topped with milk chocolate but it doesn't stop there. On top of the chocolate I sprinkled a layer of cinnamon crumb topping. One bite is pure perfection! You can also fancy these up for whatever occasion you are celebrating. Just switch up the food colorings for each layer. For the 4th of July, I have used  a red, white and blue combo. You can also go more traditional with pink, green and yellow. Feel free to sprinkle these with powdered sugar as I did or even go one step further and load on some sprinkles!
July 4th Rainbow Crumb Cake Cookies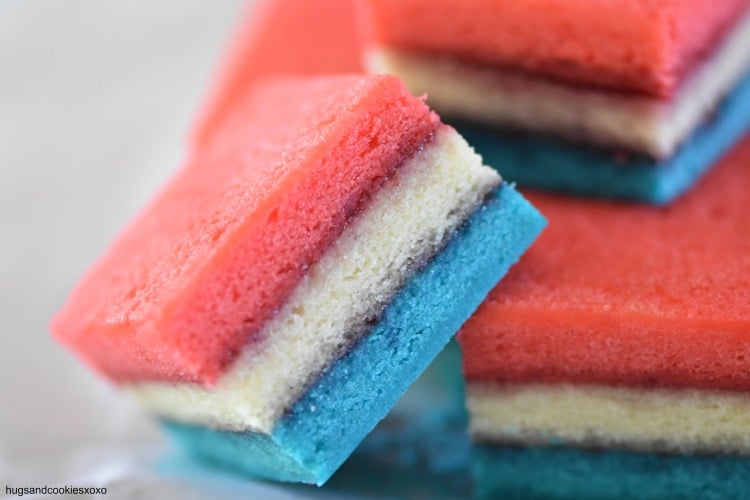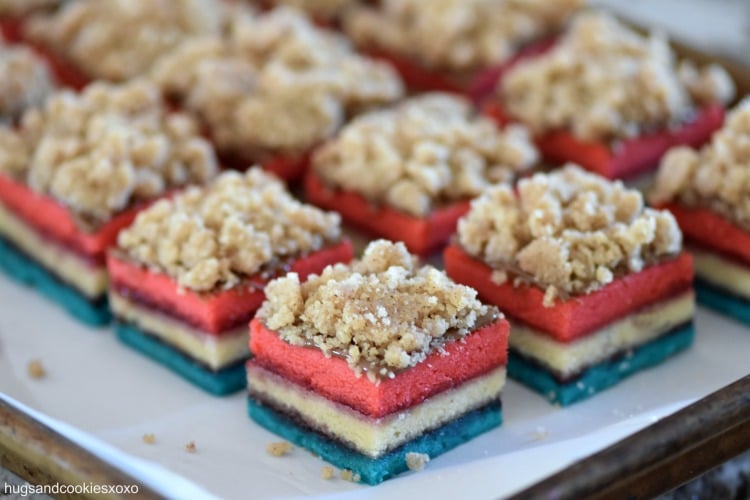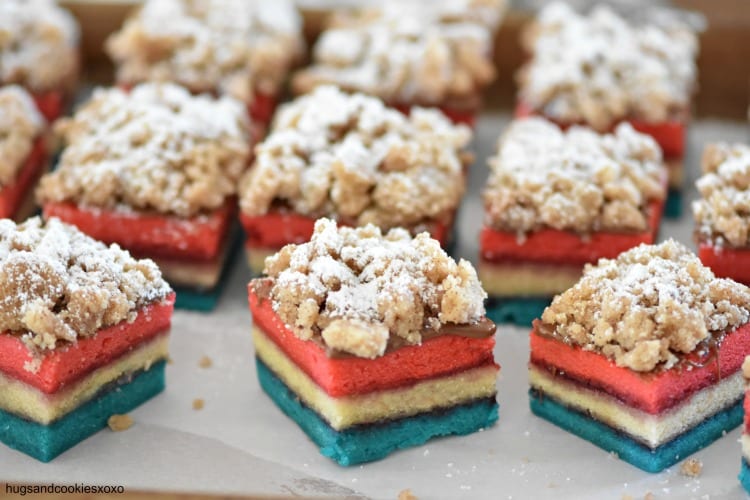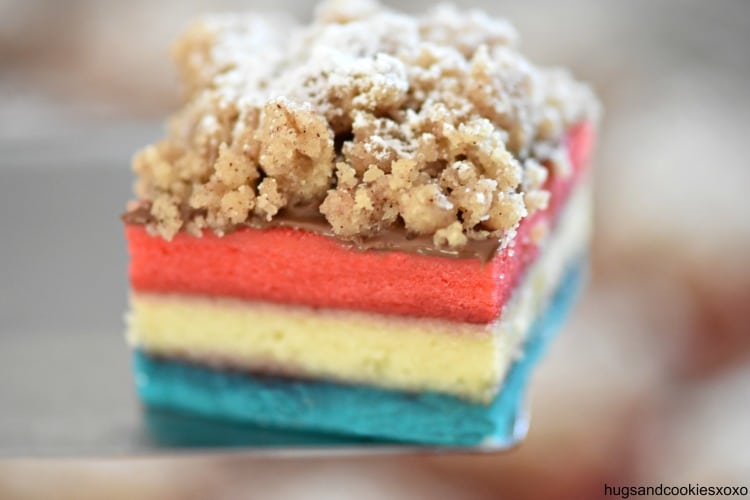 You may need:
Red, White, Blue Rainbow Crumb Cake Cookies
Ingredients
Crumb Layer
1 stick butter room temp
½ cup sugar
1 cup flour
1½ tsp cinnamon
Rainbow Cookies
8 ounces almond paste
¾ C. sugar
½ tsp. almond extract
¾ c. butter
3 eggs
1 c. flour
¼ tsp. salt
½ c. raspberry jam, seedless
½ bag (approx 5 ounces) Ghirardelli milk chocolate chips
red and blue food coloring
Toppnig
Instructions
Crumb Layer
Beat butter, flour, sugar, cinnamon to form crumbs.
Line 8x8 pan with nonstick foil.
Sprinkle crumbs into pan, spread out.
Bake 15 minutes, stirring once at 350-let cool completely. Break up any large clumps.
Rainbow cookies
Line 3 8x8 pans with nonstick foil.
Preheat oven 350.
In food processor, mix almond paste, sugar, extract and butter till creamy.
Add one egg at a time.
Add flour and salt.
Divide into 3 bowls (approx 1 cup each)
Tint one red, one blue and leave one as is.
Spread into the pans.
Bake approx 12 mins and let cool.
Line cookie sheet with parchment and flip out blue layer.
Spread on jam.
Place white layer on top.
Spread with raspberry jam and top with red layer.
Lay parchment over red layer and top with heavy books. Chill 4 hours.
Remove books, wrap well and chill overnight or a few hours.
Cut into cookies.
On each individual cooke, spread on melted chocolate across the top and carefully sprinkle on some crumbs.
Let chocolate set up.
(Can freeze if you want at this point)
Top with tons of powdered sugar!