Evening April 10th……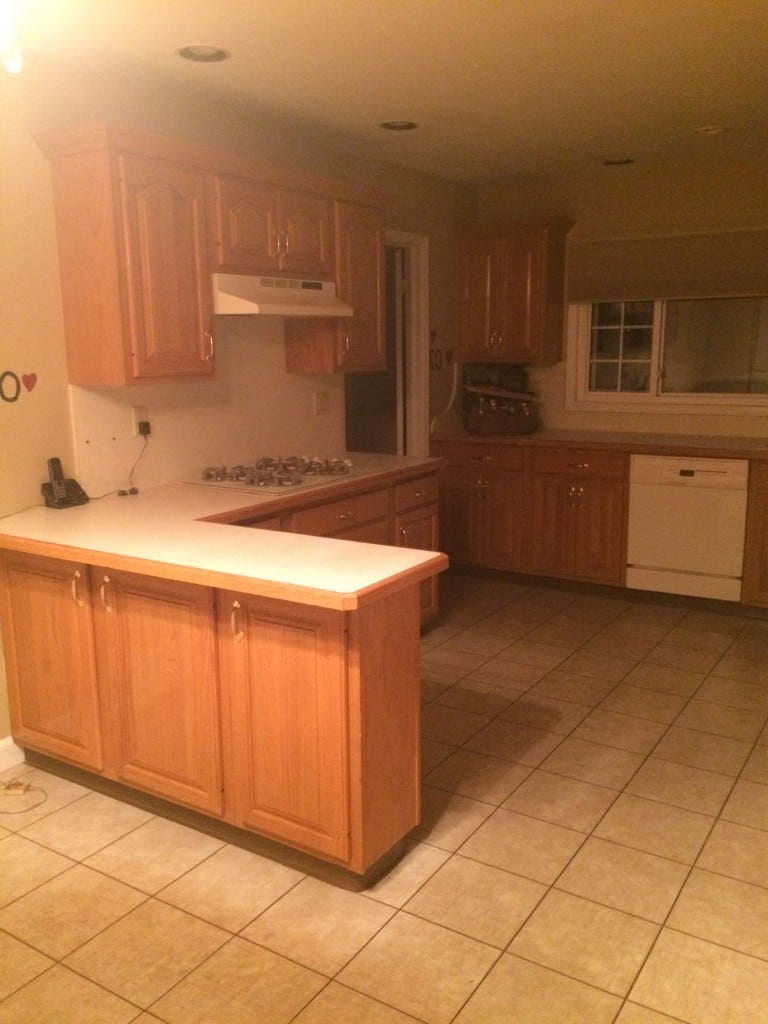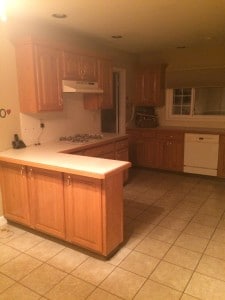 Morning of April 11th-DEMO Day! (Day 1)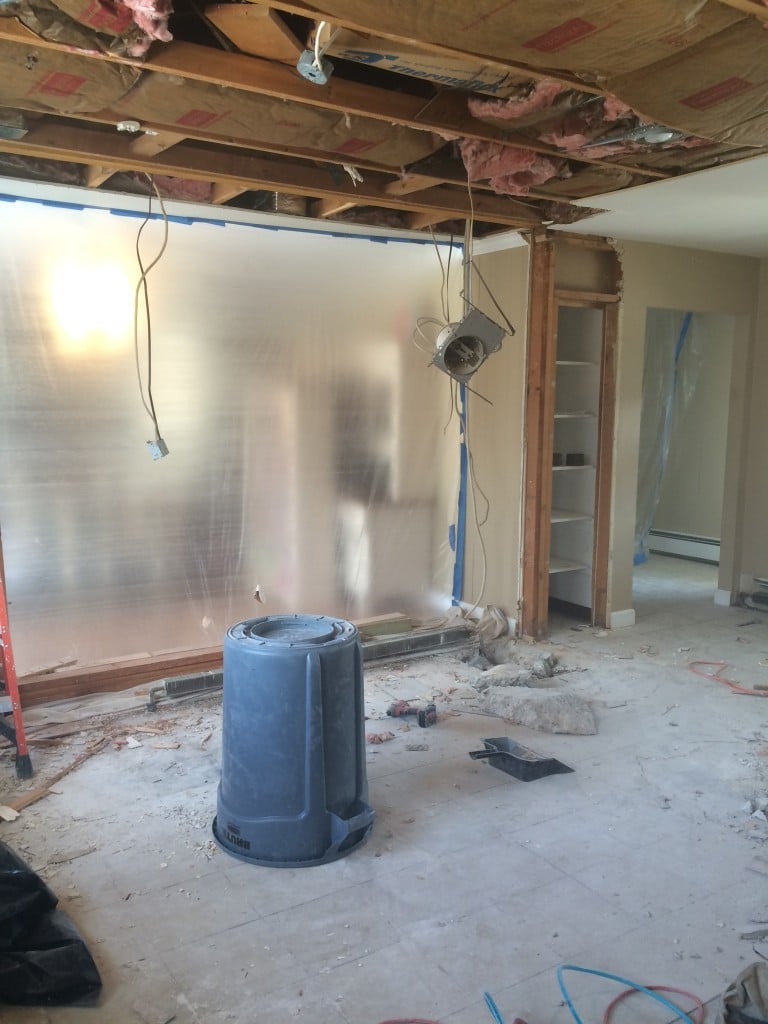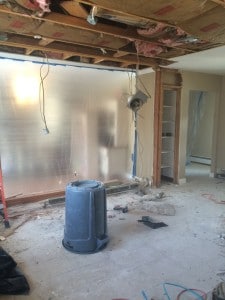 Evening of April 11th! (still day 1, just 12 hours later!)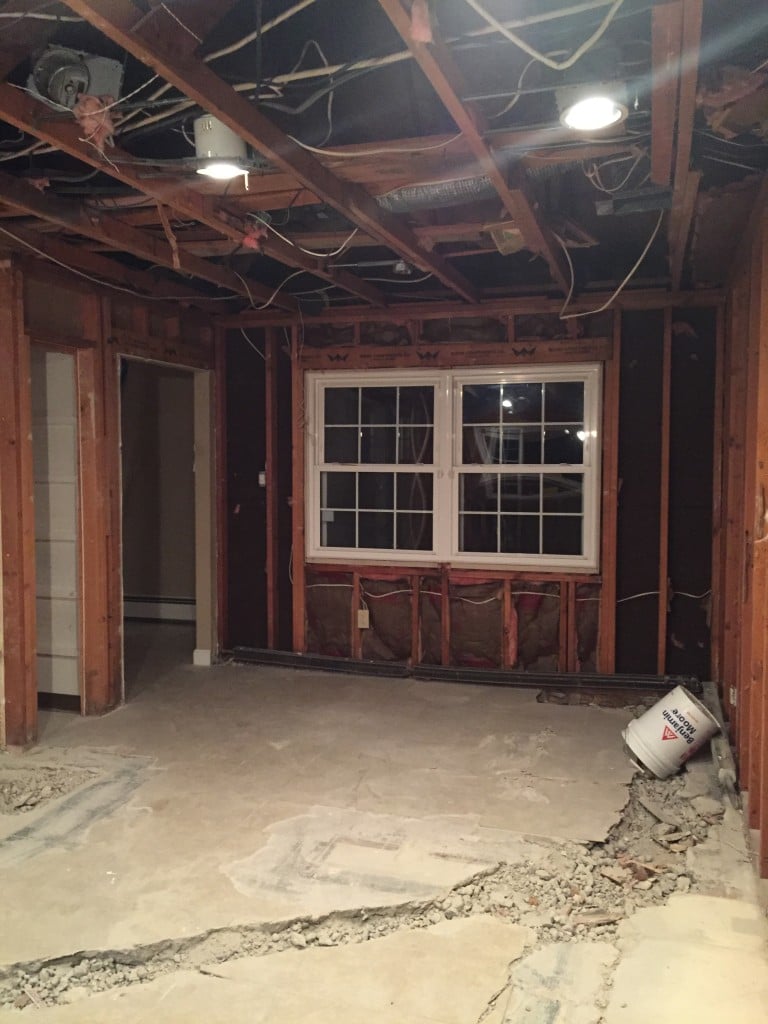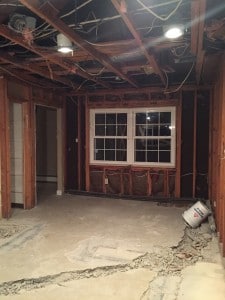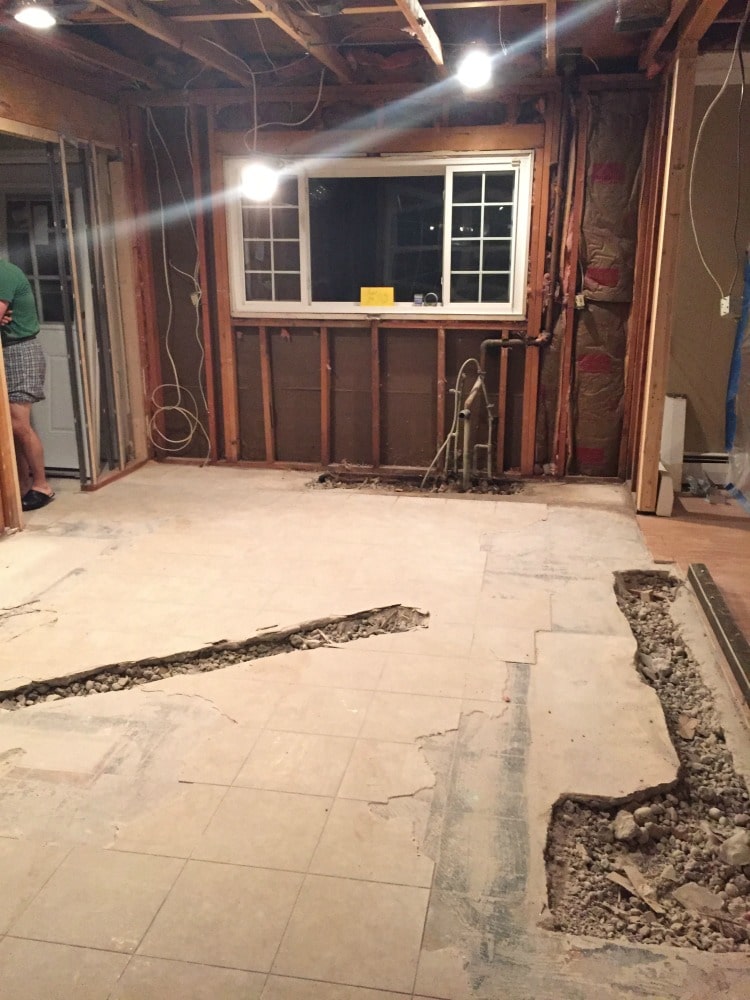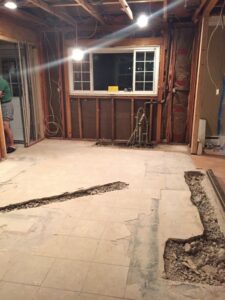 April 13 (Day 3)  Plumber and Electricians doing their thing!!!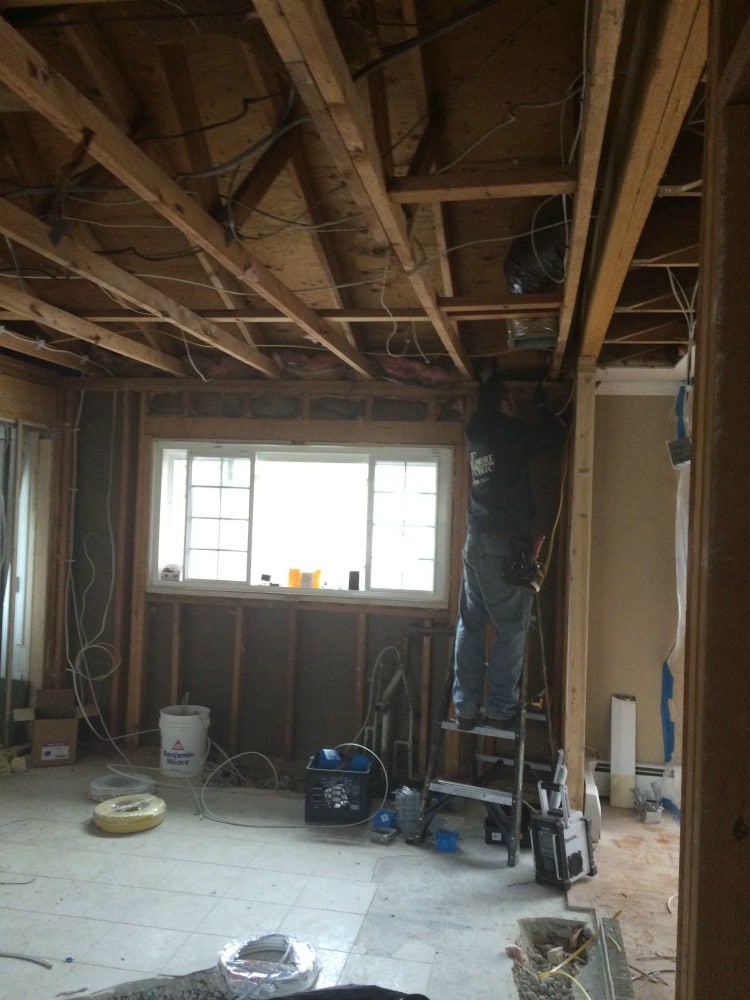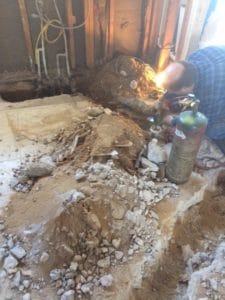 April 15 (Day 5) We now have insulation!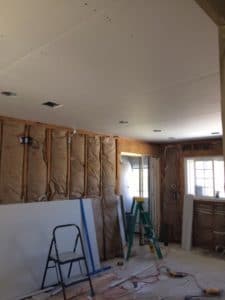 End of the Day April 15 (still Day 5) We have walls and a ceiling again!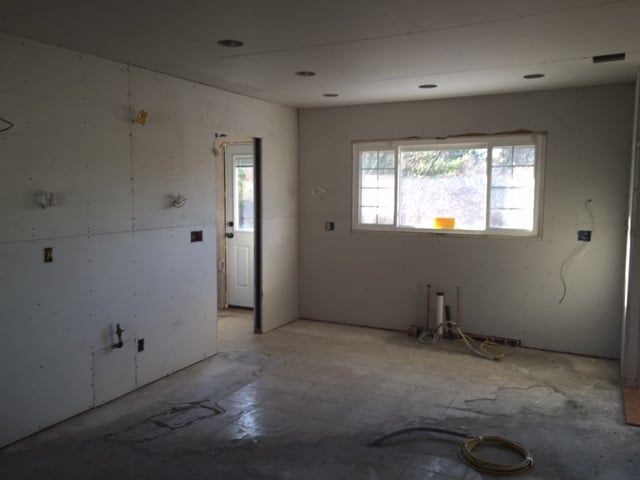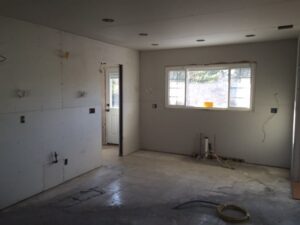 April 18 (Day 6)  Let the spackling begin-now we know how they spackle the ceiling!!!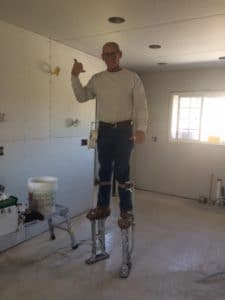 April 22 (Day 10)  First Pretty Thing to be Installed is Our Floor!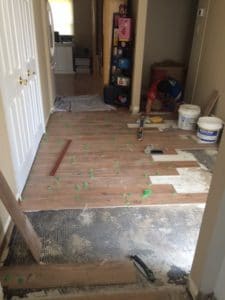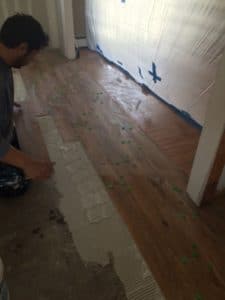 April 23 (Day 11, working Saturday to get our floor done!!!) No more green things so now you can see the floor better!!!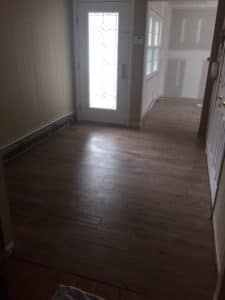 The foyer….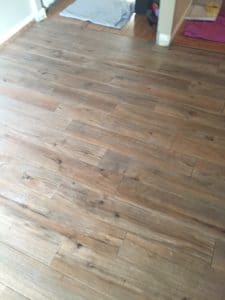 The kitchen…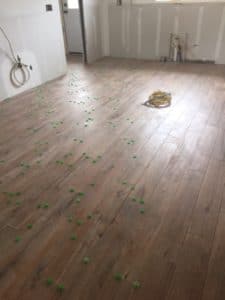 Tuesday, April 26-Cabinet Day! (Day 13)
And painting…our delicious paint color? French Macaroon!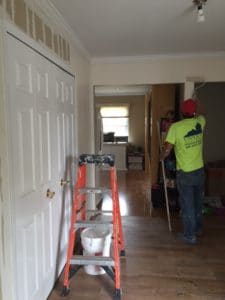 By the end of the day…..looking like a kitchen. You can see the plastic to the right where we had a wall taken down!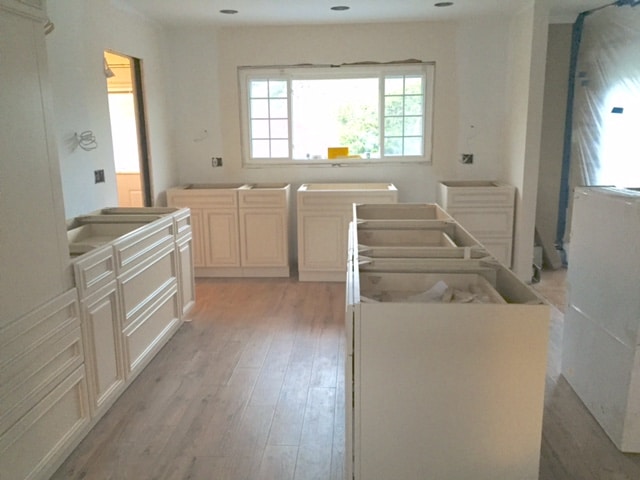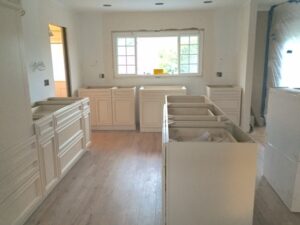 Wednesday, April 27 (Day 14)-Appliance Delivery Day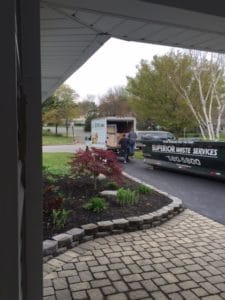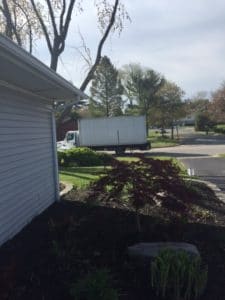 We went with Thermador Professional double ovens, rangetop and dishwasher. Kitchenaid for the fridge and Sharp for the microwave drawer.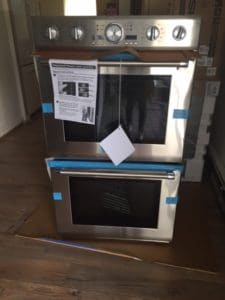 Here I am welcoming them with love! hahaha!!!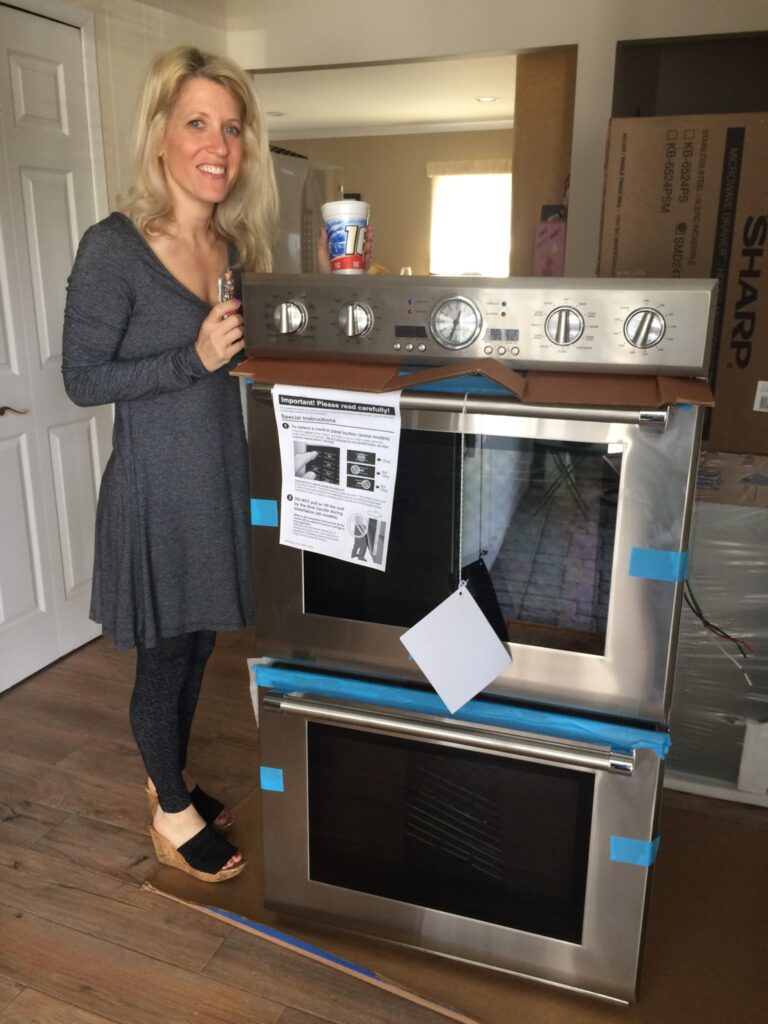 The hood is up!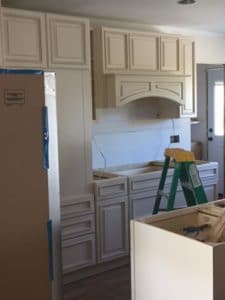 Thursday April 28 (Day 15)-Dividers put in for all of those baking pans!
Friday April 29th , No work done today. New kitchen sign found! SCORE!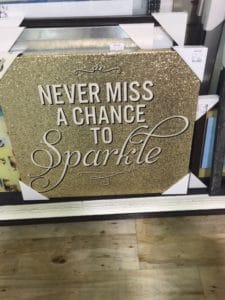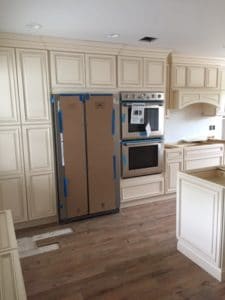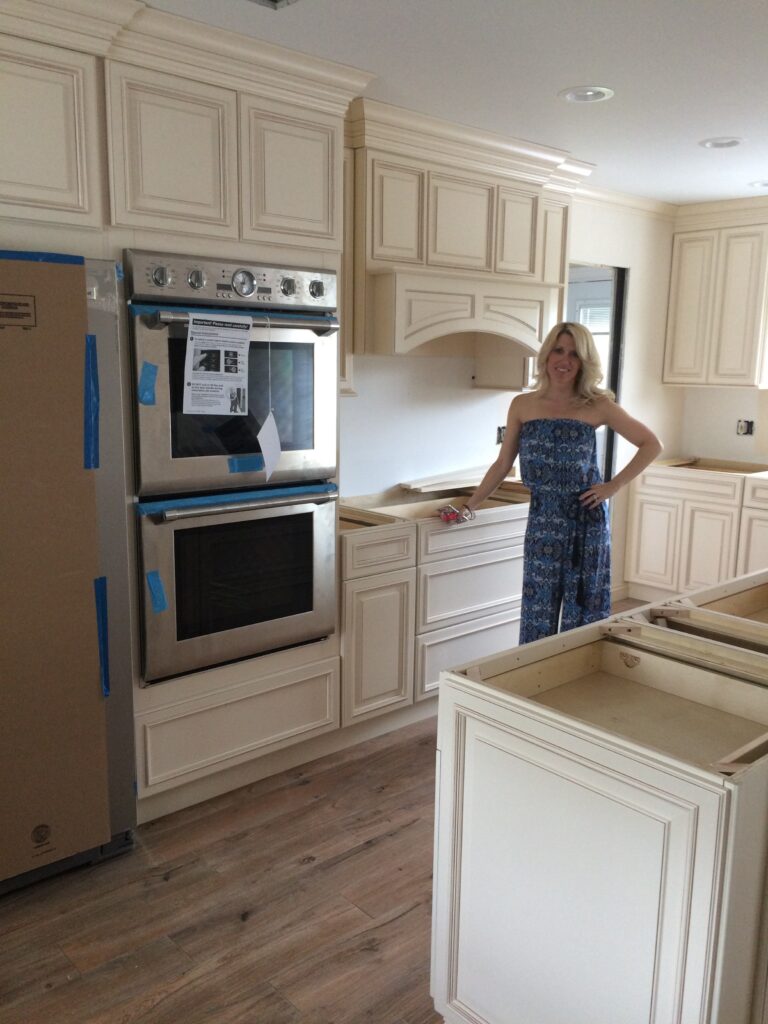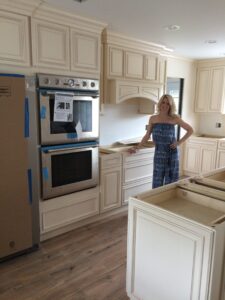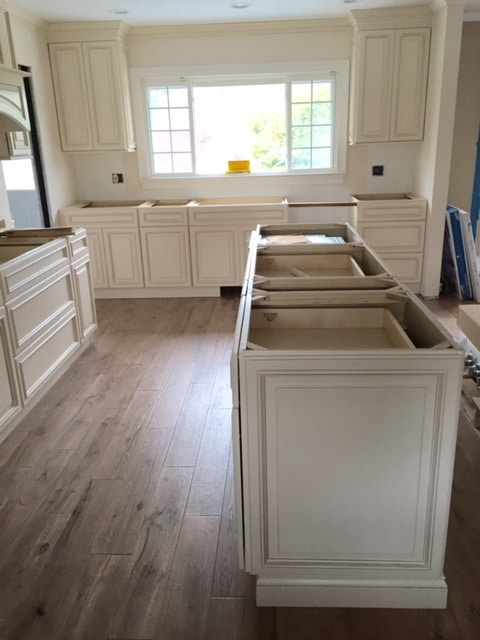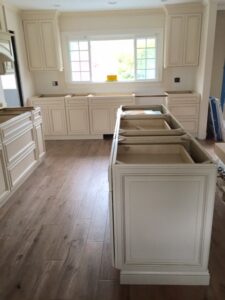 Monday, May 2 (Day 16)  Our pocket door is up. (A sliding door leading into our laundry room.)  Hubby picked it out for me-too cute!!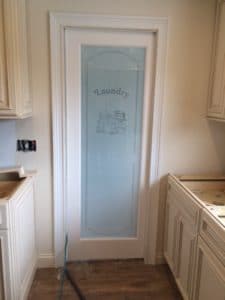 Monday, May 9Th (Day 17)-The past week has been quiet as we were waiting for our granite delivery and today was the day! It sure was worth the wait!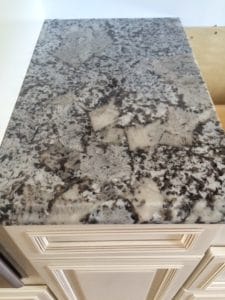 Our sink is an ivory cast iron Kohler that was undermounted to our granite.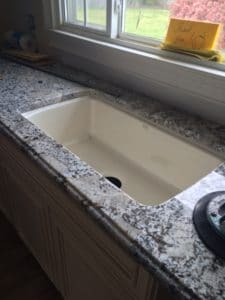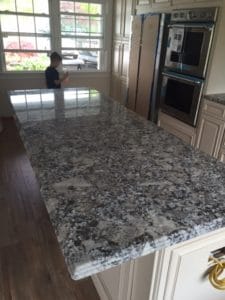 Tuesday, May 10 (Day 18)-Backsplash Day! I am in love with my backsplash! It is bling, bling, bling!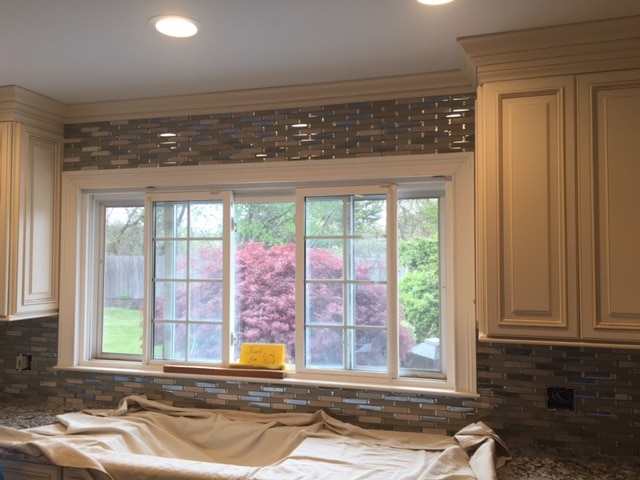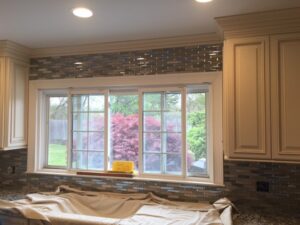 Our range was also installed today! Love the Stars!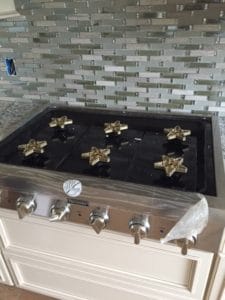 Here is an evening picture! Tomorrow (Day 19) they'll be back to grout the backsplash. Starting to look like my dream kitchen, for sure!!!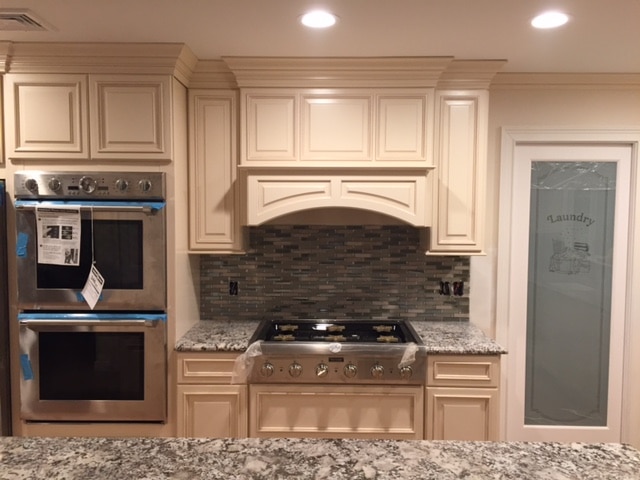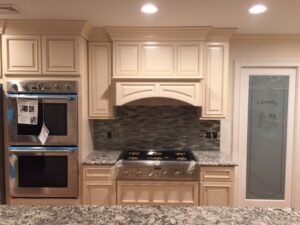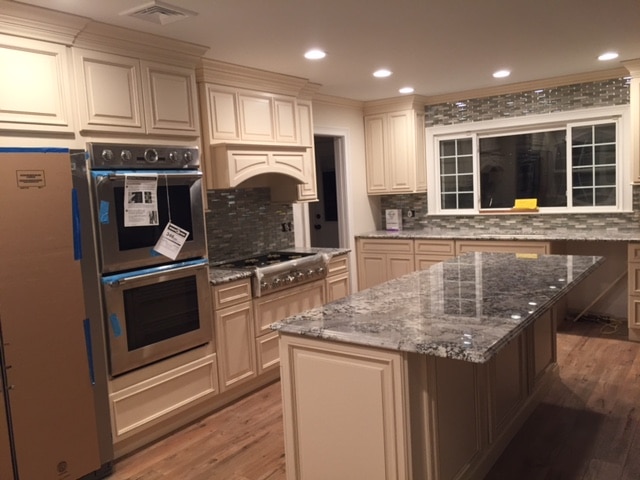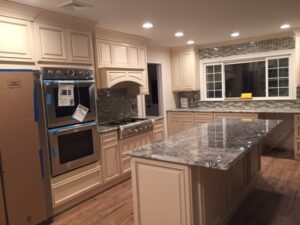 Here is a peak at our new hallways chandelier. Sticking with the bling theme!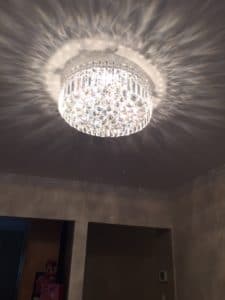 Wednesday May 11 (Day 20)-Today they grouted the backsplash! The old pink mixer wasn't enough color for the new kitchen. So….enter Raspberry Ice!
Here I am visiting it at Williams Sonoma!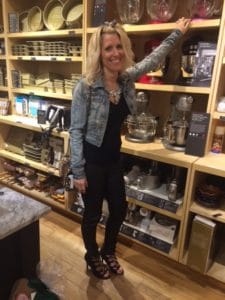 Thursday May 12 (Day 21)- Lots of painting went on today!
Friday May 13 (Day 22)- Our stools were delivered today for the island. The electricians were working today, too. Dishwasher now hooked up, too!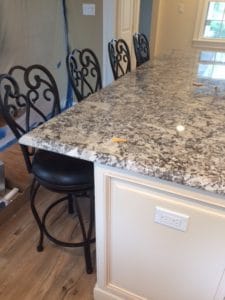 Tonight we decided to remove the plastic that was hanging across where we removed a wall. This was our first viewing of the wall down. WOW! Here is our before and after:
The wall with the vase of flowers picture is the wall we took down.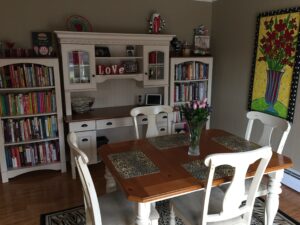 Here is the view without the wall!
Monday, May 16 (Day 23)
Today our pendants went up over the island. We went with hand blown onyx.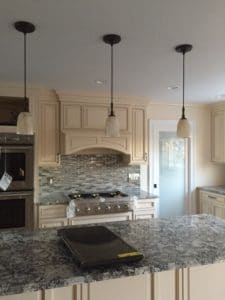 Here is a peek inside pantry #1. It looks ready to be loaded with chocolate chips, don't you think?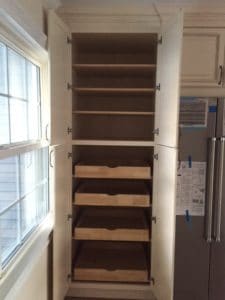 The cabinet went on our dishwasher today and our handles were put on!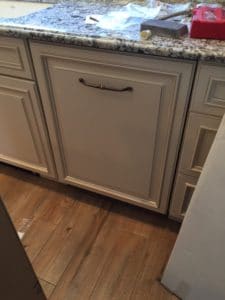 This is the coolest! They built us a wall and attached a screen to cover our boiler room. So clever!
Here is what it looked like before!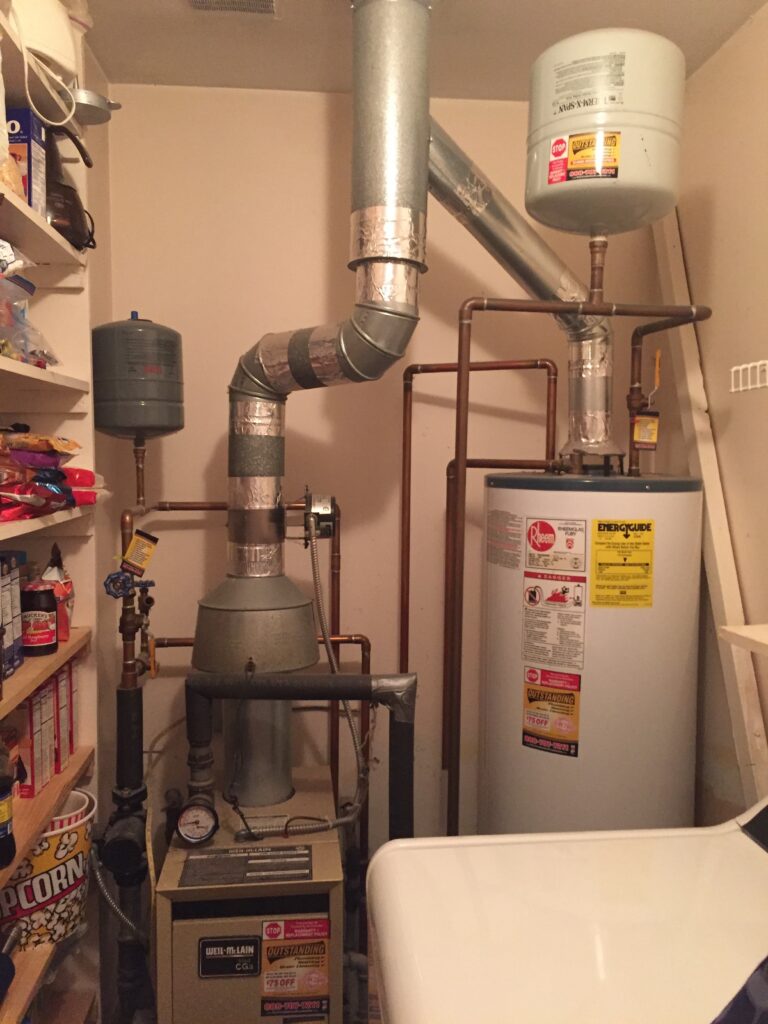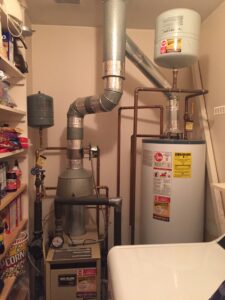 And after…..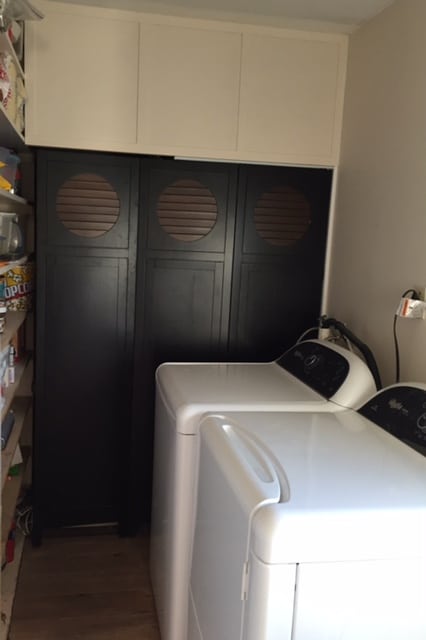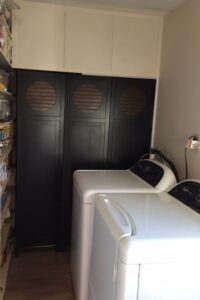 Tuesday, May 17 (Day 24)
Today the plumber installed our sink hardware (soap, faucet, instant hot water) and it is all up and running….literally! Our range top is also fired up now. For the hardware we went with oil based bronze to match our pendants, stools and cabinet handles!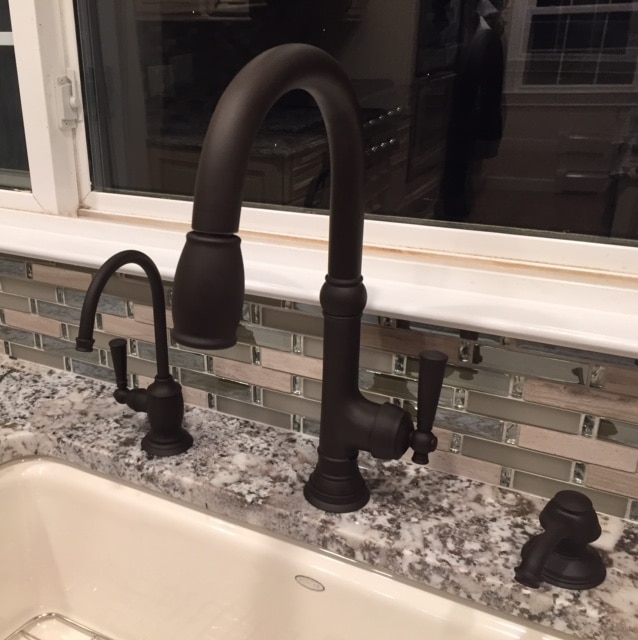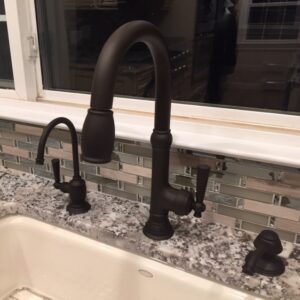 Wednesday, May 18-no workers today so it is time to move back into the cabinets! Finally, yay! I LOVE these draw organizers. You can check them out HERE.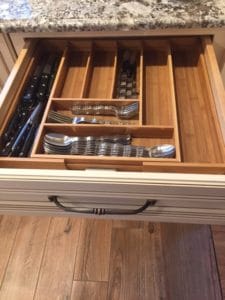 Filling up the shelves with lots of baking goodies!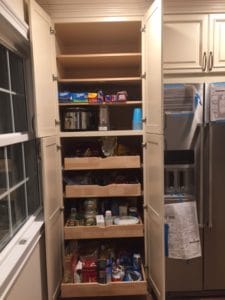 So this is the measuring cup drawer. Normal or weird? Do you own many sets, too? You can check some out HERE!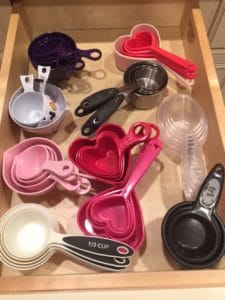 These dividers above the fridge were just awesome! Lots of storage for my baking pans!!! And pizza pans, and loaf pans, and popover pans, etc LOL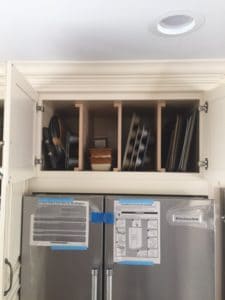 Thursday, May 19- Today the cleaning crew came to get us back in shape!!!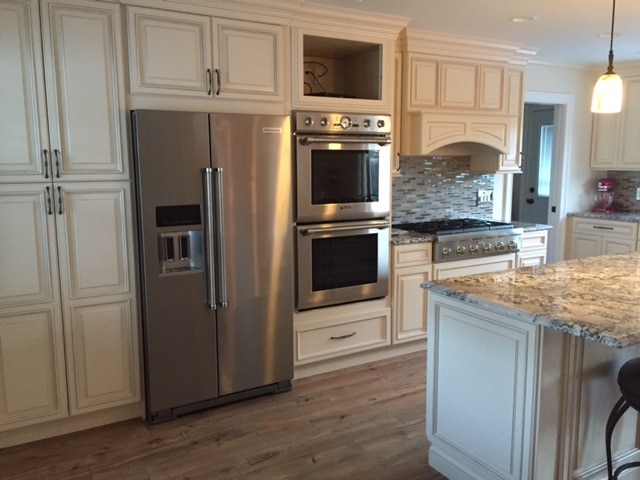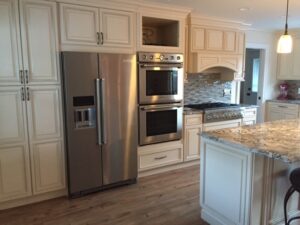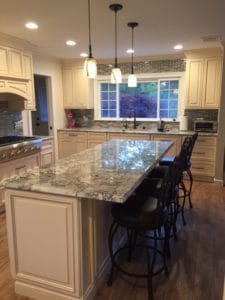 Night lighting….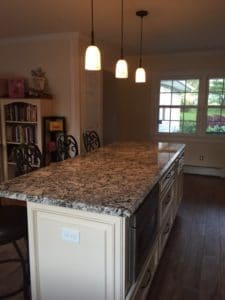 May 20, 2016- Day 25 and pretty much the last day! A few finishing touches today including the tv going up in the kitchen above the double ovens and my old cabinets were placed in the laundry room for extra storage. You know that is lingo for more baking pan space! Tomorrow the oven goes on. My boys have requested Smookies for our first kitchen treat!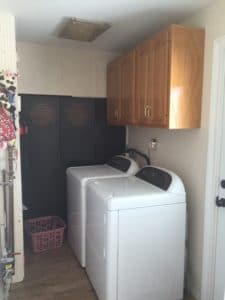 Here you can see the tv installed above the ovens.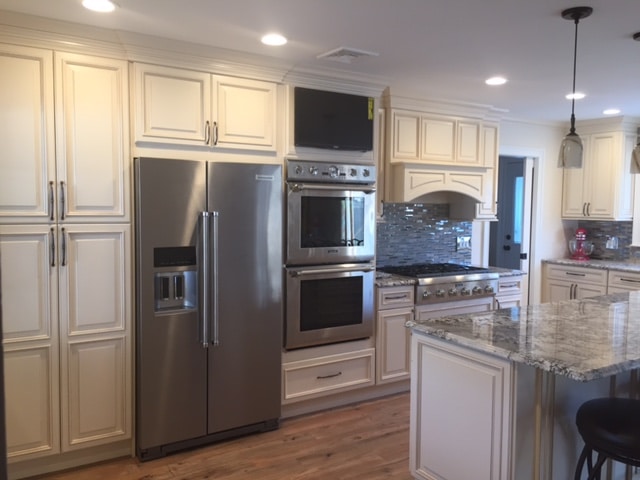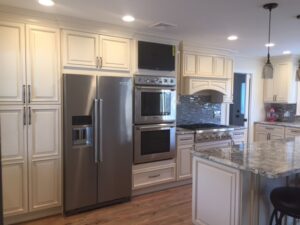 Hood close up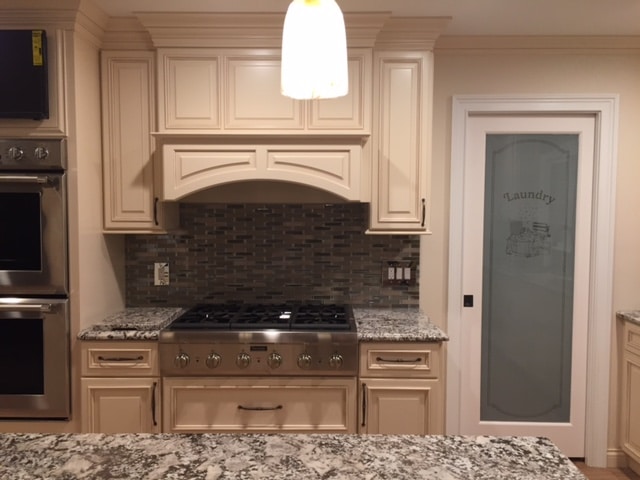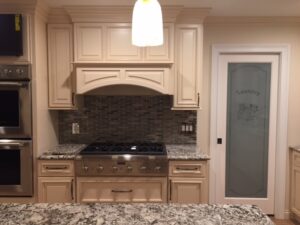 Front view of the island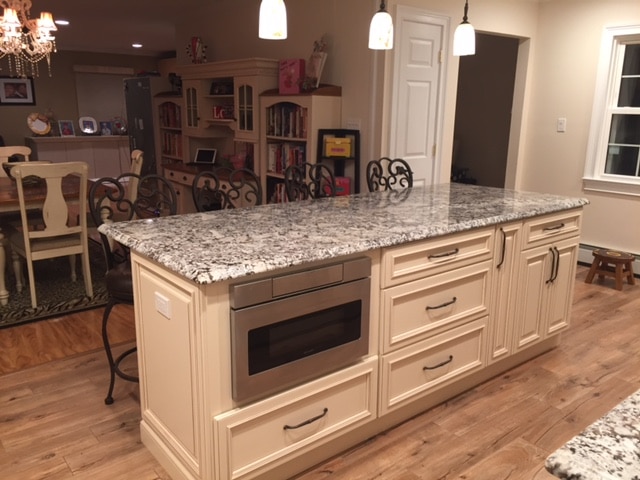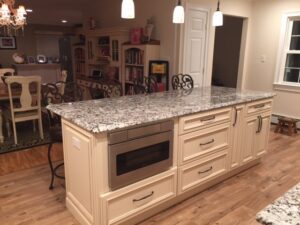 TV closeup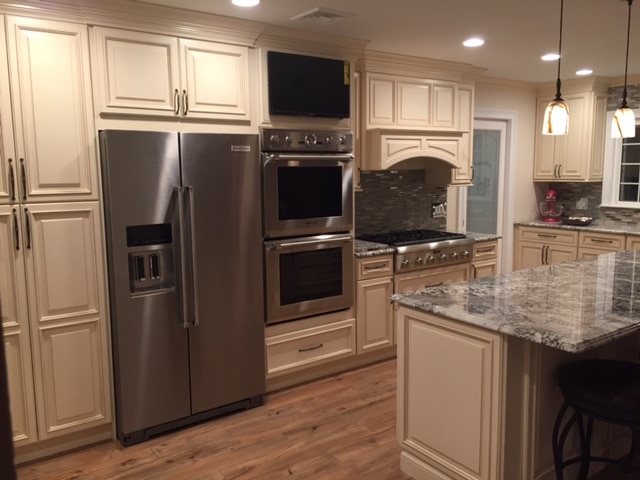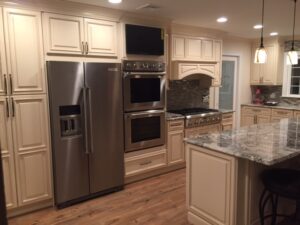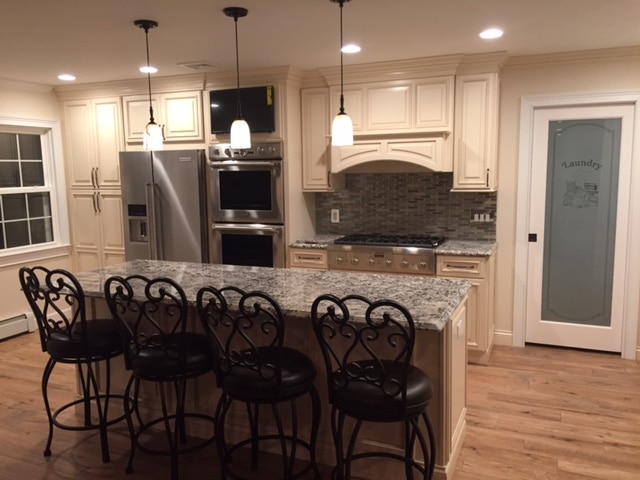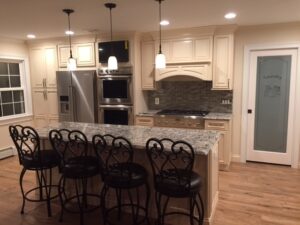 May 21, 2016-Today was the first day we baked in our new kitchen! Look at those smiles! haha!!! They are having fun baking their smookies as promised!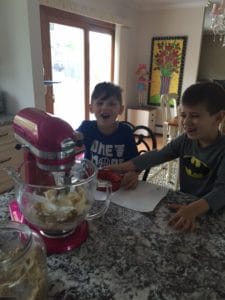 Here is our first batch!!! YUM!!!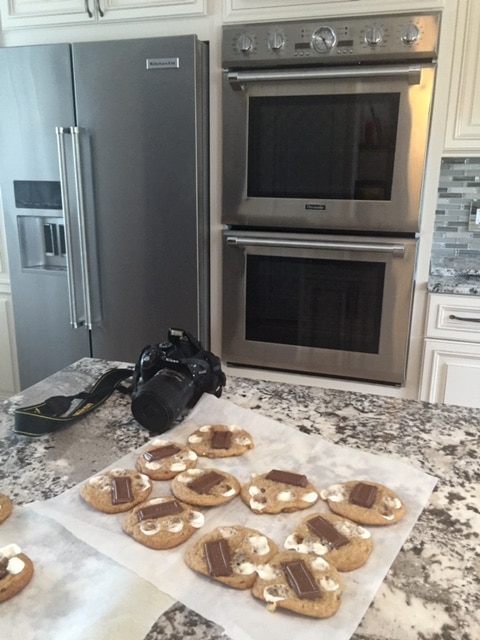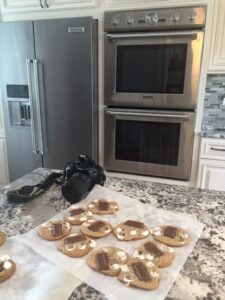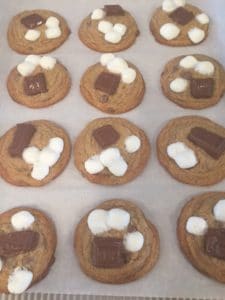 Hope you enjoyed seeing the kitchen renovation! We used a fabulous contractor for this project. A Special thanks goes to my hubby who was the behind the scenes man. He made sure everything was exactly how I wanted it to be. He put in a tireless number of hours to make it perfect including ordering, shlepping, surprising, running home during his lunches,  shopping, choosing, calling, stressing, overseeing, and on and on! Stay tuned for many new recipes and Happy Baking! xoxo
Hope you'll leave some comment love and let me know what you think!!!


You May Love These, Too! XOXO