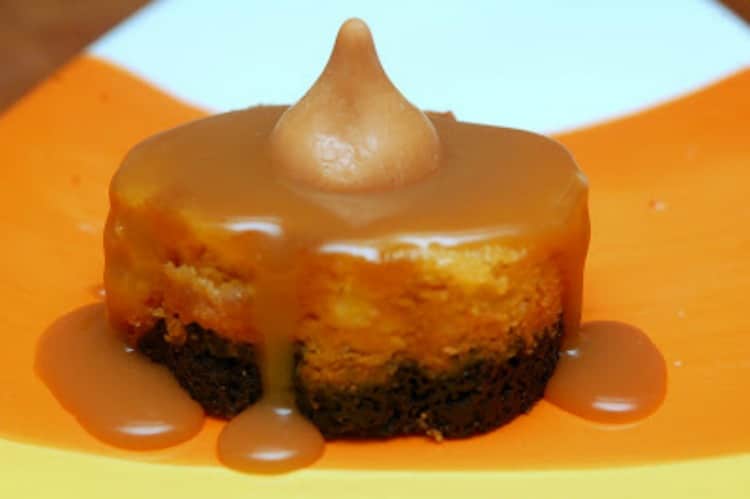 You'll Need :
8 whole Oreos, finely ground in food processor
1 1/2 Tablespoons melted butter
8 oz soft cream cheese
1/2 Cup granulated sugar
1/2 Cup pumpkin puree
1 large egg
1 teaspoon vanilla
1/2 teaspoon cinnamon

Homemade caramel sauce-click here for recipe
12 pumpkin Hershey Kisses- Pumpkin Kisses

 Preheat oven to 350 degrees F.
Combine ground Oreos and melted butter in a bowl.
Spoon into  12 mini cheesecake cups or you could probably use a muffin tin. I found my pumpkin cheesecake pan at Williams Sonoma.
 Spray the pan with Pam and press crumbs into the bottoms with a rounded handle.
Bake for 10 minutes then remove from oven.

Beat cream cheese,  sugar and pumpkin smooth.
Add egg, vanilla & cinnamon.
Use a small ice cream scoop to evenly dish out the cream cheese mix into the cups. 
Spoon about a teaspoon of your homemade caramel onto the tops of each cup and swirl with a knife to marble.
Bake 23-25 minutes.
Let cool completely and chill.

Remove cheesecakes from pan and top each with a spoonful of caramel and a pumpkin Hershey Kiss.
Keep chilled. 
adapted from Picky Palate