Rainbow Stuffed Chocolate Chip Cookies
This is a rainbow surprise, for sure! If you are a rainbow cookie lover (Like I am!) then you NEED these in your world. The chocolate chip cookie is huge, buttery and packed with melty chips making it the perfect combo. These are fabulous warm right from the oven! When making these, I left off the outside layer of chocolate on the rainbow cookies. I felt there was enough chocolate from the mini chips! I also snuck in some sprinkles but those are optional. You can make the rainbows ahead of time and freeze them for ease.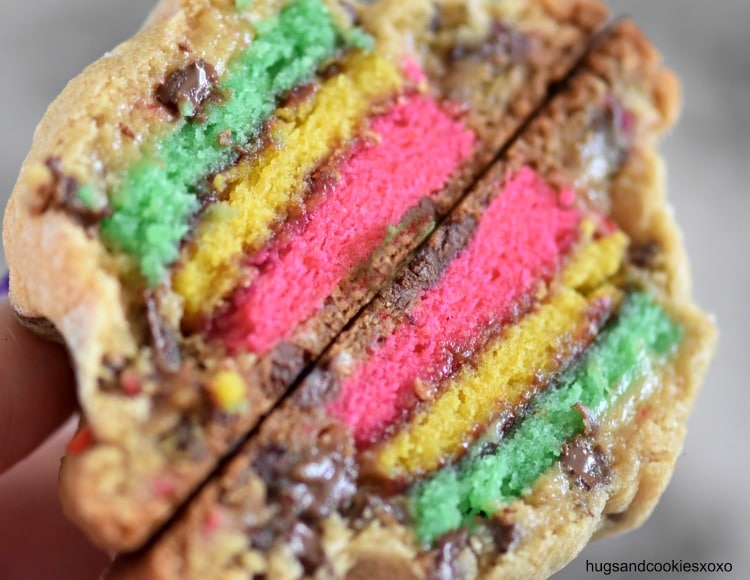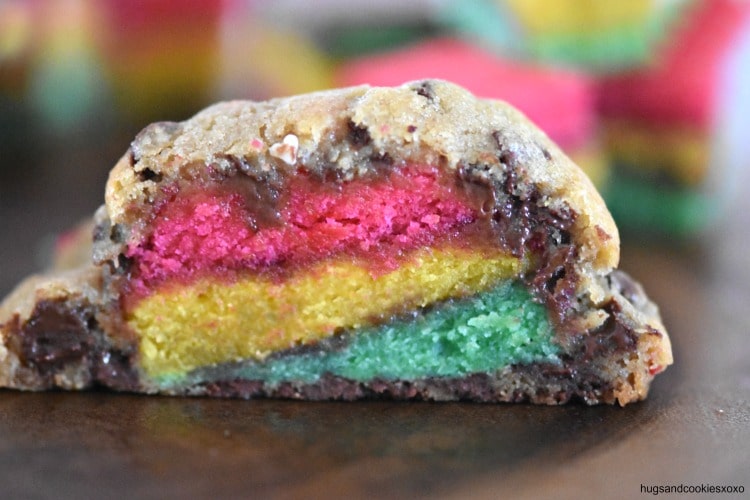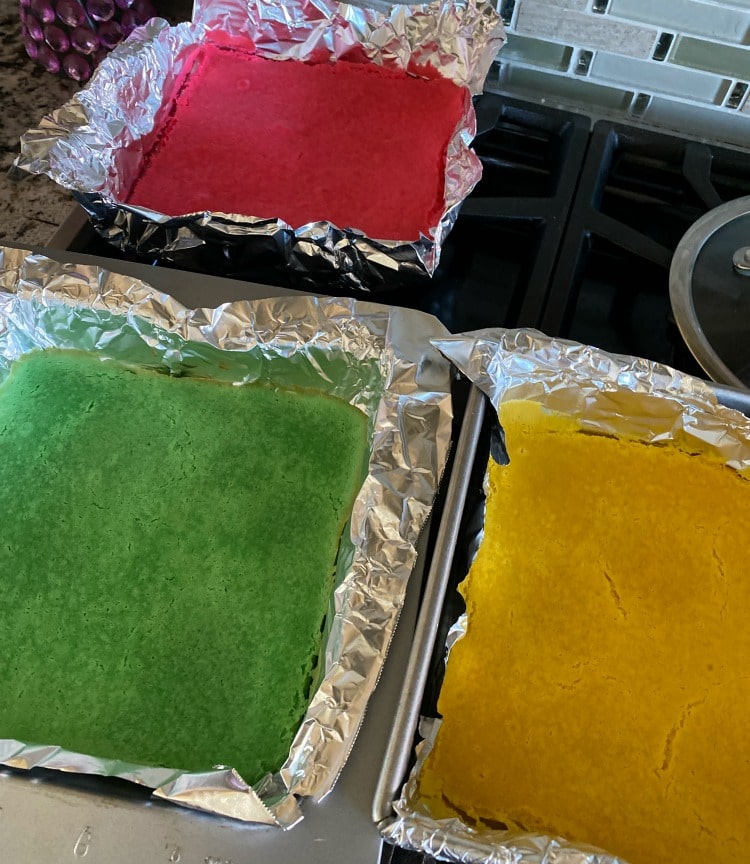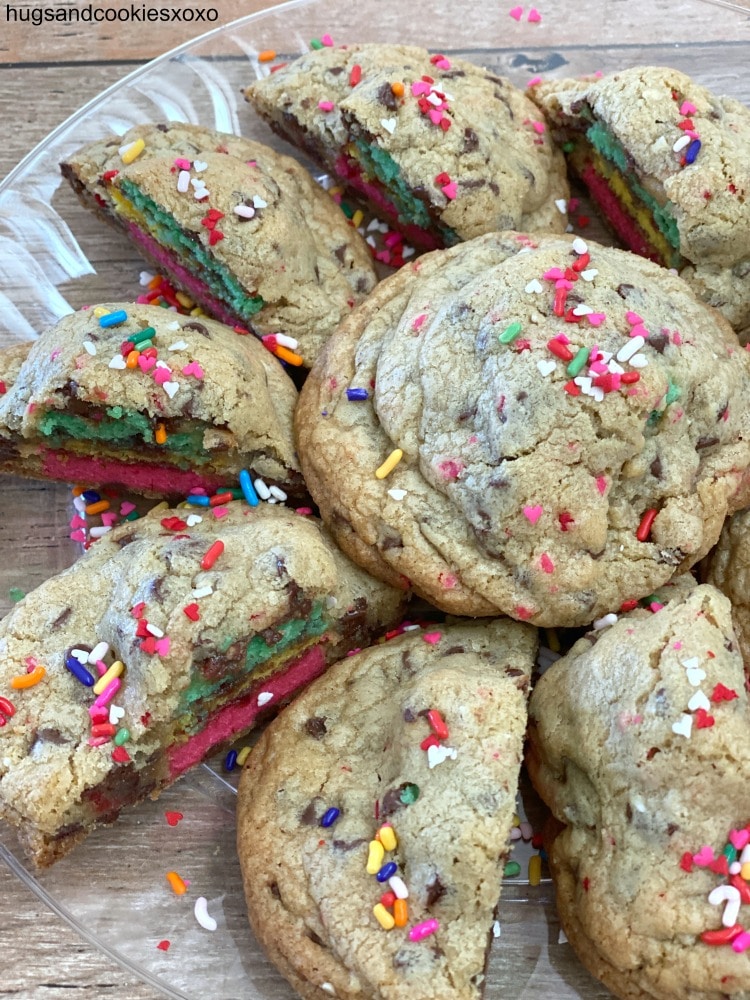 Rainbow Stuffed Chocolate Chip Cookies
Ingredients
Rainbow Cookies for the centers!Rainbow Cookies
8 ounces almond paste
¾ C. sugar
1 tsp. almond extract
¾ c. butter
3 eggs
1 c. flour
¼ tsp. salt
½ c. raspberry jam, seedless
pink, yellow, green food colorings
Chocolate Chip Cookies
16 T. butter, soft
¾ c. white sugar
¾ c. dark brown sugar, packed
2 eggs
1 tsp. vanilla
2¼ c. all-purpose flour
3.4 ounce box instant vanilla pudding mix
1 tsp. kosher salt
1 tsp. baking soda
2 c. mini chocolate chips
sprinkles, optional
Instructions
Rainbow CookiesLine 3 8x8 pans with nonstick foil.
Preheat oven 350.
In food processor, mix almond paste, sugar, extract and butter till creamy.
Add one egg at a time.
Add flour and salt.
Divide into 3 bowls (approx 1 cup each)
Tint one pink, one yellow and one green.
Spread into the pans.
Bake approx 12 mins and let cool.
Line cookie sheet with parchment and flip out green layer.
Spread on jam.
Place yellow layer on top.
Spread with raspberry jam and top with pink layer.
Lay parchment over pink layer and top with heavy books. Chill 1-4 hours.
Cut into squares and keep in fridge or freezer.
Chocolate Chip Cookies
Preheat oven to 350 degrees F. and line a baking sheet with parchment paper.
Beat butter and sugars.
Add eggs and vanilla.
Add flour, pudding mix, salt and baking soda.
Add chips and sprinkles.
Take ½ c. dough-flatten in your hand, place rainbow cookie in middle and wrap dough around the cookie. Roll into a ball.
Bake 14-16 mins.
Let set on pan and then remove to a rack.
Serve warm!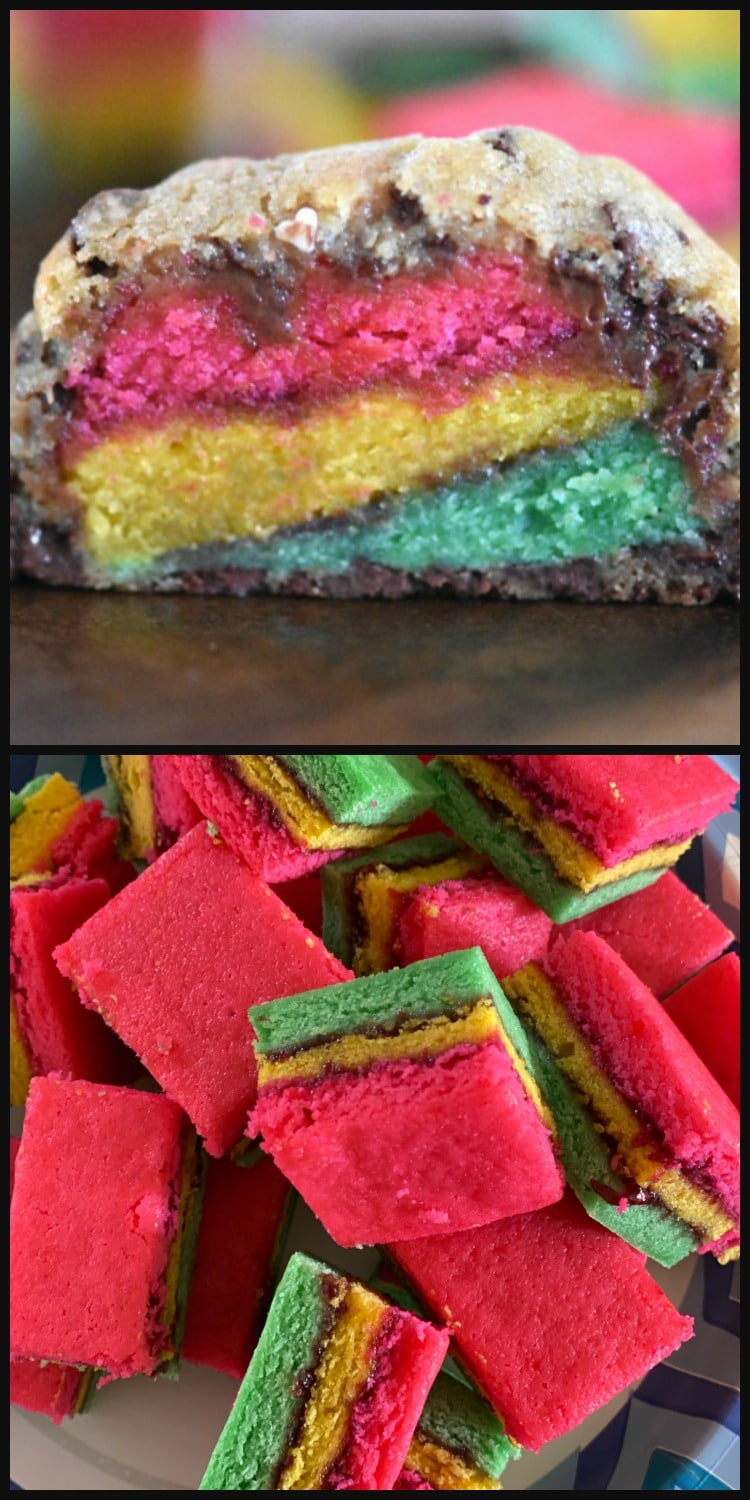 You May Love These, Too! XOXO