Samoa Oreo Cheesecake
This fabulous cheesecake recipe is adapted from my Cheesecake Bestie, Debbie at
Say Cheesecake
. I also like to refer to her as the cheesecake hotline! I have made MANY cheesecakes over the past 12 years but this is unique because of it's adorable size and unique baking technique! No water bath needed and absolutely NO peeking allowed. Ok, so that was tricky but I behaved and it was worth it. This cake tastes outrageous. It uses a unique pan, too! (Luckily it is inexpensive.) 
You can find it here... A Fat Daddio's removable bottom sized 6x3.
What a fun size this would be when you want to gift someone a cheesecake! You need to check out her Debbie's Insta page and follow her....her cakes are sinful!! She also has some saved highlights explaining her baking process and cheesecake steps in more detail. Tell her I sent you! xoxo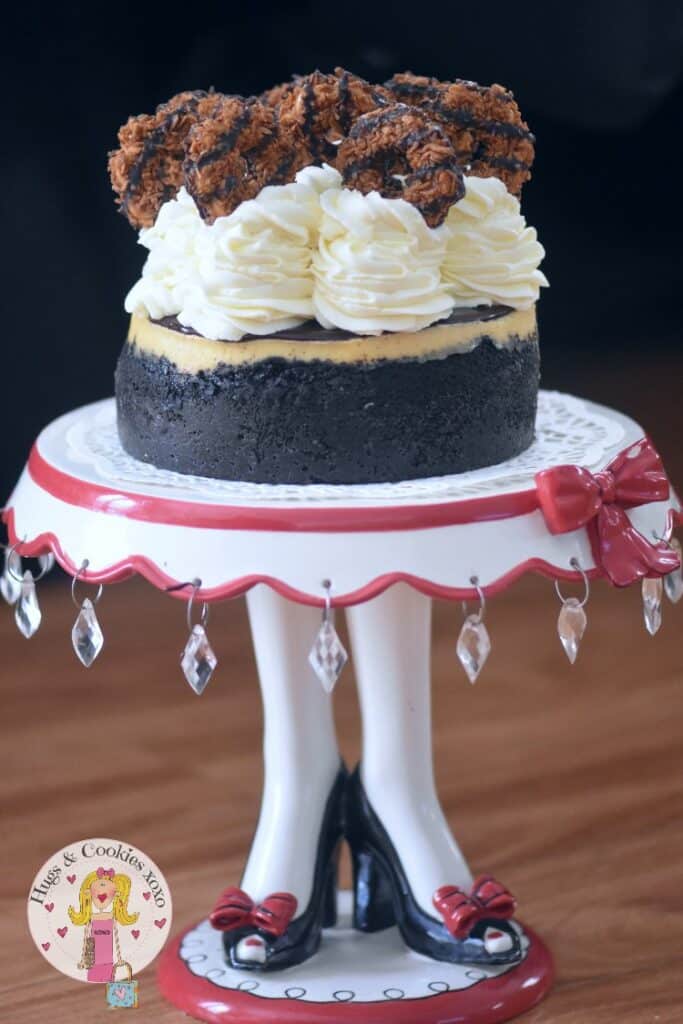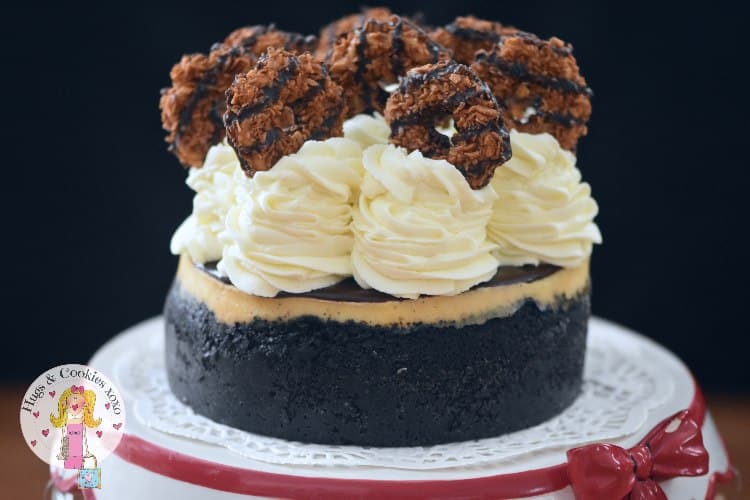 Samoa Oreo Cheesecake
Ingredients
Oreo Crust
1½c. oreo crumbs
4T. butter
(option 2 T. sugar-I forgot it and was still fab!)
Cheesecake
16 ounces cream cheese, room temperature
80 grams sour cream, room temperature
1 T. heavy cream, room temperature
1 T. vanilla
140 g. granulated sugar
2 T. cornstarch
2 eggs, room temperature
Instructions
Crust
Preheat oven to 300 degrees.
Spray 6x3 removable bottom pan with PAM, line with parchment circle and spray again.
Mix all ingredients and press into the bottom of pan and up the sides a bit.
Bake 10-12 mins and then cool.
Cheesecake
Mix the cream cheese on medium high 4-5 mins until creamy.
Scrape down the bowl a couple of times.
Add the sour cream, heavy cream, vanilla, sugar, and cornstarch.
Mix on low until well combined, scraping down the sides of the bowl.
It should be smooth and creamy.
Add the eggs on low just until combined and finish mixing with a spatula.
Pour it into the cooled crust.
Place on a rimmed baking sheet.
Bake 12 mins at 300 then LOWER to 225 and bake 95 mins-do NOT open oven.
Shut oven off and leave cake in the oven for 1 hour. (Still NO opening)
Crack oven open a few inches and let cake sit another hour.
Remove to a rack to cool and then chill in fridge overnight.
The next day, loosen bottom with fingers to release.
Place on top of a tall narrow can and pull down sides to release.
Cover top with plastic wrap, flip over in hand and remove base of pan from the cake and the parchment.
Place on cake plate and decorate with whipped cream and Samoa girl scout cookies!