Spinach Artichoke Pesto Pizza With Shrimp
This pizza has many components and was a HUGE hit with the family. You can use a pizza dough from your local pizzeria or make your own like I did. This crust has become our most favorite. It is best after 48 hours in the fridge but can be made after 24 hours and still taste incredible. I like to make a few batches, pop them in the fridge for 48 hours and then freeze them for the future. They thaw out perfectly! If that is too time consuming for you, just grab a dough at the store or local pizza place! I made this pizza with half spinach artichoke and half pesto. The pesto was my fave and my husband loved the spinach artichoke. You can certainly just choose one to use for the entire pizza! Both toppings can be made ahead of time and stored in the fridge to make this process easier! Feel free to add the shrimp or even chicken would be amazing on top. This crust is so great that even just some sauce and cheese would make a perfect meal. I will include all the recipes below and you can mix and match as you like! You may also love Chicken Cutlet and Broccoli Pizza and Zucchini Noodles With Grilled Chicken and Pesto.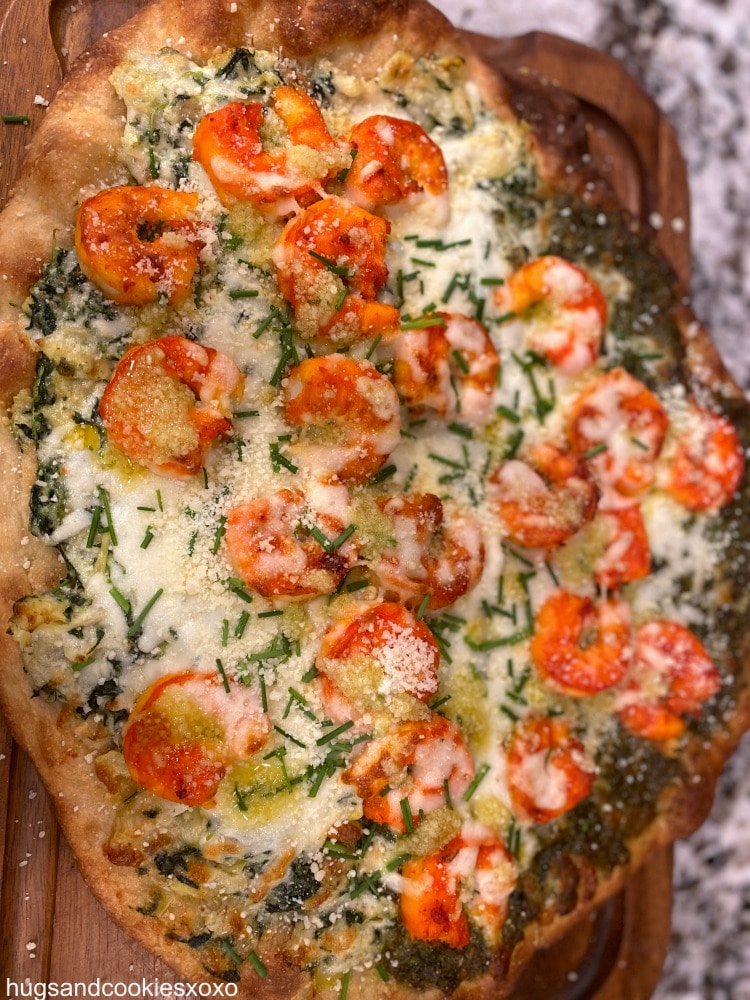 You may need: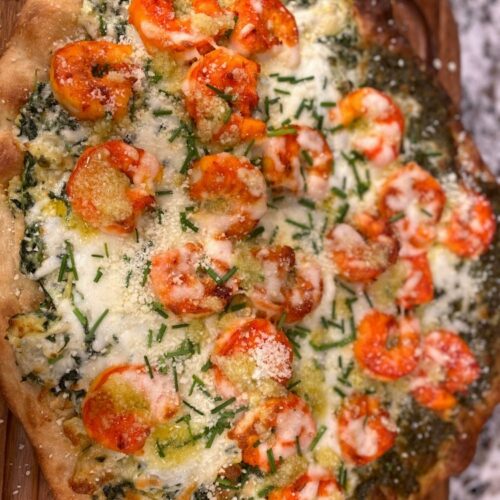 48 hour pizza dough
48 Hour Pizza Dough
Ingredients
3

cups

bread flour

2

T.

sugar

½

tsp.

instant yeast

10

ounces

ice cold water

about 1 1/3c.

1

T.

vegetable oil

1 ½

tsp.

kosher salt
Instructions
In food processor, mix flour, sugar yeast.

With processor running, add water through feed tube and process 30 seconds-1 minute.

Let sit 10 mins.

Add oil and salt and process 30 seconds to 1 minute.

Roll out on lightly oiled counter and form a tight ball.

Place in lightly oiled bowl and cover with plastic wrap.

Park in fridge 48 hours up to 3 days.

When ready to make the pizza, preheat oven to 500 degrees with a stone on the rack. The rack should be in the second highest position.

Cut a parchment circle the size of your stone and lightly flour it.

Cut dough into 2 equal parts for two crusts,

Lay one crust on parchment and use a rolling pin to make a 13 inch circle.

Dock the bottom and brush on 1 T. olive oil (mixed with a little parmesan cheese and a sprinkle of kosher salt)

Bake 4 minutes and use a peel to help you remove parchment. Continue baking an additional 6 mins.

Remove crust, top with Pesto and/or spinach artichoke, shrimp (if desired) and mozzarella cheese.

Bake another 9-10 mins until hot and cheese is melted.

Garnish with chopped chives, olive oil and parmesan cheese.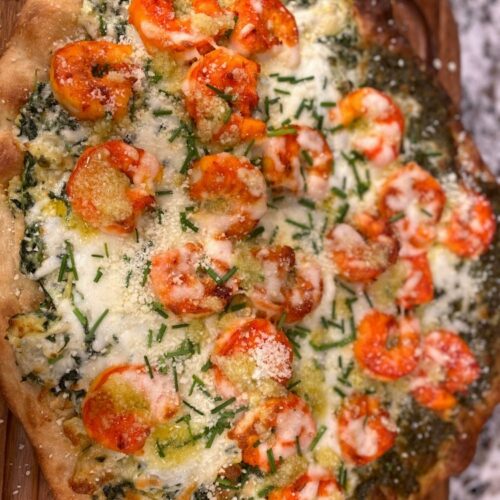 Pesto
Ingredients
2

cups

basil

6

garlic cloves

¾

c.

olive oil

1

c.

parmesan cheese

2

ounces

pine nuts

1

tsp.

kosher salt
Instructions
In a food processor, chop basil and garlic.

Slowly stream in olive oil through feeder while machine is running.

Add cheese, nuts and salt and process till blended.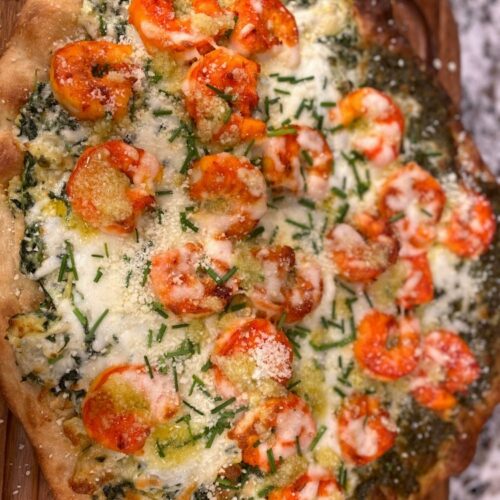 Spinach Artichoke Topping
Ingredients
1

cup

mayo

1

cup

parmesan cheese

14

ounce

can artichoke hearts

drained and chopped coarsely

9

ounce

box frozen spinach

thawed and squeezed well to drain

4

cloves

garlic

minced

a sprinkle of salt

can omit and add at end in case it's salty enough for you
Instructions
Mix all ingredients well together and then it is ready to spread on your pizza.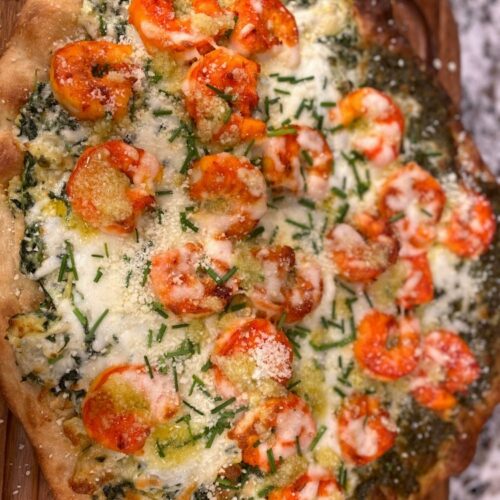 Sazon Grilled Shrimp
Ingredients
1 ½

pounds

peeled

cleaned deveined shrimp

1-2

T.

olive oil for grill pan
Seasoning
2

packets Sazon

Adobo seasoning-sprinkled on to your liking
Instructions
Sprinkle Sazon and Adobo on both sides of shrimp.

Heat oil in a grill pan and cook shrimp a few minutes on each side.
You May Love These, Too! XOXO