Sprinkles Make You Smile!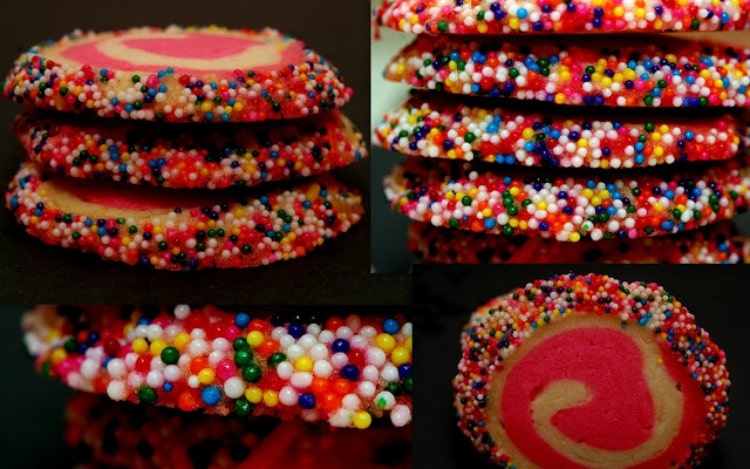 Sprinkle Spiral Pinwheels…. these are melt in your mouth cookies!
2c. cake flour +2 T
1/2tsp baking powder
1/4tsp salt
2/3 c. powdered sugar
1/4c. sugar
2 1/2 sticks butter
1 tsp vanilla
1/2 tsp strawberry extract, 1/2tsp rose food coloring, 1 tsp. vanilla, sprinkles
Combine 2c cake flour, powder, salt, powdered sugar, regular sugar in food processor and mix. Add the butter in pieces and pulse till all crumbly. Add vanilla and process till it forms a ball. Divide dough in half and put one of the halves back in processor. Add to it 2T. flour, food coloring and strawberry extract and combine. Roll out each portion of dough between 2 sheets of wax paper to 1/8 inch and chill both in fridge on a cookie sheet at least 2 hours or up to 2 days. Remove top wax paper on vanilla & Put a few dabs of water on top. Remove top wax from pink dough and gently flip it on top of the other dough. Lightly press it on top. Roll up on the long side jellyroll style and cut in half. Roll each half in sprinkles and chill overnight. (I cheated and didn't wait that long) Slice into 1/4 inch pieces and bake at 325 for about 15 minutes on parchment paper.
*** If you don't want to purchase strawberry extract just use vanilla. The strawberry flavor was very subtle!