Strawberry shortcake trifle is perfect for the spring! Get some beautiful strawberries and you will have quite a dessert!!!!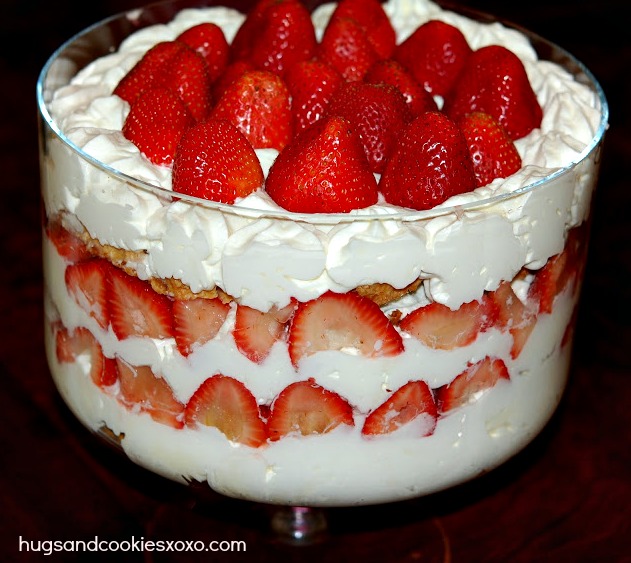 JUST LAYER TONS of STRAWBERRIES, WHIPPED CREAM AND POUND CAKE! YUM!!!! Cake & cream recipes below.
BEST WHIPPED CREAM RECIPE… HERE IS THE RECIPE FOR THE STABILIZED WHIPPED CREAM I USED! IT WILL NOT DEFLATE LIKE REGULAR WHIPPED CREAM MIGHT.
4 tablespoons cold water
2 1/2 teaspoons unflavored gelatin
3 cups chilled heavy cream
1 1/2 cups powdered sugar
Add the cold water to a small bowl, then sprinkle the gelatin over it. Allow to sit for about 10 minutes, until it has set.
In a small skillet, add about 1/2 inch of water, and heat over medium-high heat. Place the small bowl with the gelatin directly inside the skillet. Stir the gelatin until it is melted, about 2 minutes. Remove the bowl from the skillet.
In the mixer, use whisk attachment and beat the heavy cream & powdered sugar. Beat on high to soft peaks. Add in the melted gelatin mixture and continue to beat until stiff peaks have formed.
BEST EVER POUND CAKE-HANDS DOWN!!!!
INGREDIENTS:
1 (8 ounce) package cream cheese
1 1/2 cups butter
3 cups white sugar
6 eggs
3 cups all-purpose flour
1 teaspoon vanilla extract
Directions:
1. Preheat oven to 325 degrees F grease and flour a 10 inch tube pan. (I spray mine with coconut oil spray!)
2. In a large bowl, cream butter and cream cheese until smooth. Add sugar gradually and beat until fluffy.
3. Add eggs two at a time, beating well with each addition. Add the flour all at once and mix in. Add vanilla.
4. Pour into a 10 inch tube pan. Bake at 325 degrees F for 1 hour and 20 minutes (I baked mine 1 hour 20 mins and then loosely covered with foil for an additional 20 to be sure it was cooked through-this timing was perfect for me-any less and it would have been undercooked. Judge yours as it bakes as oven can vary.) COOL COMPLETELY BEFORE CUTTING!