This is an easy weeknight dinner that tastes amazing! This gourmet meal can be on the table in 30 minutes or less! Fresh broccoli is the star in this meal so be sure and pick the best looking bunches. The sauce is light yet decadent with the addition of parmesan cheese! 30 minute Chicken Sausage and Broccoli is the way to go on a busy school night and my kids loved this one up! Serve this over buttered noodles, pasta or brown rice! It is also delicious mixed together with orecchiette pasta!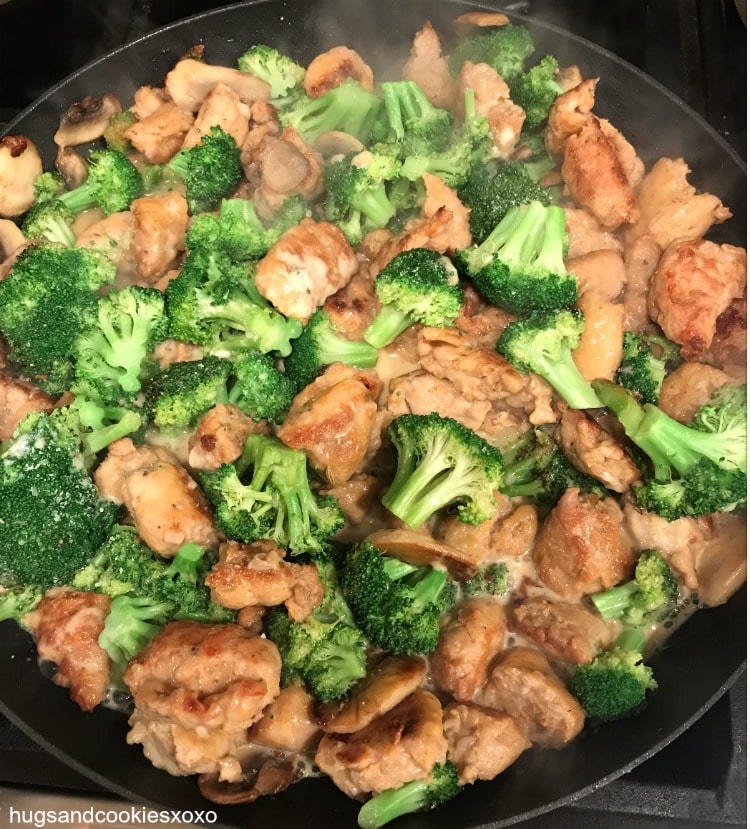 Chicken Sausage and Broccoli
Ingredients
2 packages chicken sausage (I like premio), removed from casing
1 T. olive oil
1 small container sliced mushrooms
4 cups fresh broccoli, cut into chunks
salt, paprika
2 cups chicken stock/broth
½ cup parmesan cheese
Instructions
Heat olive oil and add sausage.
Break it up with a wooden spoon into bite size chunks.
Cook on medium until browned and cooked through.
Add mushrooms and cook to brown.
Add salt and paprika to taste.
Pour in broth and bring up to a boil.
Whisk in parmesan cheese.
Add broccoli, lower to a simmer and cover with foil to steam the broccoli.
Add salt to season the broccoli.
Serve over pasta or rice.