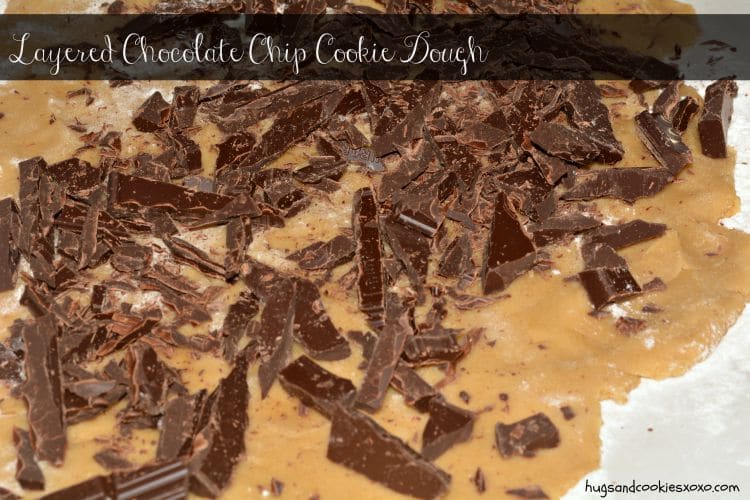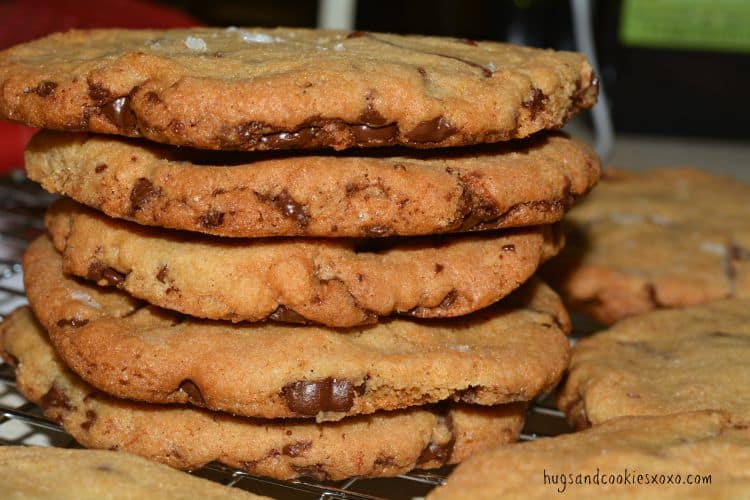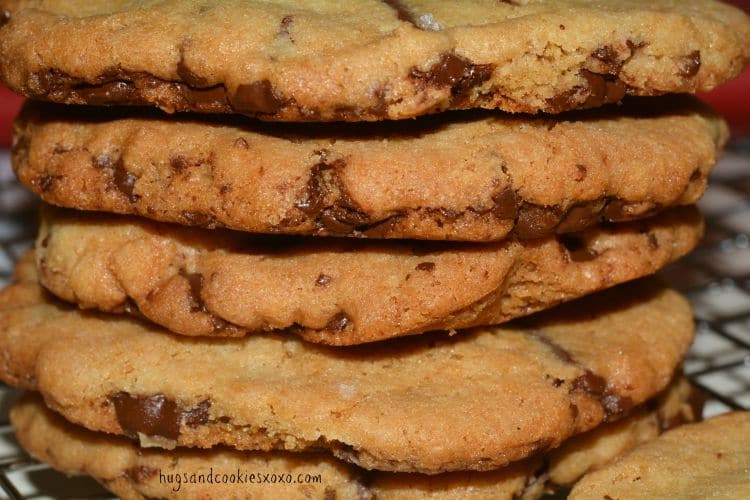 It's that awesome time of the month again……2 SWEETIE PIES!! I love this day! One of my blogging besties and I swap blogs and surprise each other by baking/cooking from the other's blog. Lizzy blogs at THAT SKINNY CHICK CAN BAKE! I have been fortunate because every single month, without fail, Liz's recipes are always successful! Every one winds up in my repertoire of fabulous repeat recipes! This month was another winner….layered chocolate chip cookies! Just in time for the holidays!
Once again Liz, you have made us all smile with your fabulous recipe! Happy Holidays!!!
You can also visit Lizzie on:
Layered Chocolate Chip Cookies
Ingredients
1 cup (2 sticks) butter, at room temperature
¾ cup dark-brown sugar
¾ cup sugar
4 large egg yolks, at room temperature
1 teaspoon vanilla extract
2¼ cups flour
¾ teaspoon baking soda
½ salt
9 ounces bittersweet chocolate, chopped into thin shards with a serrated knife
Coarse sugar, for dusting (optional)
Instructions
Line two baking sheets with parchment paper and set aside.
In the bowl of an electric mixer fitted with the paddle attachment, cream together butter and both sugars until light and fluffy, about 3 minutes.
Add egg yolks and vanilla and mix to combine.
In another bowl, whisk together flour, baking soda, and salt.
On low, add flour mixture and mix till just combined, scraping down sides of bowl if needed.
Divide dough into three equal portions.
Wrap each portion in plastic wrap and flatten slightly. Chill for 30 minutes.
Preheat oven to 375º.
Unwrap one portion of chilled dough and place on a lightly floured work surface.
Roll into a rectangle less than an inch thick. Sprinkle with half the chocolate.
Roll out the second portion of dough to a similar size and use to top the chocolate coated layer. Sprinkle with the remaining chocolate and top with the last portion of dough, rolled out to a similar size as the former portions.
Lightly dust the cookie dough with flour and gently roll out dough to a rectangle, about 1½ inches thick.
Using a 2-inch-round cutter, cut out rounds of dough. Place on prepared baking sheets about 3 inches apart and sprinkle with coarse sugar, if desired.
Pat any scraps together gently and cut more rounds of dough.
Bake until cookies are set, 12 to 15 minutes.
Cool for a few minutes on baking sheets, then transfer to a wire rack to finish cooling.