The BEST Pizza Dough
I have been making my kids lots of pizzas during this 2020 pandemic and trying out many doughs. THIS is the winner! The dough is enough for 2 large pizzas! I froze half for another day. I think this dough wins because it gets prebaked with olive oil before you even add the toppings! The original called for 450 but I upped it to 475 in search of a crisper crust. Next time, I amy even try 500-it all depends how you like your pizza. My kids declared this the best pizza we have made and said it tasted like the kind from the pizza place! That's the best pizza compliment you can ask for! I topped my dough with Rao's sauce, our fave, and lots of shredded mozzarella cheese. Use whatever your favorite sauce is! Homemade would be amazing, too!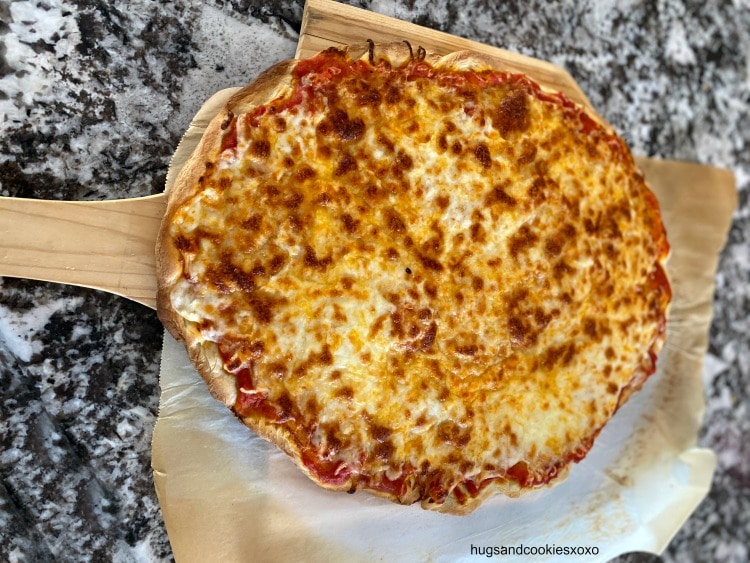 The BEST Pizza dough
Ingredients
2¼ tsp. active dry yeast (I used the same amount of instant yeast!)
2 tsp. sugar
1½ c. warm water
3 T. olive oil
1½ tsp. salt
1 tsp. white vinegar
3¾ - 4 cups bread flour (bread flour works best, but all purpose works fine)
Instructions
In a mixer, combine ½ cup of the warm water with the sugar and yeast.
Stir to dissolve the yeast and let rest for 5 minutes.
Add the remaining 1 cup of warm water, and the olive oil, salt and vinegar.
Start mixing on low and slowly add the flour, kneading 7 mins.
Cover the bowl with plastic wrap and place in oven on proof setting or on counter.
Let double in size 90 mins.
Punch down on lightly floured counter and divide into 2.
Roll out to desired size you want on a piece of parchment paper.
Preheat oven 500 with a stone in it.
Lightly brush dough with olive oil and prick it with a fork all over.
Place the dough and the parchment it's on directly onto the stone.
Bake 9 minutes until just starting to get lightly browned. (I pull it off the parchment about 5 minutes into the baking time.)
Remove and top with sauce and cheese.
Place back in and bake until the cheese is melted and yummy! (10 mins more in my oven)
Keep an eye on it!
This produced a perfectly crispy crust! If you like it softer, bake at 475.
Adapted from
Tastes Better Than Scratch