This Brookie Cookie Triple Layer Cake is a show stopping winner! This was fun to make but definitely is a test in patience. Each layer needs to be cooled and frozen before proceeding to end with great results. Cookie Monster would definitely be happy with this cake! This cake is adapted from Live, Love and Sugar! Be sure to check out her blog – she is the cake decorating queen!!! You may also want to check out her cookbook on Amazon.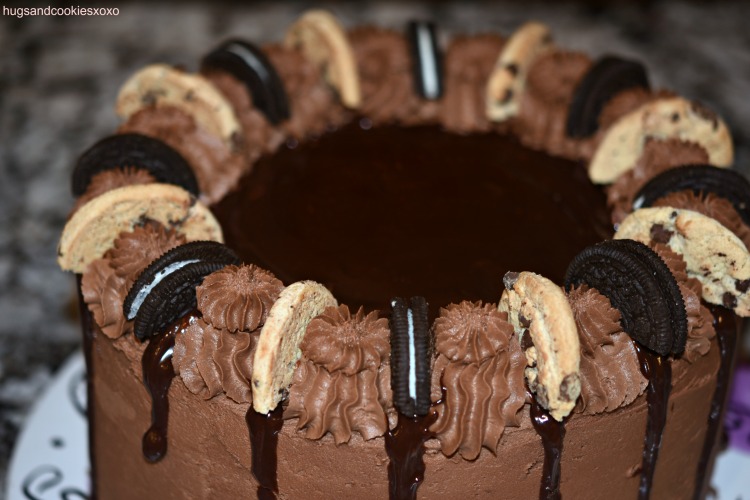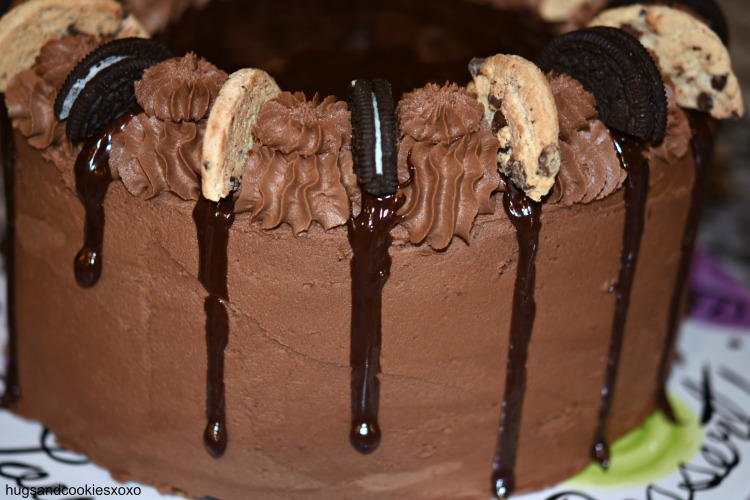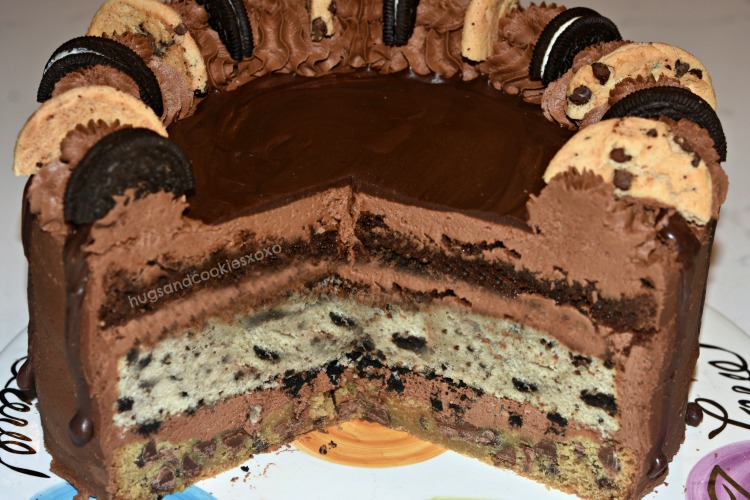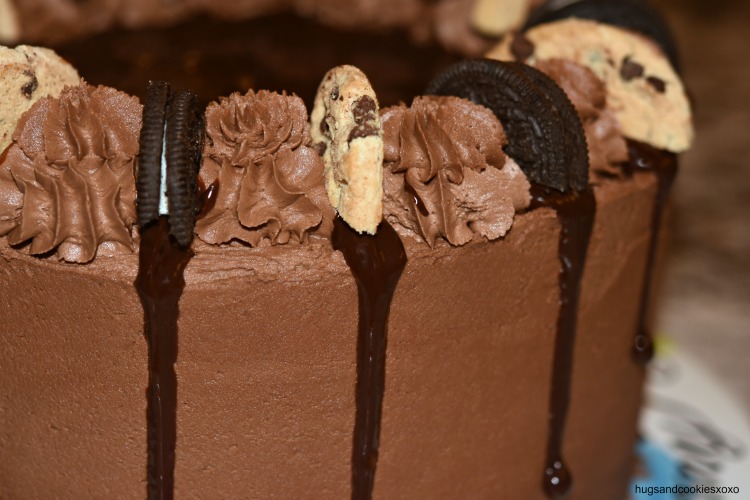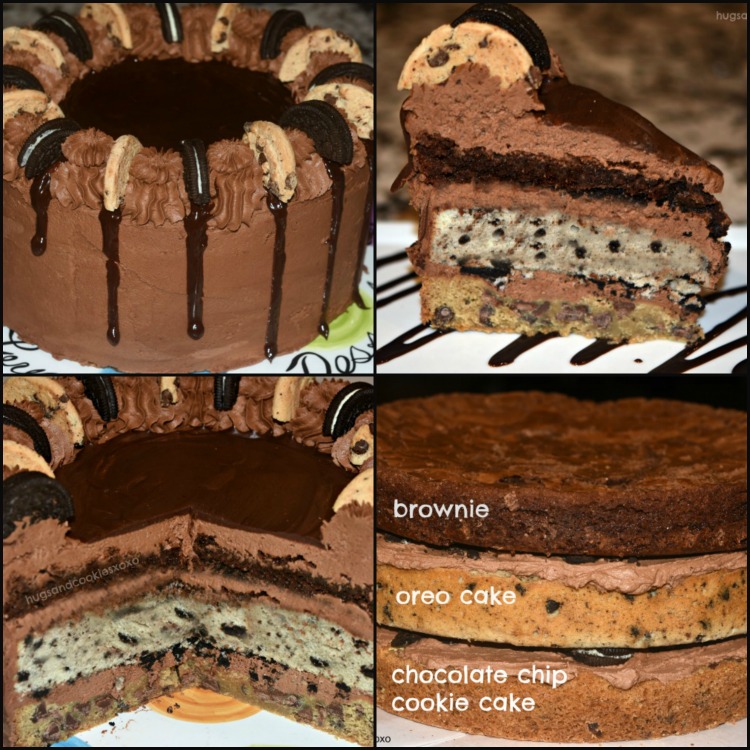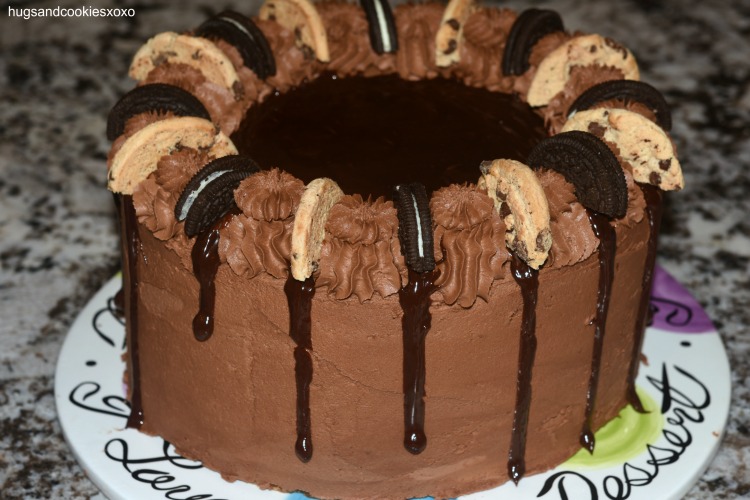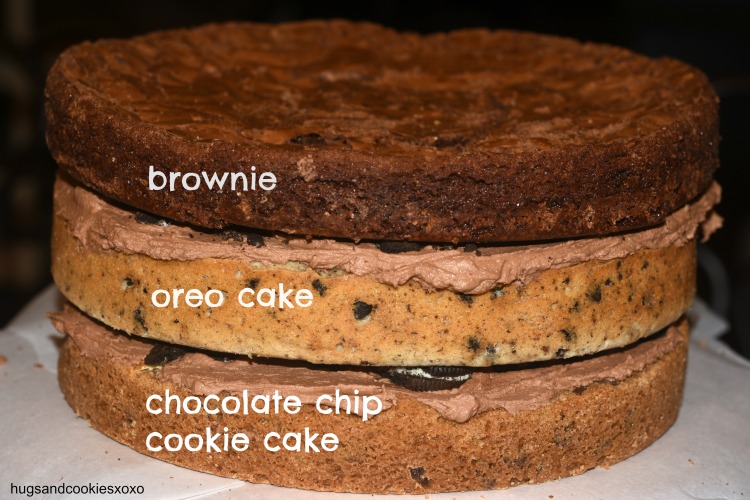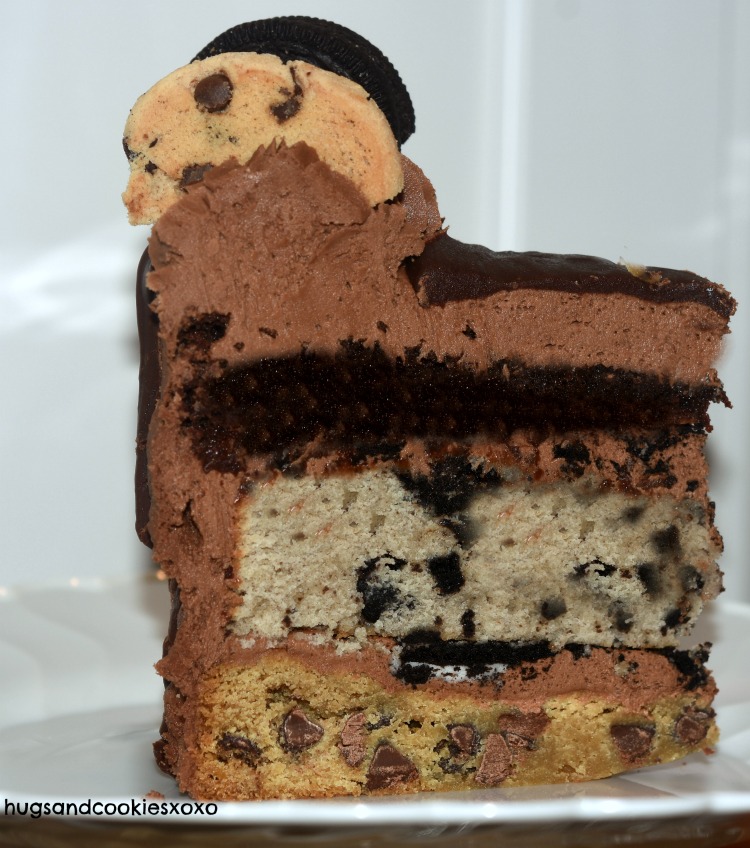 You'll Need:
Brookie Cookie Triple Layer Cake
Ingredients
Brookie Cookie Triple Layer Cake
Chocolate Chip Cookie Cake
¾ cup butter, room temperature
¾ cup light brown sugar
¼ cup granulated sugar
1 egg
2 tsp vanilla
2 cups flour
2 tsp cornstarch
1 tsp baking soda
½ tsp salt
1¼ cups semi-sweet chocolate chips
Brownie Layer
½ cup butter
6 oz chopped semi sweet chocolate bars, I used Ghiradelli
1¼ cups sugar
1½ tsp vanilla extract
3 eggs
¾ cup flour
2 T. unsweetened cocoa
¼ tsp kosher salt
Oreo Cake
1⅔ cups flour
1 cup sugar
1¼ tsp baking powder
½ tsp salt
3 egg whites
½ cup sour cream
½ cup whole milk
2 tsp vanilla
¾ cup butter, melted and slightly cooled
½ cup oreo crumbs
6 Oreos, chopped
Chocolate buttercream frosting
1½ cups soft butter
1¼ cups shortening
9¾ cups powdered sugar
2 tsp vanilla extract
1¼ cup unsweetened cocoa powder
5-6 tbsp water
Gananche
4 oz semi sweet chocolate chips
5 T. heavy cream
Chips Ahoy Chocolate chip cookies, cut in half
Oreos, cut in half
Garnish
10 crushed oreos for in between layers
Instructions
Chocolate Chip Cookie Vake
Preheat oven to 350 degrees for all 3 layers.
Line three 9-inch pans with parchment and grease sides. (1 pan for each layer)
Cream butter and sugars until fluffy, 3-4 minutes.
Add egg and vanilla.
Add dry ingredients and mix well into a thick batter.
Fold in chips.
Press into one pan.
Bake about 22-24 mins until sids are golden. Center will look underdone but that is ok-it firms as it cools and this way it stays moist!
Cool in pan, flip onto a rack-wrap in foil and pop in freezer until firm.
Brownie Layer
Microwave butter and chocolate together gently until smooth.
Let cool a few mins,
In a mixer, whisk sugar, vanilla and eggs.
Add in the melted chocolate/butter mixture.
Fold in the dry ingredients.
Bake approx 35 mins-don't over bake! Cool in pan, Release and wrap in foil. Pop in freezer until firm.
Oreo Cake
Beat egg whites, sour cream, milk and vanilla extract together.
Add in dry ingredients.
Add the melted butter and mix.
Fold in oreo crumbs and chopped oreos.
Bake 34-36 minutes, or until a toothpick inserted in the center comes out with a few crumbs.
Cool in pan, release onto cookie rack-wrap in foil and pop in freezer until firm.
Frosting
Beat butter and shortening smooth.
Add powdered sugar a little at a time.
Add vanilla, cocoa and 4 T. water.
Beat until smooth-if too thick, add more water.
Assembly
Flatten out top of each layer with a knife if not flat.
Place cookie cake on bottom, top with 1 cup of frosting and half crushed oreos.
Next place oreo cake and 1 cup frosting. Top with rest of crushed oreos.
Top with brownie and frost entire cake with the frosting. Pipe swirls and place cookies in between.
Add a ganache drizzle running down the sides using a spoon. Pour rest of ganache in the center.
Gananche
Heat cream in microwave until boiling. Pour over chips and let sit a few mins. Whisk smooth.
Store well covered at room temperature.