Caramel Toffee Cheesecake
Are you a cheesecake lover? It is no surprise I love eating cheesecakes, baking cheesecakes and sharing cheesecakes with friends. This cheesecake was yet again the star of a party! Making the caramel for this cake was also surprisingly easy. It made my usual "easy caramel" look not so easy and I think this will be my new go-to caramel recipe! The cake has a huge crust which adds to its beauty and melted chocolate chips on top of the crust. Once chilled the chips become a candy layer. The cheesecake itself is truly authentic, rich, creamy, scrumptious! This entire cake gets topped off with some whipped cream rosettes, more homemade caramel and Heath Bar chunks and pieces! Clearly, this is a serious cake for anyone you want to spoil! You may also love Caramel Stuffed Brownie Cookies and Vanilla Burnt Basque Cheesecake.
You'll Need: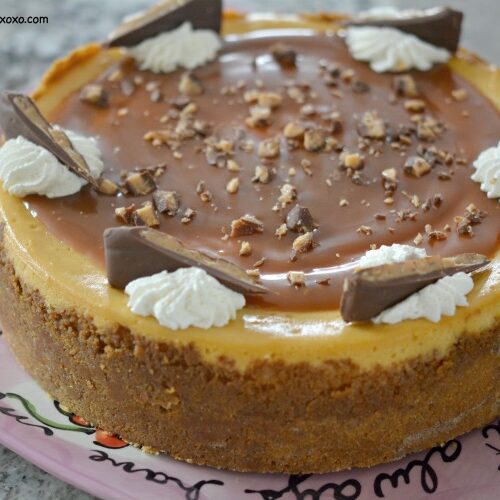 Caramel Toffee Cheesecake
Ingredients
Homemade Caramel Sauce:

½

cups

sugar

2

tablespoons

light corn syrup

3

tablespoons

butter

⅓

cup

heavy cream

Crust:

3

cups

graham cracker crumbs

about 2 packages crushed graham crackers

½

cup

brown sugar

2

sticks butter

1 cup, melted

1¼

cups

chocolate chips

Cheesecake Filling:

3 8-

ounce

packages cream cheese

at room temperature

1

cup

sour cream

1½

cups

sugar

1

tablespoon

vanilla

¼

cup

caramel topping

recipe below

4

eggs

at room temperature
Toppings to garnish the cheesecake:
½

cup

whipped cream

½

cup

caramel

½

cup

chopped Heath bars and some chunks
Instructions
To make caramel sauce:
In a medium saucepan, combine the sugar and syrup. Cook on medium heat, stirring occasionally with a rubber spatula.

Once it is caramel colored, remove from heat, add the butter and stir until the butter is melted.

Add the cream and stir until it's all combined.

Store in the refrigerator if not using right away. Makes about ¾ cup. Can be made days ahead, just microwave to soften when ready to use.
To make crust:
Preheat the oven to 300º.

Combine crust ingredients except the chocolate chips.

Press into a 9-inch springform pan.

Push all the way up the sides and press in firmly. Sprinkle with the chocolate chips.

Set the springform pan on a baking sheet (some butter will leak from the pan).

Bake for about five minutes or until the chocolate chips are soft. Smooth them out with an offset spatula.

Place it in the freezer while you prepare the filling.
To make cheesecake:
Beat the cream cheese, sugar, and sour cream for a few minutes until the sugar is dissolved. Add the vanilla and caramel and mix well.

Add the eggs one at a time and beat just until incorporated.

Pour into chilled crust.

Place the pan into a cheesecake moat and fill sides with hot water OR Wrap the exterior of the pan in a double layer of foil and place in a larger pan (roasting pan) filled with an inch or two of hot water. Bake for 1 hour and 30 minutes -1 hour and 45 minutes in the 300º oven. The center will still be wiggly, but it shall set in the end. Remove from the oven and cool.

Refrigerate for 6 hours or overnight.

To garnish the cake:

Pour on the rest of the caramel.

Pipe on some whipped cream mounds and decorate with toffee chunks and pieces.

*note, my cake took the full 1 hour 45 mins to cook.

*the chocolate chips make slicing difficult once firm, so bring cake to room temp before slicing or spread fewer chips over the crust.
Adapted from That Skinny Chick Can Bake


You May Love These, Too! XOXO