These cherry chocolate chip brownies are fabulous. Yes, the frosting using a lot of butter but it makes a huge pan of treats and it is afterall, butter cream frosting! A small square goes a long way on these rich treats. I used a dab of pink food coloring to make these vibrant. Totally optional but certainly adds a bit of a wow factor, in my opinion. The dark chocolate chips offset the sweetness of the frosting adding the perfect balance!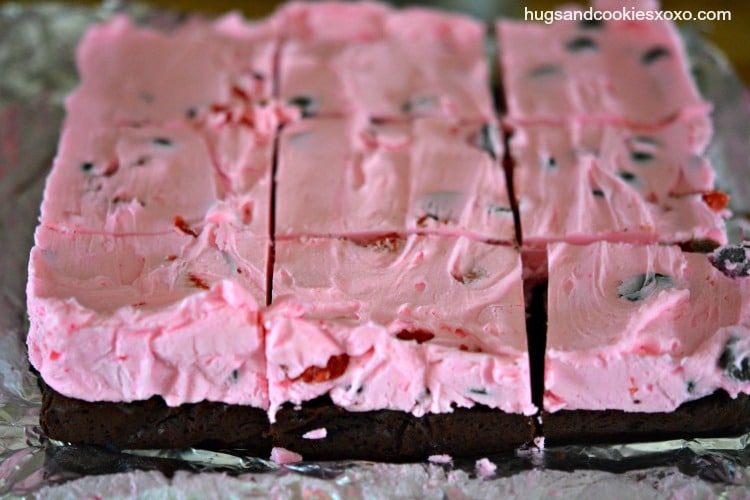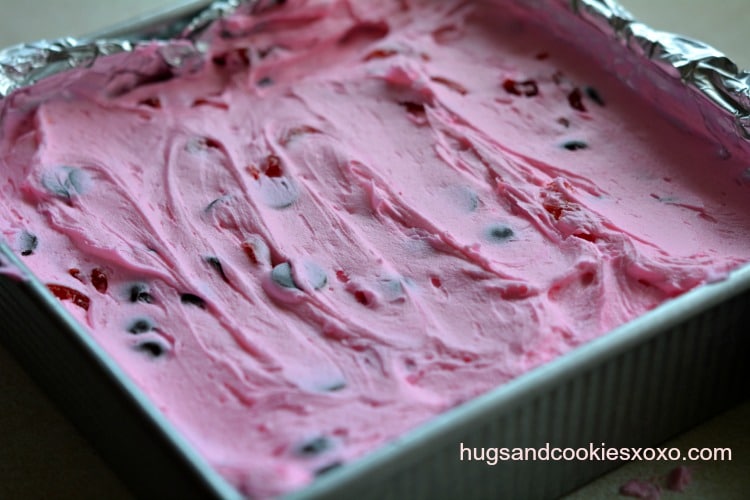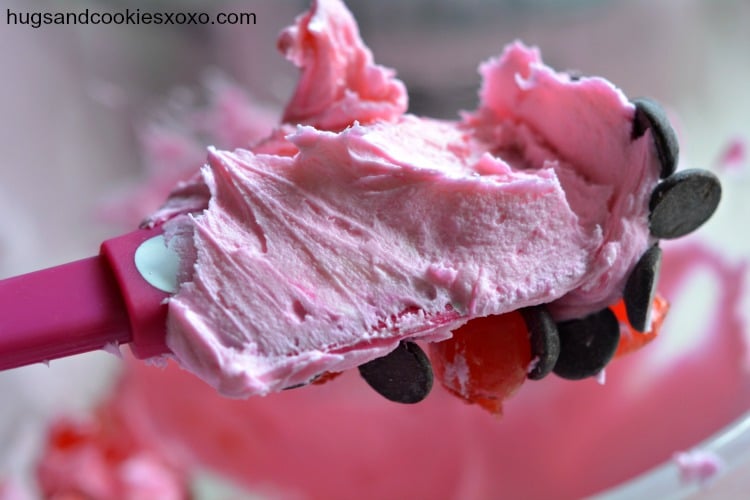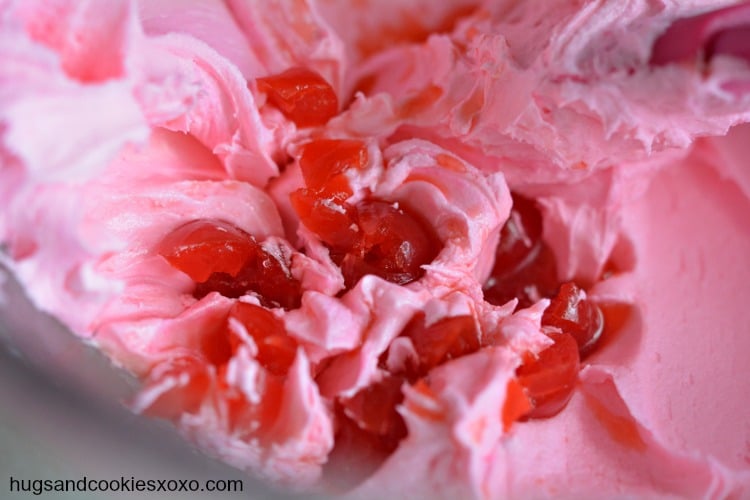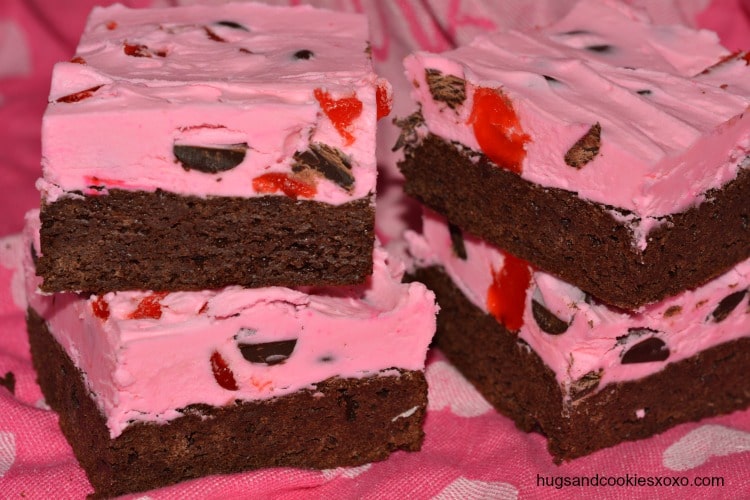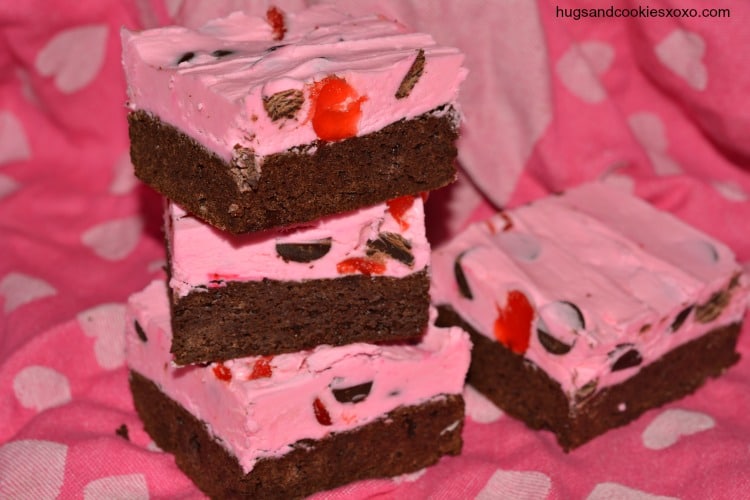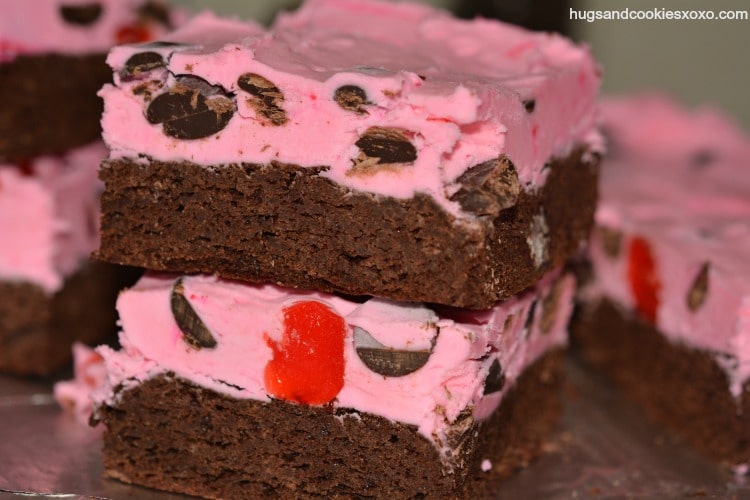 Cherry Chocolate Chip Brownies
Brownie Layer
4 eggs
1 1/4 cups unsweetened cocoa powder
1 teaspoon salt
1 teaspoon baking powder
1 Tablespoon (3 teaspoons) vanilla extract 1 cup (2 sticks) butter
2 1/4 cups sugar
1 1/2 cups all purpose flour
Directions:
Preheat oven to 350 and line 9″x13″ pan with nonstick foil. In a large bowl, add 4 eggs, and beat with cocoa, salt, baking powder, and vanilla. Stir until fully combined and smooth.In the microwave, melt butter. When melted, add sugar, and stir to combine.Add warm butter/sugar mixture to the egg/cocoa mixture, stirring until smooth. Add the flour and stir until fully incorporated. Spread batter into prepared pan, and smooth as needed. Bake brownies about 30 minutes. Test for doneness by inserting a toothpick. You should find moist crumbs. Let cool before frosting.
Cherry Buttercream Filling: (adapted from Deliciously Sprinkled)
2 cups (4 sticks) of  butter, softened
7 cups powdered sugar
1 cup dark chocolate chips
12 ounces maraschino cherries, chopped
10 Tablespoons cherry juice from jar
dab of pink food coloring, optional but nice!
In a large bowl using an electric or stand mixer, combine butter and juice from the maraschino cherries jar. Beat until the butter is smooth. Slowly add powdered sugar and beat until combined. Add food coloring if using. Fold in roughly chopped cherries and dark chocolate chips. Spread over the top of cooled brownies. Chill and cut.