Chicken noodle soup! Hard to beat a good recipe for this comfort food. Whether you prefer skinny or wide noodles, you will love this recipe!
Chicken Noodle Soup
Ingredients
1 (2-lb) rotisserie chicken (GOOD WITH 3 LB COSTCO CHICKEN, TOO!)
2 celery ribs
1 medium onion, quartered and left unpeeled
2 tablespoons chopped fresh parsley
10 cups reduced-sodium chicken broth (80 fl oz) (I USED 2C. WATER, 8C. REGULAR BROTH BUT WE ARE SALT LOVERS-USE LESS BROTH AND MORE WATER IF WATCHING SODIUM!!!)
4 medium carrots,  peeled
Noodles, cooked separately (I used Schar GF)
Instructions
Remove meat from chicken, reserving skin and bones. Coarsely chop 2 celery ribs and put them in a 6- to 8-quart pot along with chicken bones and skin, onion, chicken broth/water, carrots. Simmer, partially covered, 1 hour. While broth is simmering, chop white chicken meat into 1-inch cubes.
Strain soup, returning carrots and celery to your stock. Discard bones. Add your cooked (and cooled) noodles.
adapted from epicurious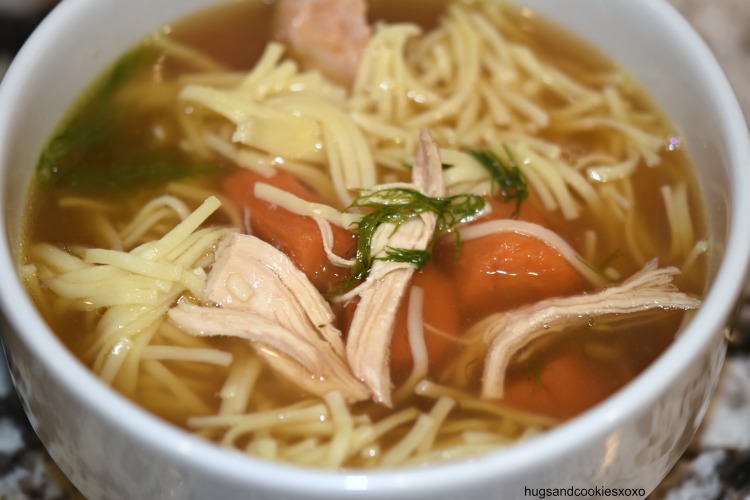 THIS CHICKEN SOUP IS VERY UNUSUAL AS IT STARTS WITH A ROTISSERIE CHICKEN. THE FLAVOR IS UNBELIEVABLE!!!