Chocolate Overload Cake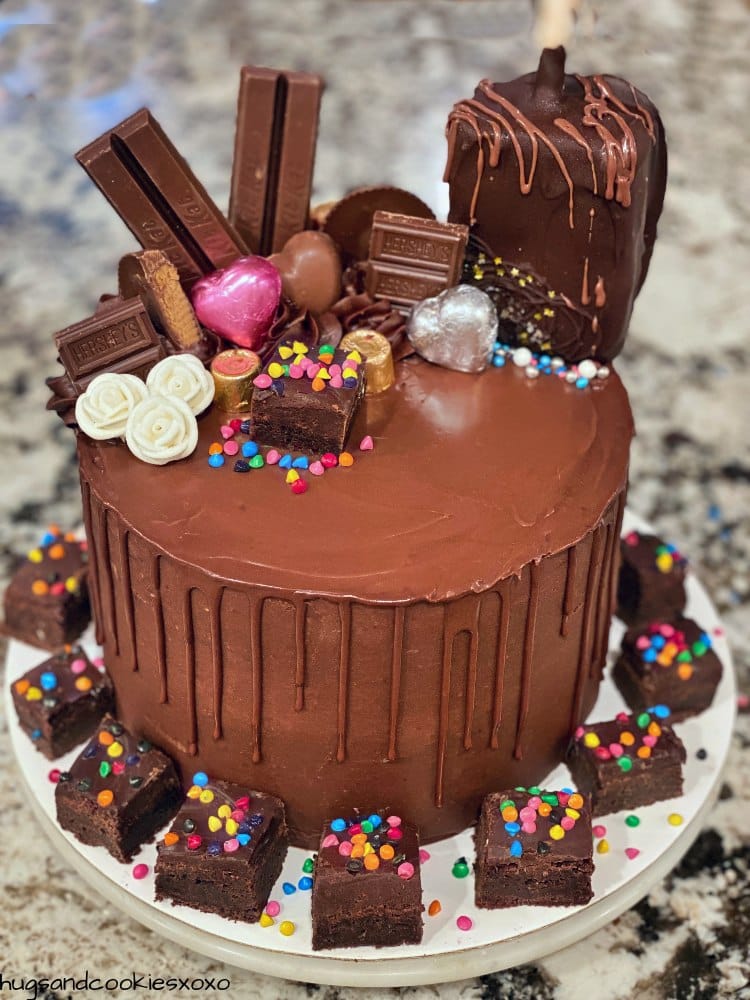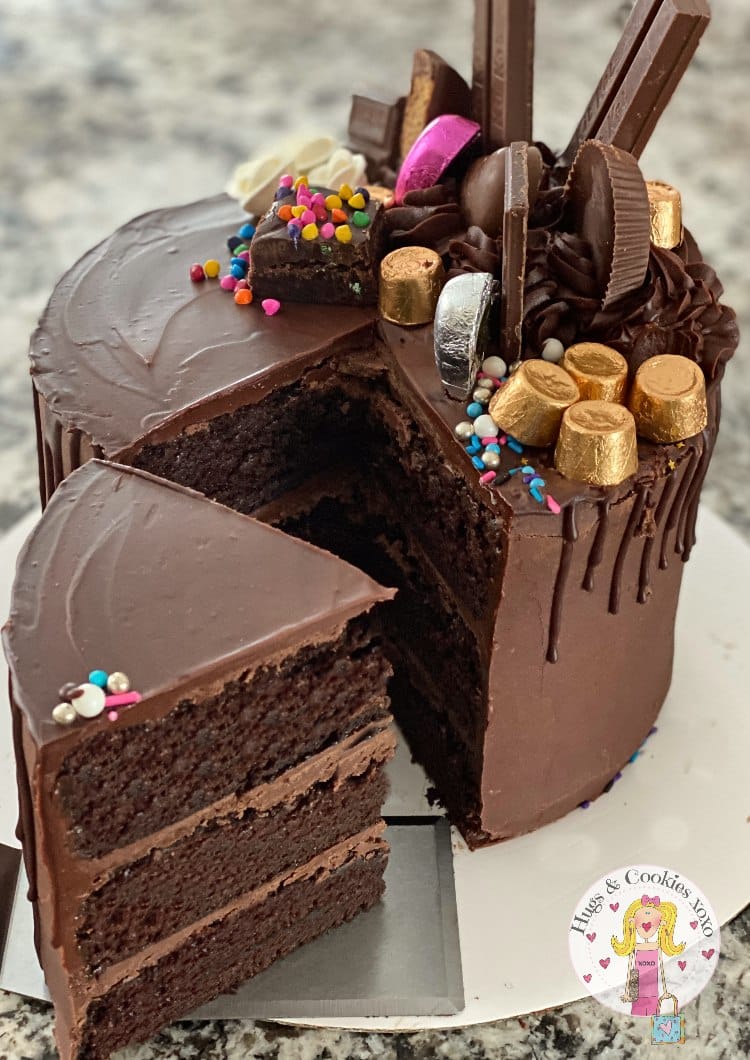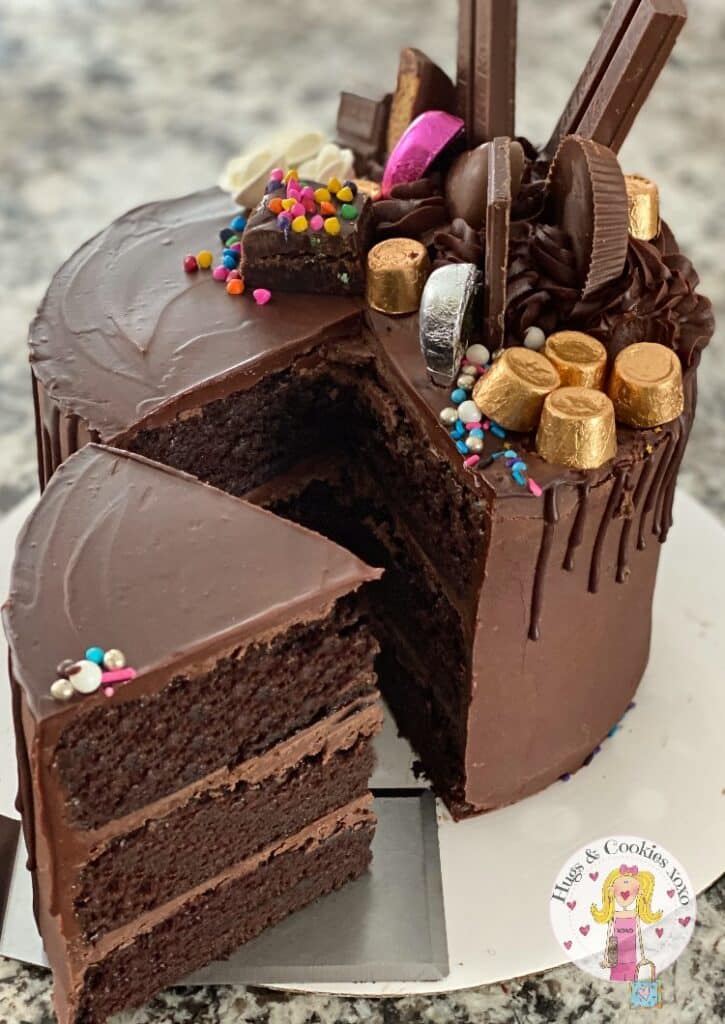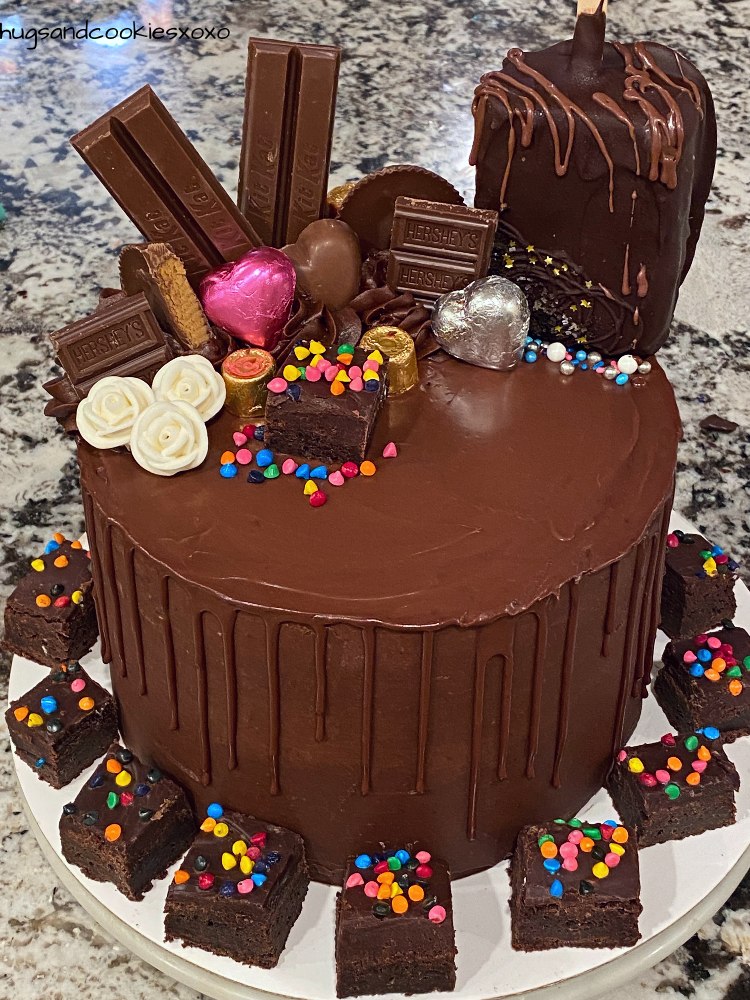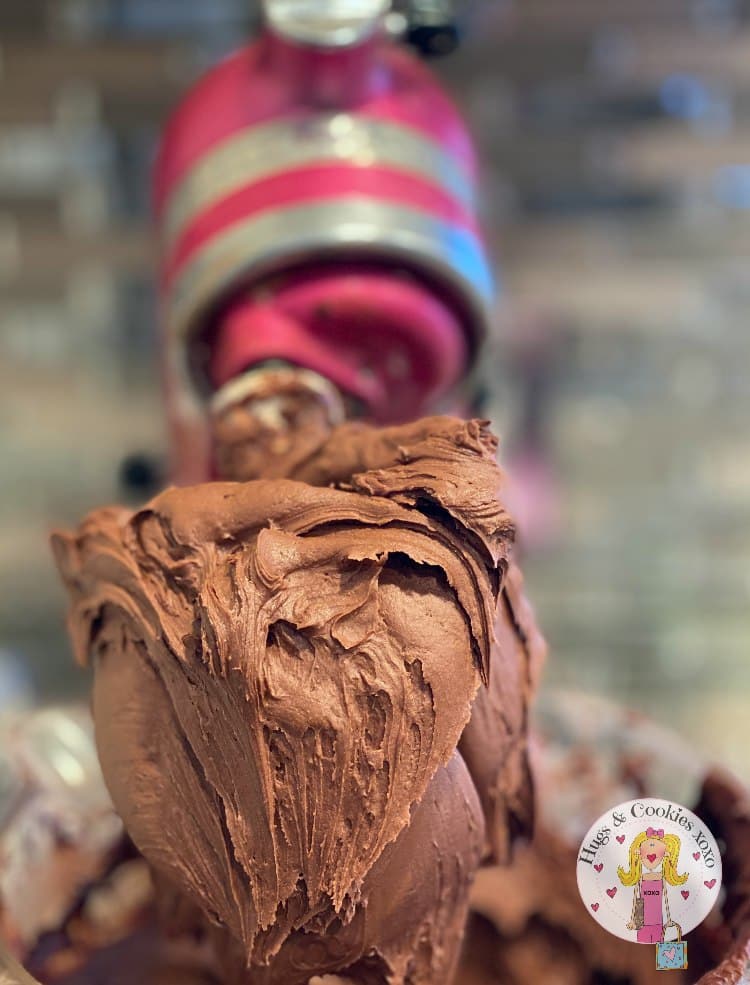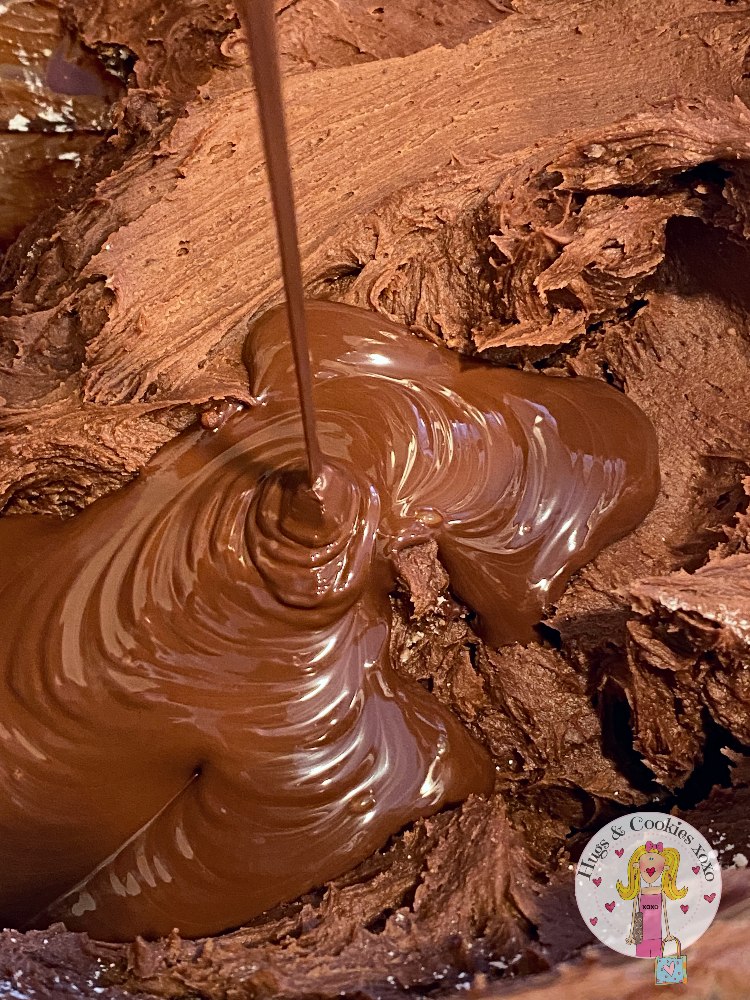 If you want to garnish with some of the goodies I used, check out these recipes:
Chocolate Overload Cake
Ingredients
2½c. flour plus 2T.
1 cup plus 2 T. cocoa powder
2¼ tsp. baking powder
2¼ tsp. baking soda
1½ tsp. salt
3 cups sugar
1½c. milk
3 eggs
¾c. oil
1 T. vanilla
1½c. boiling water
Chocolate Buttercream Frosting
6 sticks butter, room temp
1½c. sifted cocoa powder, unsweetened
¾ tsp. salt
7½c. powdered sugar
¾c. heavy cream
12 ounces melted chocolate, cooled (I used Ghirardelli bars)
Chocolate Drip
½c. heavy cream
½c. chocolate chips
Instructions
Preheat oven to 350.
Spray three 8 inch pans with pam, line with parchment and spray again.
In a large bowl, combine flour, cocoa, baking powder, baking soda, salt., sugar.
Whisk to combine.
Add milk, eggs, oil, vanilla and blend.
Add water until smooth.
Divide evenly into 3 pans. I used a food scale and each pan had 1 lb, 8 ounces batter.
Bake 35-40 mins until a toothpick comes out clean.
Cool 10 mins. Flip out onto parchment and freeze layers until ready to frost.
Frosting
Beat butter until creamy.
Add cocoa and salt.
Add powdered sugar alternating with cream.
Pour in chocolate last on low until blended.
Finish by mixing with rubber spatula to remove air bubbles.
Assembly
Stack the layers with buttercream in between and apply a thin crumb coat to trap crumbs. Chill 1 hour. Apply rest of frosting for your second coat. You will have extra for decorations. I save any extras for cupcakes.
Drip
Heat cream in microwave safe dish until simmering.
Add chips and let sit 2 mins.
Stir smooth.
Pop in fridge about 10 mins.
Pour into squeeze bottle and drip down the sides of your cold frosted cake.
*NOTE: This cake can also be baked in two 9 inch cake pans for approx 40 mins or until a toothpick comes out clean.
Cake adapted from Recipetineats
Frosting adapted from ChelSweets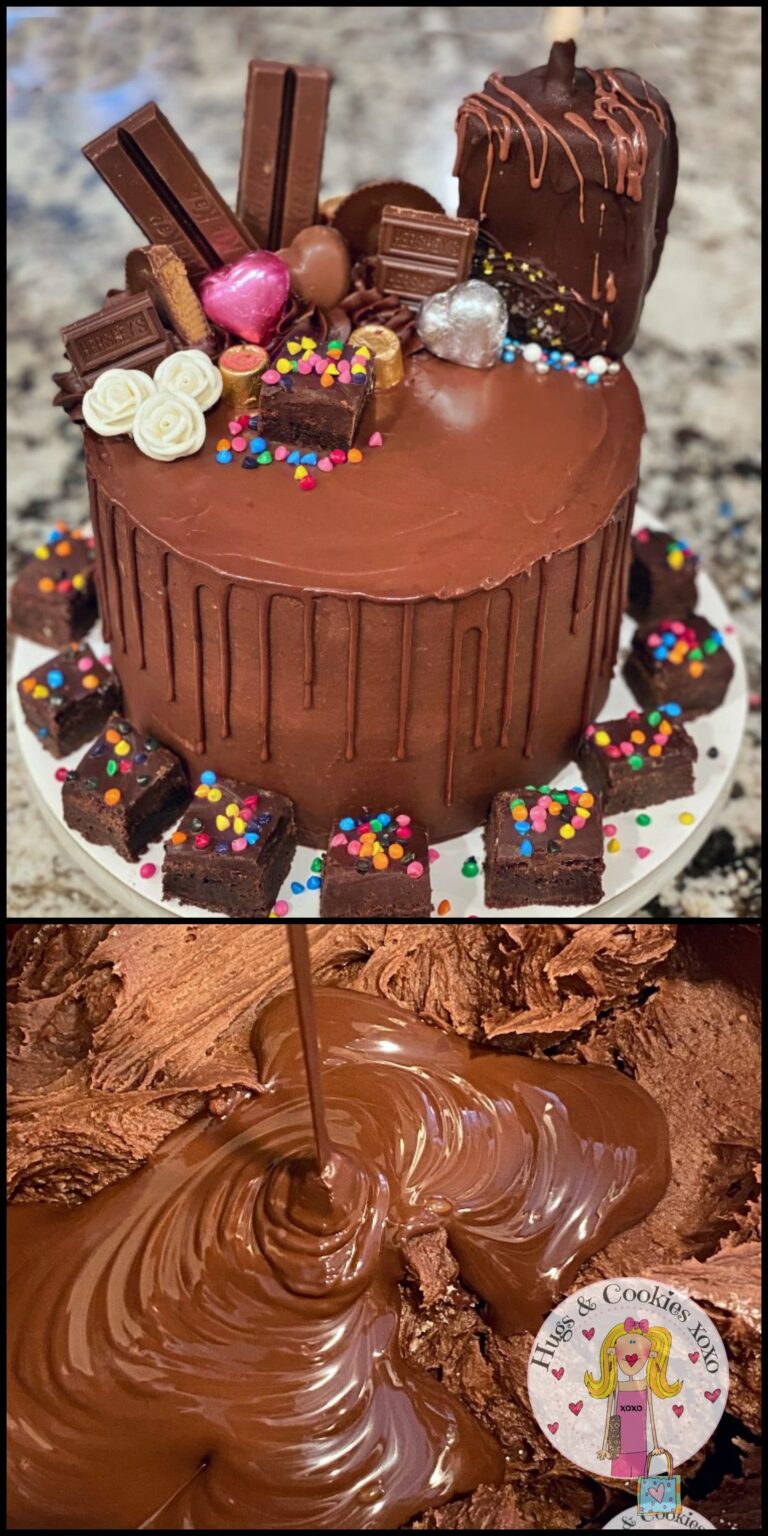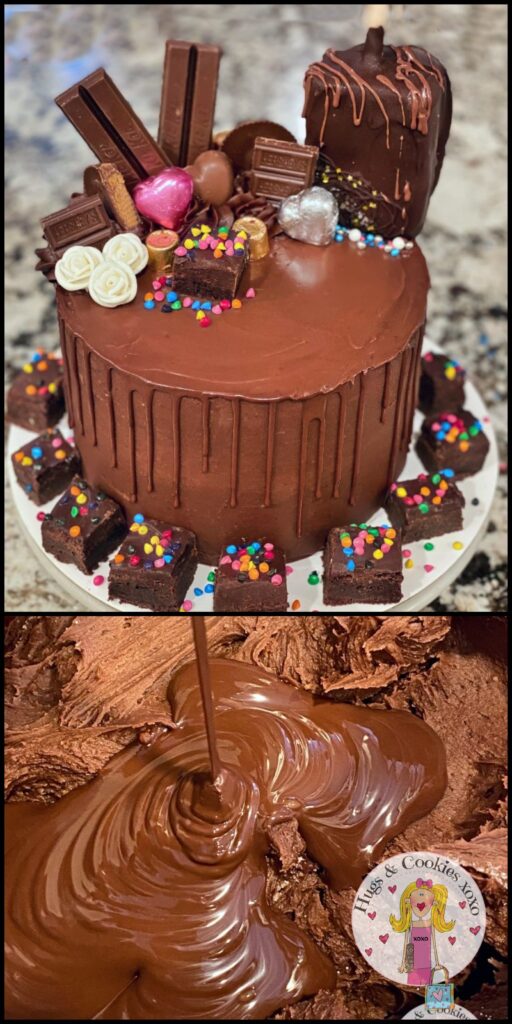 You May Love These, Too! XOXO